Yann A. Skaalen: A Tech Savvy Business Leader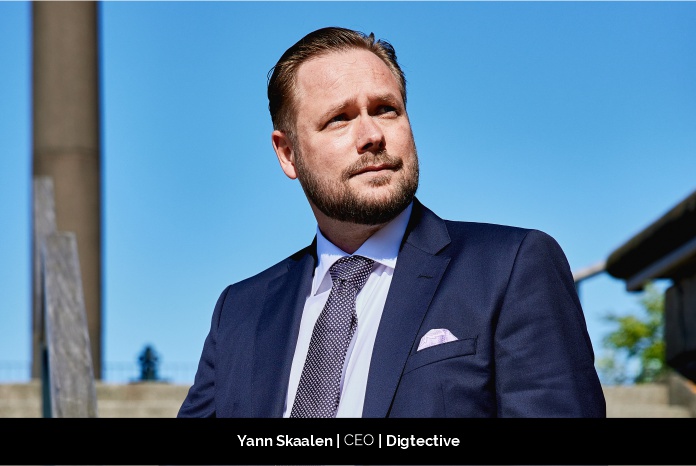 The pinnacle of success is achieved by the ones who are driven by vision and dedication. Business leaders with these two personality traits can assess specific pain points of the market and bridge the gap by adding value to the problem. One such visionary business leader is Yann A. Skaalen. He is the CEO of Digtective Holding AS, a company that monitors the effect of all digital marketing activities in every media every day and can measure offline conversions with 100% accuracy.
At the age of nineteen, Yann had decided about his goals and what he wanted to be professionally when he would reach the age of thirty. These goals he achieved at the age of 26 and made a new goal to be the leader of his own company. And one year later, he started his own company. "This is what inspires me to work towards and achieve my goals," says Yann.
Yann had a job in cinema advertisement where he realized his interest and knowledge in marketing. He explains, "Combining these with my passion in technology digital marketing seemed like the perfect fit for me. I saw great potential in the market and the solving of its challenges."
Taking Challenges as a Way to Success
For Yann, challenges are one of the greatest motivations throughout his journey. He always tries to evaluate the market's pain points and finds great potential in solving them. He deems everything is possible; the harder ones just take more time.
During the financial crisis in 2008, Yann led and co-owned a mortgage broker. As you may imagine, the financial crisis struck us hard, decreasing our revenue by 66% overnight. He considered that period of his life when he truly learned some valuable lessons. He states, "Firstly, I realized how vulnerable you truly are. We were vulnerable to something happening across the world with no real connection to us, we were just a small piece in a gigantic puzzle. Secondly, this crisis taught me the value of liquidity in the company as this was determining our entire future."
He further adds, "The pandemic could also be seen as a bit of a roadblock. The main focus for Digtective is at the moment to secure more customers. However, it is a hard task to accomplish since the current restrictions make in-person meetings impossible."
Services of Digtective Holding AS
Today's biggest challenge in digital marketing is staying compliant with the new regulation, but Digtective has the solution. The team at Digtective solved the issue surrounding the inability to conversion track compliant with the new privacy laws. The tracking has made cookieless and stores no client data. Besides this, Digtective has also managed to solve offline tracking by being able to offer 100% accurate offline conversion tracking (this is also compliant with e-privacy and GDPR laws). It offers its customers a compliant cookieless conversion tracking tool. Digtective neither stores any client data nor uses cookies or fingerprinting, leaving all conversion tracking 100% anonymous and 100% GDPR / e-Privacy compliant. It is the only tracking tool that tracks all its users' ad conversions, even the offline ones, and lets them see all their digital marketing on just one dashboard. Digtective offers its clients 100% accurate conversion tracking.
As a CEO
At Digtective Holding AS, Yann is responsible for all the major business activities. He says that describing a regular day at work is borderline impossible as no day is the other alike. According to Yann, building a good culture in the company with a big room for growth and improvement for everyone is the key to keeping the team motivated. He adds practices like having regular follow-ups with colleagues are essential. Such processes let everyone feel seen and have the opportunity to express concerns, ideas and become a significant part of the company's growth. Yann says, "Good routines in the company are always of big value since it simplifies the workday and leaves room for the time to be spent at something more productive."
Supporting Others while Leading
Yann asserts, "As a leader, the best recognition that you can get is by far to see and hear how people who have worked for you are happy with the leader and colleague that you were for them." Yann has had positive reviews from the people who have worked for him in the past. It makes him happy that he is successfully created a safe and healthy culture for his teammates so they can thrive in personal and professional life. He opines, "To know that I can inspire, motivate and help others in their journey of self-improvement is truly remarkable."
Starting Day with Aligning thoughts and Strategy
Keeping a balance between personal and professional life is one thing that Yann finds truly hard and something that he still struggles with to this day. He believes that one should cherish the moments whenever one gets the chance and makes them count.
However, other than work, Yann's daily life follows the same routine. His day starts with answering emails between 5-6 AM each morning, but more importantly, he likes to think during morning time. He describes, "I like the peace and quiet in the morning to take time to do much of my thinking work. I often lay out a strategy for the day and what I want to accomplish during it."
Culture of Innovation
One of the principal core values of Digtective is to always strive for growth and improvement. As the saying goes nothing is perfect, there's always room for improvement. Another core value is to always look after each other. "You borrow your employees, so make their time in the company as positive and fulfilling as possible. Keep your employees happy, and it will be easier to recruit your next colleague. It is by maintaining this type of mindset that you as a leader can improve and connect with your fellow colleagues," states Yann.
To ensure a culture of integrity and innovation within the team, it is necessary to constantly work and create an environment that makes everyone feel safe. Yann asserts, "Your colleagues shall always feel respected, important, and listened to. It is by making the work environment a safe place that you maintain a culture of integrity." He further adds that it is also required to lead with a good example and live how one preaches. He assumes one can never expect from others what he/she can't do.
The key to a culture of innovation is in many ways in line with that of integrity. Yann also believes that it is necessary to give individuals a lot of freedom and responsibility. Responsibilities avail the opportunity for them to develop and grow.
Components of Growth; Values, Great Team, and Understanding Costumers
According to Yann, the key to staying abreast with the competition is to listen to customers because, without them, the company is nothing. At Digtective, the team highly values its customers' opinions. The company takes customers' feedback to heart and improves accordingly. Yann opines, "We try to improve in the direction the markets and customers' needs take us."
For Yann, having the right team is vital to stay ahead in the competition. He believes that a competent and motivated team will result in an improving company.
A Versatile Entrepreneur
Yann has been involved with digital marketing since 1997 and has founded (and co-founded) several successful businesses over the years that include Finansa AS and Mybank ASA. Finansa AS was a mortgage broker that he founded and worked with for several years before selling it.
Yann's latest venture was Mybank, a challenger bank that he was a part of co-founding. In Mybank, he is in the position of CCO and CMO and then promoted into the COO while simultaneously being the CTO. Yann is also the architect behind the CRM-system of Mybank ASA called Amos that has built in tracking system.
For more information, please visit digtective.com.