Chris Barber: Setting Standards in Cannabinoid space with Disruption Labs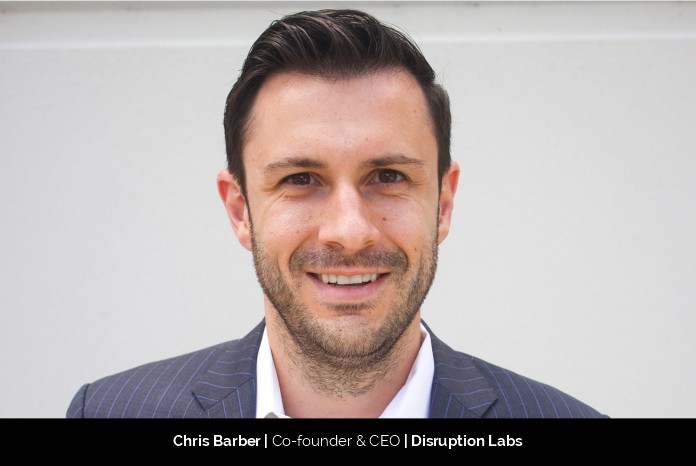 Addressing a problem always gives rise to building an invention that solves the problem as well as creates newer avenues. Looking at negligible proven efficacy owing to poor solubility, no shelf-stability, no standardized testing compliance and safety, and poor label transparency of different CBD oils and oil-based formulations, Chris Barber and Andrew Garnock decided to come up with a long-term solution with their venture, Disruption Labs.
Chris Barber states, "We decided the only way to solve these issues was to somehow leverage pharmaceutical drug technology to increase the efficacy in cannabinoid products. We decided to disrupt this emerging industry with a biotech approach."
With this, he had set his goal for the company straight. "Our goal is to set industry standards for testing, allowing us in parallel to create the most efficacious products possible using our proprietary pharmaceutical technology to ultimately protect the cannabinoid supply chain."
Clearing the Hindrances on the Way
Jumping headfirst into an already vast industry isn't an easy feat. Barber and his new company faced many bumps in the road at the start. "One of our largest roadblocks was going back and reeducating key stakeholders about why the products they're carrying or seeing widely marketed aren't retail viable, let alone efficacious." Moving on to further explain that, "manufacturers, brands, and retailers have been blinded by the CBD boom, but we're helping them see the long play." Disruption Labs is finally putting a definition of compliance on the table, forcing other members of the industry to take a look at what it will mean for their business down the road.
Barber believes that a key to building a successful business is in who you hire. Commenting on another roadblock Disruption Labs ran into he explains "building a business really depends on the caliber of the people you hire, and a few years ago, senior pharmaceutical scientists and senior people in the drug delivery space were not looking at the CBD industry; so, bringing on leading experts including Brian Sloat Ph.D. as Chief Science Officer and Mike Sandoval as President, to our team gave us a competitive advantage."
Services, Culture and Vision of Disruption Labs
Striving to commercialize hard-to-absorb plant-based ingredients, Disruption Labs manufactures their proprietary delivery technology supported by strong research and development and sophisticated analytical testing to solve for all the issues that plague the market today. Notably featuring excellent efficacy and retail viability.
Regarding his vision for the company in general, Chris Barber is disrupting emerging ingredient markets by developing and enhancing consumer plant-based wellness products, some worthy of pharmaceutical pathways. This starts with setting the bar for industry regulation, "within the CBD space, there's only one FDA-approved product and retailers are still hesitant to take ingestibles for good reason, so we're becoming the cornerstone of the industry to get compliant, efficient products to the market faster. Overall, we want to set the bar for our industry in terms of regulation."
In an ever-evolving industry, it's important to stay ahead of the curve. How does Chris Barber keep his business ahead of the curve? Hiring people who share the same goals. "We look for determined and innovative people with an entrepreneurial spirit who can inspire the collaborative and data-driven culture we're looking to maintain at Disruption Labs." Besides having the best team, Barber says they are "investing in the right equipment, and committing to forward-thinking in all verticals of our business" all of which keep Disruption Labs at the top of the industry.
Staying Abreast with the Competitors
Disruption Labs believes in putting science first. To do that, they continue to invest in the top pharmaceutical manufacturing equipment to maintain the high standards set forth in the pharmaceutical industry. And in their laboratory? The most accurate and precise machinery in the market.
Barber breaks down their "science first" mantra, saying that he and his team at Disruption Labs are "enabling ourselves to shift cannabinoid product manufacturing and compliance testing closer and closer to pharmaceutical quality standards. We're pushing forward and positioning ourselves as the leader while the majority of the other businesses in our space are still looking backward and just trying to make a buck."
Biggest Achievement in Life
With his career starting in a credit derivatives hedge fund during the 2008-2009 financial crisis, Barber went through many ups and downs that helped him understand "how to accurately characterize the risks of different companies." After almost 10 years in trading, in 2014 he applied his global risk management and macro skills in the private banking world where he maintained strategic deals and private equity in Asia and the US. He credits his success back to his work in the financial sector, stating it "taught me how to look at businesses and understand how they can succeed or fail, especially through uncertain times."
When asked of his proudest achievements, Barber feels proud of keeping his company leading and elevating the industry while others struggle to survive. But overall, he notes building Disruption Labs as a truly innovative and unique portfolio as his biggest achievement. "We're ahead of the curve compared to an entire industry that is going to realize how far behind they are with regulations in 2021 and might fall flat on their faces"
Enhancing Life through Work
Being a CEO, Barber has many hats to wear. He says, "My biggest responsibility is capital allocation inside our portfolio and managing the risks that come from our forward-facing strategies while driving all our business units together." At Disruption Labs, all wins – big or small – are celebrated. A move that boosts morale within the team, Barber shares a specific memory from the beginning of the company. "My team and I opened a bottle of champagne when we finalized where all our lab equipment would be placed with duct tape on the floor."
Barber believes in the power of networking. He feels that the people you work with effectively become your family. Sharing, "What inspires me is networking and meeting people that are doing things that could add value to my business which then adds value to my personal life."
Future Plans for Disruption Labs
As the importance of plant-based ingredients continues to come to light, Barber believes his team will help others to innovate standards of safety and compliance. "Within the next few years, we want to continue to expand and leverage our delivery platform and IP portfolio so we can create better wellness products for consumers within a multitude of industries. Walking on the regulation path, Barber cites the ultimate goal for Disruption Labs as being able to "take our delivery platform and expand into the food and beverage, nutraceutical, pharmaceutical, and consumer health product industries. Whether it's a drug product, functional beverage, an athletic recovery drink, or a multivitamin, our goal is to promote health and wellness in an efficacious manner."