Catherine Gras: An Epitome of Impactful Leadership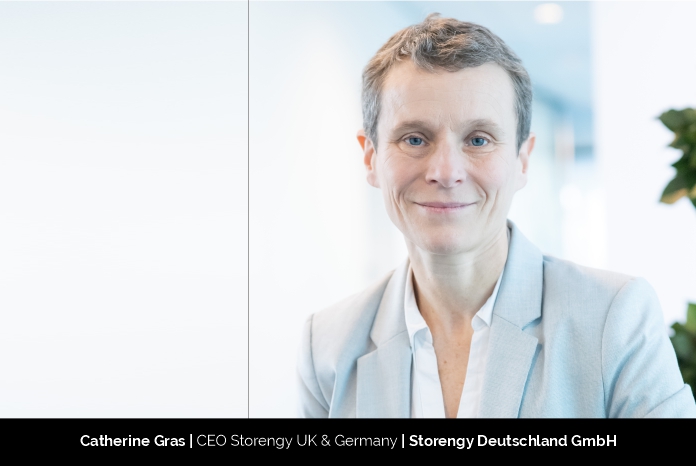 Started her professional journey by working in the financial sector, she was in an investment fund and was at the helm of her profession. At the age of 30, she has been proposed to become a partner in the fund, a successful path as most people would think. But this is the point of choices that differentiate a leader and a normal employee. Being successful wasn't her goal as she was missing something that would be worth remembering for her whole life.
This was the time when Catherine Gras decided to change sector, making a move that was perceived at the time as a step back in her career. She says, "It was the opportunity for me to work in a sector where what we do matters for the society as a whole, for the citizens. And this is something that is driving me ever since."
Six years ago, Catherine had the opportunity to take a CEO position. Today she is the CEO at Storengy UK and Germany (Deutschland). She believes in making an impact. She feels success is being able to do something that would not necessarily have taken place in the same manner or the same timing if she had not been in this position. She says, "This is very demanding but again what keeps me motivated, what brings me energy, is the possibility to use this position to make a difference. To develop new activities and change the way we look at our activities now, to facilitate improvement and innovation."
Storengy Deutschland is one of the largest natural gas storage companies in Germany. It is a subsidiary of Storengy SAS, which bundles the ENGIE group's global gas storage activities. Storengy is the market leader for storage services in Europe.
The company's core business includes the planning, construction, and operation of storage facilities and the marketing of gas storage capacities. Storengy Deutschland GmbH operates six gas storage facilities across Germany and markets their gas storage capacity. Storengy Deutschland Betrieb GmbH, a 100% subsidiary of Storengy Deutschland GmbH, implements the technical operation of the gas storage facilities and also provides services (operation and maintenance) for third-party facilities. A central control room in Hanover ensures the remote operation of technical facilities.
The company's headquarters are based in Berlin. As an innovative partner for the zero-carbon transition, Storengy provides its expertise to numerous partners worldwide to develop geothermal projects (heat and power production and storage) as well as energy storage and power-to-X solutions.
Experiences Worth Share About
Sharing her challenging moments, Catherine recalls the time when she was very close to burnout. She says, "This is a personal experience, people in my position are often not willing to share that they have been there, but it is good to recognize that this can happen to everyone in a company."
According to her, the second challenge was linked to the financial crisis in 2008/2009. The crisis has transformed parts of the energy industry by completely changing business models. The industry has seen old models disappear and new models appear. At that time, Catherine changed position and what seemed obvious to her, because she was new in the sector and coming from another part of the business, was completely refused by her colleagues. She states, "For them, it seemed impossible that their activity would just disappear. It was a great lesson of sudden change and how we can accept and transform it into something positive."
Combining Experience and Expertise
Catherine has been working in this industry for 20 years. She has worked on various projects that, at their time, used to be a good alternative to more polluting assets, for instance working on gas power plants to replace coal power plants in the early 2000s.
Over the years, Catherine kept a critical view on what the company was doing at the time, trying to figure out how the future could completely change the picture. She has endeavoured to learn as much as possible from the different crises and changes of the sector to try to question certainties. "In a sector that is investing over very long periods, this is a challenge," says Catherine.
The topics the company is pushing today are geothermal energy, biomethane and hydrogen, they are clearly on the renewable side. Catherine supports Storengy move towards renewable energy by providing a multi-country vision. European countries have developed very different energy systems and are looking at different models for the future as well, it is thus interesting to be able to look across borders. Also, she brings a good mix of strong economic culture and personal social and environmental aspirations to the company.
Innovation to Minimize Mistakes and Curb Risks
At Storengy Deutschland, the team is working in a highly regulated field as the company is always under the scrutiny of technical administrations. She opines, "It is important to remember that we are in a sector where a mistake can have very strong consequences, especially on health and safety." This is where innovation can be challenging. The team is all trained to avoid mistakes and to repeat what is tested and validated.
For Catherine, one significant enabler of innovation is accepting to fail. Her role is creating the right conditions inside the company to test new ideas, to promote a mindset where it is right to fail as long as the team learns from it, and to communicate regularly on trying new ideas, improving, changing the approach.
A Positive Approach in Pandemic
According to Catherine, there is no such thing as a typical or regular day, as it is always a thin balance of very different activities. Before the pandemic, like everyone else Catherine used to travel a lot to meet stakeholders, colleagues from the parent company ENGIE. On one side it was a huge investment in time and a huge carbon footprint but it was also creating timeslots when she was partially or completely unreachable, timeslots to focus on learning, problem-solving, and strategic thinking.
With the pandemic, Catherine has reduced traveling to nearly zero. Staying at home has been a bit disturbing at times, but on the other side, it has saved her a lot of time. She has more time to interact with colleagues and allows time for unplanned personal exchanges. In her free time, she learns new things, meets new people, thinks further to reflect on the general context.
Adopt new Changes without Compromising Values
Catherine finds her motivation drivers are the alignment of personal values and professional activity, curiosity, intellectual challenge. She states that not everyone is motivated by the same things, but if there are new things to learn or do that are also socially helpful then there are good reasons to be motivated by a job.
While advising aspiring business leaders, especially women leaders, she asserts, "Believe in you and your values and do not try to change them completely to adapt to what the others may expect from you. This is particularly true for female leaders. We are in a male-dominated type of leadership, but we need to push for our way to lead and inspire."
To Lead as an Expert of the Sector
For upcoming years, the management's vision for Storengy Deutschland is to be recognized for strong expertise in storing hydrogen and developing geothermal projects, as much as the company is today recognized for its expertise and commercial innovation in natural gas storage. Catherine says, "So keeping to ourselves, to what makes us strong today but at the same time being different from today."