Nino Dubretic: Tapping into the opportunities of the Vacation Rental Industry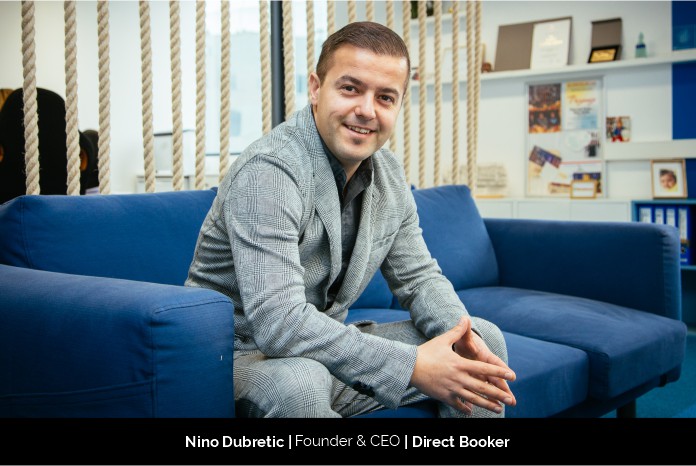 Direct Booker World's Leading Vacation Rental Franchise offers a complete solution of a well-established scalable business model backed with a huge first-hand experience and recognized as one of the best in the industry.
Its attractiveness also comes from the unbeatable value for money of a Franchise package compared to the market price of any technology itself, as the Franchise package comes not only with Technology but also with Know-How, Brand, and Support.
Nino Dubretic, Co-Founder and CEO of the company, states, "By having low starting costs, we wanted to clearly send a message that we are looking for long-term partnership and benefits for both sides, as any franchise model should." Today, Direct Booker operates in 13 countries through 27 franchisees who operate more than 8000+ properties.
A solid foundation of Direct Booker
From the very beginning, Nino wanted to run a business with global potential. The kindling of Direct Booker was initiated by his partner back in 2010. He had two rooms and wanted to reach some guests, so he advertised them on the OTAs and started getting reservations.
His neighbor asked if he can do it for their rooms as well and that they will pay him a commission. He accepted, made an advert, started receiving reservations, and when he charged the first commission, the idea of multiplying this process came by itself.
He states, "He then came to me with a suggestion to start a business, basically to multiply the number of Vacation Rentals that we will advertise on the biggest OTAs (today B ooking.com, Airbnb, etc.) to manage them online (revenue management, guest communication, payments, etc.)." Nino realized the potential of the idea and marked the dawn of Direct Booker.
Getting stronger with the challenges
In this field, it is very necessary to cater to the needs of the customers regardless of the working hours. Being a two-person brand, both Nino and his partner had to be available 24X7, having 100+ calls till 10 AM, handling calls all day long, including in the middle of nights with challenging situations.
He states, "When you come to the point of being addicted to solving the problem without stress and to the point of seeing a problem as a future trophy, as that it always becomes by its solution, you know you develop yourself as a professional but also as a person."
Nino believes that to reach a stress-free solution for a problem, people have to jump in the process and tackle the issue with an open mind and positive attitude." There is no better feeling than reaching the level of awareness that you are in full control of problem-solving from end to end, he adds."
Top-class services for customers
Direct Booker is a Management & IT Company providing Vacation Rental Solutions. The company is widely known for its Vacation Rental Management Service to the Homeowners who trusted the brand to manage their 8000+ properties on the biggest OTAs (Booking.com, Airbnb, VRBO, etc.). These numbers make them the 7th biggest Property Management Company in the world.
Nino states, "Our service is accompanied by the OTAs preferred Vacation Rental Software that we are developing in-house. Our Service and Software are both tested on multiple locations worldwide, and they are both recognized as one of the best in the industry."
He expresses that the franchise and software renting step lies on one of the company's core principles: to lead by example. It allows them to achieve high integrity.
He adds, "Everything that we do as management or/and a company is firstly done by us, tested and proven then delegated to others. In regard to innovation, besides listening to partner's needs, we have as a service provider a big advantage for Software solutions as we are deep in the business. We create needs, look for solutions, develop them, test them, and then give them to others."
The satisfaction of everyone involved in the association is crucial for the team. They aim at offering the best service and creating a win-win situation for everyone. By digging deep into the business, they keep sure that they keep on innovating and offer better services to their clients.
Tapping the power of the franchise world
Nino states, "In our beginnings when we saw our service is locally recognized as "the one" we opened offices throughout Croatia and nearby countries. Parallel with that, we also had huge technological needs for business automation, but the software that we were renting was developed by the IT companies not realizing our needs, and if they did, they wouldn't be ready to adjust the software for us, so we decided to develop our own software."
With this, they were at the brink of service expansion and technological development. As the service part was locally sensitive, they looked in the franchising world to expand. This allowed them to grow the brand at a global level.
To become a brand partner, there are two ways, namely, buying its Vacation Rental Management Franchise or renting its Vacation Rental Management Software.
Life as the CEO of the company
Wearing the hat of the CEO of the company, Nino handles the three prime domains, namely, Acquisition, Brand, Creativity. Being an experienced business leader, he is a master in communicating with clients and handles the responsibility of explaining the services to the company's clients.
He works on the brand image and fuels the growth by taking it to the next level and beyond. He believes that creativity is crucial for innovation and progress. He welcomes new ideas, nurtures them, and turns them into a fruit-reaping tree.
Nino inspires the team by leading upfront. Other than that, he and his partner keep the team's morale and energy high by providing above-average salaries, a motivational environment in the context of modern office design, and team buildings. Moreover, they are available and open for communication to deal with different issues.
For the aspiring business leaders, he comments, "Believe in Yourself, be a leader by example, exploit your strengths, and always question yourself and your business."
Future prospects of the company
The plan and priority number one is to keep the Service and Software, as the foundation of Direct Booker's success, at a high level with continuous development. Secondly, the team would aim to find a strategic partner with whom they would bring Direct Booker Franchise and/or Software in each location globally much faster than they are expanding now."