Natasha Makhijani: Breaking the traditional shackles of executive search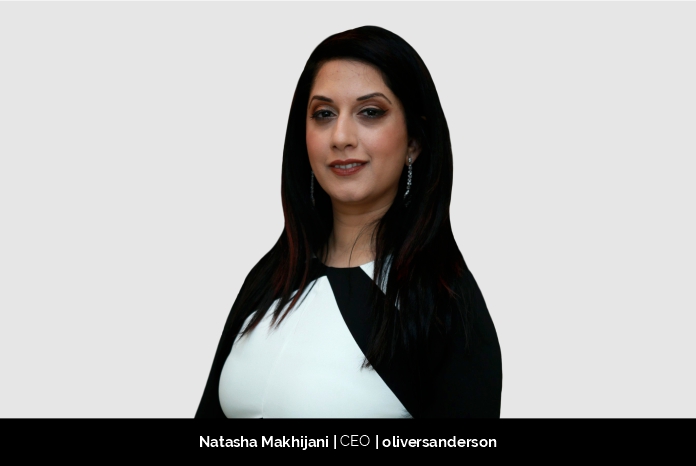 Being a dynamic, professional recruiter, Natasha Makhijani, Group CEO of Oliver Sanderson Group PLC, brewed the concept of the company to do things differently and make a positive impact. Starting the company single-handedly from her living room in 2011, she pushed the company to become an international executive search firm working with FTSE 100, FTSE 350, and Fortune 500 companies and winning prestigious awards in ten years.
She mentions, "Although I was happy in my previous recruitment jobs at Hays and Michael Page, I come from a very entrepreneurial community, and I always felt that there was something more out there for my career. People questioned whether it was the right thing to do, but I took the risk. I knew it was the right thing to do, and I have never looked back. I have built a great team, and we have come a long way. But we have a lot more to achieve together, and that is hugely exciting!"
Making a unique identity
As an Asian woman CEO in a male-dominated industry, Natasha had to be extremely assertive while climbing the ladder of success. Starting her journey in a new world came with its own set of challenges, but she took them as learning stepping stones and groomed her personality to evolve into a better leader. She firmly believes that the lessons one learns in failure or disappointment are sometimes far more valuable than those one learns in success.
Natasha aims to stand out of the crowd and take new approaches to evolve her business and take it to the next level. "I'm not just working to deliver success for my team, but to inspire other young women from minority communities – in fact, anyone who is ever doubted or feels different – that you can achieve success by going your own way," she adds.
Combining experience and expertise with innovation and fresh thinking
Oliver Sanderson is an executive search firm specializing in finding talent at the board and senior leadership level for FTSE 100, FTSE 350, Fortune 500, and PE-backed businesses. Placing permanent and interim positions across a wide range of sectors, the team has built up a strong track record of c-suite appointments.
Natasha states, "We believe that by matching great people with great organizations, we can make a positive impact on our society. With our innovative suite of digital apps and our powerful diversity and inclusion work, our firm is leading the way in discovering the next generation of business leaders."
The company works in a competitive industry, but a combination of different factors makes Oliver Sanderson unique. Under the leadership of Natasha, the company enjoys a unique perspective on the challenges faced by women and ethnic minorities in the job market.
There aren't many firms out there that are owned and led by an Asian woman, and this provides us with a unique perspective on the challenges faced by women and ethnic minorities in the job market. The insight is particularly important right now, with diversity and inclusion at the forefront of the corporate agenda, and the company's D&I consultancy is industry-leading.
The team also differs in terms of technology and how they harness its power to deliver better results. In addition to the traditional methods of targeted mapping, profiling, and headhunting, the research team at Oliver Sanderson draws from its pioneering mobile apps.
Changing the face of executive search
Tapping into her vast experience and skillset, Natasha paved the company to the top by pioneering unique digital recruitment solutions. She co-founded Snapp CV & Resume, the world's first mobile job board with voice technology capability and Amazon Alexa connectivity. The app currently has a database of over 25 million candidates in the UK and the USA, with over 250,000 positions listed on its mobile job board.
After the success of the Snapp suite, which includes Snapp Resume US & Global, Snapp CV UK, and Snapp INView video interviewing software, the team recently launched a dedicated Oliver Sanderson Executive app. Designed and created by their in-house tech team, the app provides digital solutions at every stage of the appointment process, featuring introductory candidate and client profile videos, fingerprint and password-protected online NDA signatures, digital candidate packs, integrated job applications, and video interviews.
Pandemic's effect on company's growth
COVID-19 disrupted the daily business operations. However, the company battled and survived through the first lockdown. The firm had to adapt to new challenges and emerge as a more flexible delivery model. For this, she says, "The Oliver Sanderson Executive app enabled the team to make an effective transition to remote working, with the digital platform offering video interviewing to substitute for the face-to-face meetings made impossible under lockdown. Our apps helped candidates engage with the job market at a time of unprecedented difficulty and uncertainty, and we received exceptionally positive feedback about our contribution to the economic recovery."
Owing to their superb flexibility, they were able to increase their revenue and expand the team efficiently. It has also paved a way towards a brighter future as corporations and wider society again start reforming.
Balancing CEO and Personal Fronts
As the Group CEO of Oliver Sanderson Group PLC, Natasha feels all her days are unique. During her workdays, she is responsible for managing all the business aspects in collaboration with the NED Board and finance team. She also keeps supporting her team to ensure that they have the tools they need to succeed in successful project delivery. Further, she is always on the hunt for new work in conjunction with their team of Consultants. Being the team leader, she keeps her focus on establishing an inclusive culture and instilling an environment of collective decision-making, which helps in keeping all the stakeholders' be it employees, suppliers, clients, candidates, and wider community interests, in sync.
She is super proud of her recent highlight of being shortlisted for the Agency Recruitment Leader of the Year at the Recruiter Awards 2021 and considers such recognition as the pinnacle of the industry. She also shares, "I'm humbled to appear on the shortlist alongside such a strong lineup – it's a dream come true! I hope this can provide some inspiration to others out there, whether they are ethnic women like me or anyone who doesn't quite fit in with the crowd, to believe in themselves and dare to be different."
Knowing the value of work-life balance, she has created an inclusive environment to ensure that each member feels valued and motivated. Autonomy and trust are the two weapons that she uses to empower all her team members and never misses to connect with them both professionally and socially.
She adds, "Studies have shown that a good team spirit promotes wellbeing and productivity, helping to keep employees motivated. It has been challenging to maintain this kind of connection during the COVID pandemic, as many other business leaders around the world have discovered."
However, Natasha came up with the idea of holding regular remote catch-ups that comprise no work-related talk. Also, she focuses on running virtual team-building sessions where all the members eat lunch together, take part in online yoga classes, play remote games, and try other fun activities.
Thriving future plans
Natasha is super excited to share her growth plans for the next 5-10 years at Oliver Sanderson. She says, "We are growing our team, planning an expansion in our Europe and U. S. operations, and we have just launched an ambitious new charity with an initial focus on race equality and Black leadership."
For all the aspiring business leaders, she has an inspiring message to share, "Always believe in yourself, but be open to constructive criticism – use it to learn and grow. Always remember, doubts and setbacks are part of everyone's journey – the road to the top is never simple! So be resilient, and never give up. I have been doubted in the past, but I used those doubts as fuel to fire me onto greater successes. Whoever you are, wherever you come from – with hard work, a bit of luck, and a good team around you, you can do it too!"