Victor Navarrete: A Healthcare Transformation Visionary Improving Lives by Solving Chronic Disease Challenges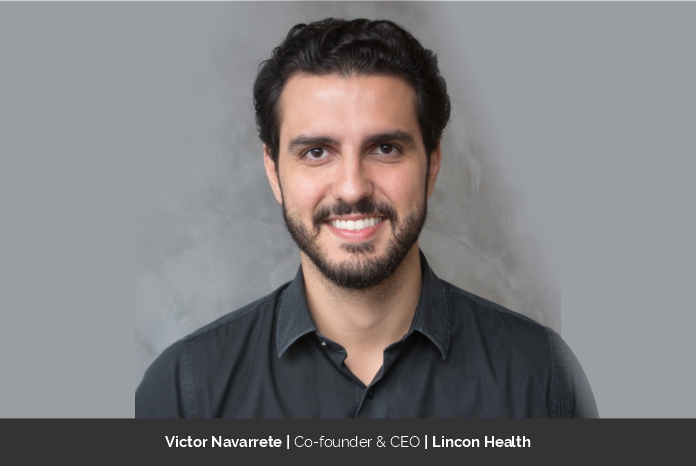 "My father was chronically ill (Parkinson) and his difficulties over time marked me a lot. The illness and the medication greatly hindered his ability to work and his organization to have a more dignified old age," says Victor Navarrete. He is a co-founder of Lincon Health, a health business whose objective is to change the way individuals with diabetes and hypertension manage their health. He was a partner at ACE and the CEO of Cortex, an innovation consultant focused on helping major corporations adopt new options for growth, operational efficiency, digital transformation, and startup linkages.
Today, Victor strives to be healthy, to establish something meaningful for his family, and, via Lincon Health, to assist other people suffering from chronic conditions in living their lives.
First Step
Victor's first official employment was in the paint industry. It was an internship, and the human resources staff intended to place him in a comfortable room with decent air conditioning to concentrate on administrative procedures. He requested to work in the sector with the workers in order to understand all of the procedures by performing them. He spent three months combining the pigmentation of the paint's chemical makeup, loading ingredients into the industry's stock, cleaning the factory floor, and running the machinery. He had lunch with some employees on top of a pallet and immediately became friends with some of them. He had lunch with some employees on top of a pallet and immediately became friends with some of them. As Victor sees it, this was crucial and taught him a number of qualities that a successful leader must possess namely humility and the willingness to get his hands dirty with the team. He says, "That was fundamental for me."
As per Victor, the biggest recognition he ever had was when his current partners, Sulivan and Jose, elected him as the leader of Lincon Health. He shares, "Their trust in my work meant a lot!"
Lincon Health
Lincon is a digital therapy founded on data and behavioral sciences, with a multidisciplinary approach based on health indicator monitoring and its own health team (doctor, nutritionist, psychologist and health coach). Chronic illness is not resolved at the doctor's office, but rather in the time between sessions. Medicine is only one component of the therapy process; what truly unlocks health for the patient is education and attention to their bodily and emotional well-being.
Innovating to Bring Change
When Victor was a child, he saw that the household bills were disorganized and that everything was scribbled down in a notebook. The family had no control over where their money went or how much they spent at the grocery store. He discovered software online that would assist his family with their bookkeeping, and he set up separate logins for everyone at home. He rearranged the accounts in one month and was able to save a significant amount of money on different costs as a result. It was his first employment with a business, and it represented considerable innovation for his family, although in a simplified version.
He continued this passion with him throughout his life, beginning businesses at a young age, particularly in startups. Because there were few angel investors in Brazil at the time, everything was extremely challenging. Later, he became a partner in one of Latin America's most famous start-up accelerators, helping to invest in over 100 companies from various sectors of the economy and helping entrepreneurs develop tremendously. He was instrumental in the formation of a spin-off that assists huge corporations in their efforts to innovate, and he collaborated closely on creative new ventures with some of Brazil's greatest corporations. He states, "Together with two other partners, we launched a book telling a little of this story called Radical Transformation. The book was a best-seller here in Brazil."
Victor now has the potential to revolutionize the way chronic patients interact with their health at Lincon. He and his partners began in 2021, quadrupling the patient base, and the team hopes to reach 100,000 active patients in five years. He says, "We are just at the beginning of this journey."
Success for Victor!
Receiving value from others is much simpler while providing value takes effort and devotion. Victor defines success as the ability to provide value in all he undertakes in life. This ranges from fundamental day-to-day encounters, such as a talk with an Uber driver, a domestic problem to be handled at home or in living with neighbors, to providing value for the end consumer in the corporate sector.
He believes that if everyone adopted the same behavior, the globe as a civilization would expand disproportionately. The main issue he sees in Brazil today is that most of the country's leaders consume more value than they produce. Victor views this as a poor example for everyone, and he ends up reinforcing inequities.
Inspiration to lead a company to Success
Victor's grandfather arrived in Brazil in the midst of the Spanish Civil War. Victor says, "He fled on a freighter and docked in Brazil, searching for a new life. He lived on the street for a while, managed to get a job and settled down. He raised a wonderful family and passed away after fulfilling, with praise, his mission on earth." Victor states that his grandfather was his first angel investor and always believed that Victor would work hard to fulfill his mission here. He opines, "I was 21 years old when I started my first business and I have always dedicated myself to entrepreneurship, even if it was intrapreneurship in companies that I was hired."
Victor found in Lincon the materialization of this mission to succeed by generating value for society, helping people who have chronic diseases save their lives and have a better quality of life. The cause is noble because the highest mortality rate in the world comes from no communicable chronic diseases (NCDs). Alongside sensational partners and investors, we are gradually achieving this goal.
A Persevering CEO
As the CEO of an early-stage business, Victor does a little bit of everything, but he has three defined roles: strategy, culture, and investor relations. He likewise spends a lot of time on sales schedules, but as a soldier rather than a commander.
Prior to Lincon, Victor was a partner at ACE, a micro-VC firm that invests in and develops early-stage businesses while also assisting major corporations in their market innovation through the Cortex spin-off, of which he was CEO. He says, "It was at Cortex that we worked with the market leaders in Brazil, in their segments, launching new businesses and carrying out digital transformation."
Before ACE, Victor worked at 99, the Brazilian mobility unicorn, helping the startup expand to the Midwest region of the country. He was enrolled in other businesses before that.
Looking for Prosperous Growth
Victor and his colleagues intend to expand and affect the lives of thousands of Brazilians who, sadly, face several health challenges. They want to engage with health insurers and organizations that want to cut chronic care expenses; keeping him/her well is excellent for everyone, lowering costs across the value chain and preserving his/her life.
Furthermore, the team hopes to recruit seasoned investors that share the company's mission. "As a startup, we will need to fund ourselves over the next few years to be able to impact more and more people," says Victor.
Victor feels that he is still at the beginning of a lengthy path to achieve numerous of his ambitions while presenting his future vision. He says, "I have a beautiful family, I am happily married to my wife Natalia, I have faithful friends, great partners and business partners, I live in a wonderful city, but I still have a lot to conquer." Victor's main objective is to raise his own family well in a dignified way.
Find Your Own Truth
Victor's message for other leaders is: "Find your own truths. All my reports here were truths that I sought for myself and it doesn't mean that they will work for everyone. Each one must have very clear objectives according to their realities. What works for me, may not work for you. What Elon Musk does and says doesn't work for me and that doesn't make him a bad leader, just someone different from me. What is your own truth?"