Nicolas Serandour – Growing And Creating Advancements In Global Radiation Therapy In The Oncology Market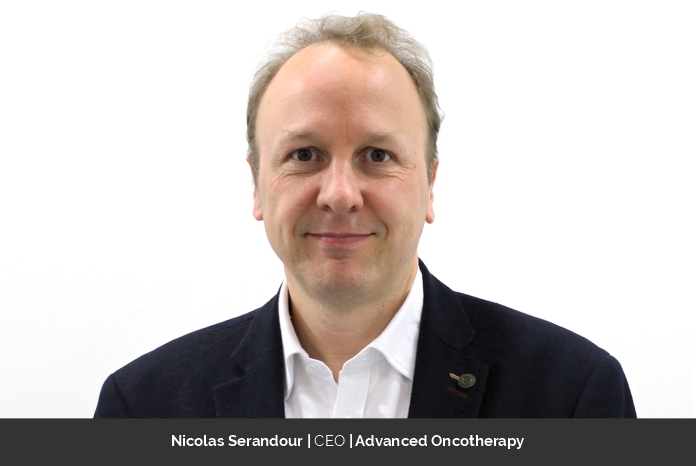 A good leader is a person who takes a little more than his share of the blame and a little less than his share of the credit. The definition of success is unique to every leader. Nicolas Serandour, CEO of Advanced Oncotherapy believes that success is always fragile: it requires effort to get there and it will not last if we don't pay attention. He states that he is fortunate to work in the healthcare industry where success can be easily measured. "It's about bringing innovation to meet the need of patients and ultimately save their lives. So success is all about others," says Nicolas. "What is the point of introducing a new treatment if the treatment itself becomes obsolete a year after? That's why I believe success is about having the right mindset: being focused on others, refusing the status quo, and accepting that success is not a goal in itself," he further explains.
A Step Of Faith To Pursue A Career In Healthcare
Nicolas' father used to be a physiotherapist and so he comes from a family that has dedicated its life to relieving pain in patients. From a young age, he saw how grateful patients were when there is someone on their side with a helping hand. This is something one doesn't forget and yet embracing what he calls a conventional career in healthcare by becoming for example a doctor was somewhat daunting to him. "I was not sure I would be able to keep my energy by being every day around unwell people? So I decided to look at this from the other end of the spectrum by starting as a financial and strategic advisor to healthcare companies. The aha moment was when I heard about stories of families going abroad to save their child against cancer because they were not able to get access to proton therapy, a type of radiation treatment that has been used for many years, is highly effective and targets the tumor whilst preserving the healthy tissue surrounding the tumor. I realized the lack of access to proton therapy – only 100 centers of proton therapy in the world – was due to the need to have the massive and expensive infrastructure to house the medical equipment with a building cost sometimes over £100m for large centers. So access was limited by cost," explains Nicolas.
When he visited CERN – the largest physics lab in the world – he discovered there was a new technology on the horizon that could treat millions of cancer patients and did not involve the same infrastructure or cost as the current proton-based technology that had been used for decades. And when Nicolas came back from this trip, he did not hesitate and joined Advanced Oncotherapy, a spin-off from CERN. He knew there would be a lot of challenges on the way, but he did not want to have any regret. "More than 10 million people die of cancer every year, we can't let them down," exclaims Nicolas.
Challenges Make You Stronger
Advanced Oncotherapy's ambition of democratizing proton therapy involves mainly three challenges: first, you need to have a team that can manage all the technical complexities in a wide range of disciplines – from the understanding of physics and how particles behave to the use of skills in electrical engineering, power conversion and radiofrequency network, control systems, to name a few. With the team in place, an innovation originated at CERN, and a validated design, Nicolas says confidently that the technology works, but this requires constant attention to ensure everyone is pushing in the same direction and does not get distracted with new ideas.
The second challenge is related to the highly regulated environment in which the company operates. He feels confident about this because proton therapy is well-known and many of their colleagues have been involved in the market approval of previous systems. Finally, and arguably the biggest challenge has been financing. Projects with a high physic content are cash-intensive and they take time to mature. The financing environment also tends to be more complex in Europe.
Hence, their journey would have been easier if the funding was available from day one. "The other lesson I learned is that we have probably made some mistakes on our journey by duplicating steps to limit development risks. This surely cost us time – a luxury that our patients don't have – but I feel that now this is about to pay off. Many of our staff have been involved in the development of other proton accelerators and it is the first time they can extract and measure a proton beam within a day. This gives me great pride and hope, despite all the challenges we faced," says Nicolas.
Advanced Oncotherapy And Its Services
Advanced Oncotherapy plc is a UK-based company, listed on AIM with its R&D HQ near Geneva. They are developing a proton therapy system – called LIGHT – that includes a proton accelerator integrated with all the equipment needed for treating patients. The unique thing about their system lies in the way protons are accelerated. Currently, protons are accelerated in circular accelerators. When accelerated, protons are energized and they lose their killing energy at a unique point located at a depth of 32cm in the body. So these machines require absorbers placed in front of the circular accelerators which then reduce the energy of protons so that the lethal effect of protons occurs at the right depth in the body. Unfortunately, not only has this technology hardly progressed in the last decade but the use of absorbers is highly inefficient and creates unnecessary radiation in the accelerator hall which must be contained through large and expensive shielding. In contrast, LIGHT linearly accelerates protons and so its design removes the need to have absorbers because the accelerated protons are not coming out from the accelerator at constant and fixed energy. This is relevant when considering that up to two-thirds of a project cost is in the building and today it can take more than $100 or 200m to build the infrastructure for a proton center, a multiple of what is needed when using a LIGHT system.
Their technology has many other advantages such as the superior ability to treat moving organs or the much smaller size of the proton beam which allows to perfectly sculpt the radiation dose to the irregular shape of a tumor. "The competition has certainly tried to find ways to reduce cost, but fundamentally the answer must come from the use of a new proton accelerator, which is not something easy to do. That's why we are so proud and privileged to be working on a technology that has taken years to mature at CERN. This is a major barrier to entry," he says.
Their LIGHT system is modular unlike current machines and so it lends perfectly to leasing. The last time a similar transformation was seen and accelerated in the medical technology industry was in the '70s when MRI systems used for imaging became more compact and most importantly available through leasing. This is what Nicolas expects to see in the field of cancer and proton therapy. Nicolas strongly believes that introducing LIGHT will be transformational, but that is just one step. "We are in great danger if we rest on our laurels, so my goal for the company is to sustain our competitive edge by pushing further innovation. I want all our people and stakeholders to feel the same excitement and pride that I have when they see that what they are doing is having an impact on society and patients and when – through their actions and resilience – they show that nothing is impossible," says Nicolas.
Nicolas' Contribution Towards The Success Of The Company
Nicolas states that his experience as an advisor taught him that you can't change things and make progress unless you deeply understand the expectations of your key stakeholders and the best way to do so is to put your money where your mouth is. "I think this is reflected in the commercial arrangements we signed so far in which we share part of the future profit of the medical centers. The healthcare industry has suffered too much in the past from the fact that key stakeholders work in silos but the revolution around artificial intelligence and the development of new integrated healthcare systems are about to change the paradigm," he states.
Most Proud Moments And Responsibilities As A Leader
"What makes me particularly proud is the emergence of new talents," exclaims Nicolas. Many new talents joined their company because of their mission and their need to have in-house technical expertise. But over time and despite the various challenges, many stepped up, developed commercial skills, showed resilience, and exhibited courage. I don't necessarily see that when a person comes with a revolutionary idea, but rather when a person achieves a series of "small actions" which are pushing the project in the right direction," he says.
Nicolas claims that his days are never the same. Maybe because his job is first and foremost about addressing issues! So, in that context, they have various processes in place to monitor their project, but they need flexibility and agility so that issues are tackled as a matter of priority. "The one word that best defines me is fairness," he states. Legitimately this comes with high expectations. Because of that, it is important to always be fair, recognize achievements and also be clear about expectations when things don't work out.
Balance In Personal And Professional Life
Striking the right balance is not easy, but this is not necessarily an obsession for Nicolas, partly because he states that he can count on a family who is supportive and partly because his best ideas tend to come when he's not in the office. "For me, the most important thing is the level of satisfaction and happiness I get, both personally and professionally, which is achieved not by segmenting my time. between professional and personal matters, but rather by ensuring time is of quality," says Nicolas. He further states that reducing the stress level and improving quality are possible by being transparent and disciplined, having fewer meetings on any day, and celebrating achievements – albeit small.