Nina Beikert: Making a Difference in Patient Care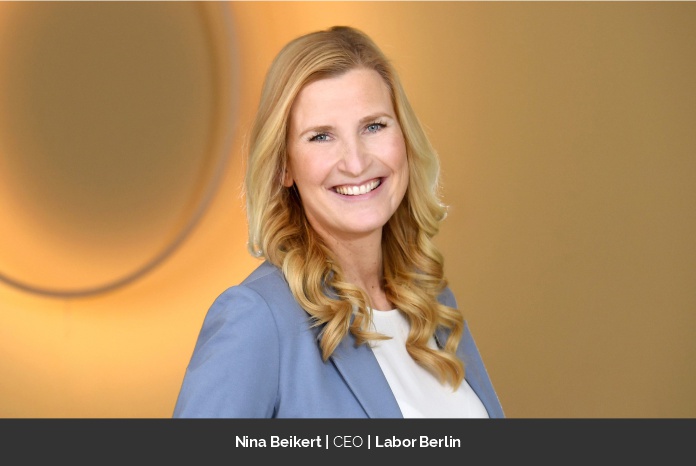 Always having been passionate about healthcare, Nina Beikert couldn´t think of a finer purpose than having the chance to make a difference in patient care. Nina is the CEO of Labor Berlin, a joint venture of Charité that is one of Europe's major university hospitals, and Vivantes, the biggest municipal hospital group in Germany.
According to Nina, there is no such thing as a typical work day in for her. She is in charge of Labor Berlin's nine laboratory sections, ranging from high-throughput testing to highly specialized diagnostics, as well as marketing, sales, IT, and facility management. Therefore, her working days are much diversified: from automation projects, the development of new services, 1:1s with her direct reports, to negotiating contracts with the business's customers. She says, "There is a broad variety of topics that I am in charge of, which makes my job very interesting."
Before Starting Corporate Journey
Nina grew up and was raised in the south of Germany. Sport has always been a love of hers, so she experimented with several activities before settling on her favorite sport, basketball, and joined the German Bundesliga. She attended the universities of Mannheim, Germany and Pamplona in Spain, where she studied Business Administration and Romance languages. Since women´s basketball doesn´t pay off very well in Germany, she held lectures in maths and statistics to earn some money for her life and travels.
Nina began her professional career in the diagnostic field in 2007. She took advantage of a fantastic chance to participate in a trainee program at Roche, one of the world's leading medical diagnostics companies, with a focus on leadership. The knowledge she gained during that time, as well as the accompanying leadership and personal skills training, the intense and helpful feedback she received from her mentor, and the network she was able to build through various projects, all aided her greatly when she began her first leadership position immediately following the trainee program.
After four years as Head of Sales in North/Eastern Germany for laboratory diagnostics, Nina was given the position of Managing Director of Labor Berlin, a new and promising company. She says, "With Fabian, I have a great colleague in the Executive Board, and together we can rely on an exceptional team of more than 700 brilliant, caring, and talented employees."
Nina chose to remain as long as she could still help Labor Berlin to reach its vision and at the same time learn and grow, which she has done for the past few years.
Labor Berlin
Labor Berlin, founded in 2011, is currently Europe's largest hospital laboratory and one of Germany's three most innovative mid-size companies. The organization specializes in medical diagnostics for big hospitals and specialized healthcare facilities in Germany, with a strong focus on cutting-edge specialty testing and new diagnostics.
Even remaining up to date in the medical field is difficult: innovation cycles are short, and there are continual quick breakthroughs and knowledge development. As a result, the staff at Labor Berlin are constantly reviewing and adapting their services and procedures to meet new demands.
The company is built on four pillars: its employees' vast experience, competence, and dedication, an innovative culture, a close relationship with customers to understand their evolving needs, and close collaboration with Charité's medical faculty as well as the research departments of its diagnostic partners. Nina opines, "We have professionalized our innovation process and reinvest a lot of our revenues in order to foster and facilitate innovative projects and ideas."
Setting Examples during Crisis
Nina's biggest challenge so far was managing the Corona crisis. Labor Berlin was the first laboratory in Europe to offer SARS-CoV-2-PCR-tests on a regular basis for patients. The result was a flood of samples from all over the continent right at the beginning of the crisis.
Besides managing the running business, the team had to establish new processes, find a lot of new employees, take new analyzers into routine operation, etc. to handle all those additional samples. She recalls, "Pressure was extremely high, for Labor Berlin suddenly played a major role in fighting the pandemic with a substantial responsibility." She further adds, "We became the "backbone" of patient care for all the patients in most of the hospitals in the German capital and many of the testing centers in the city." Almost 50% of all Corona samples in Berlin were analyzed in the central laboratory of Labor Berlin, which also led to a distinct public focus on its work. According to Nina, the team knew that there was no option but to perform and make sure that they would be up and running at any time.
Nina realized that the decisions she had to make at short notice could have a major impact for thousands of patients every day. She literally felt her personal responsibility in that regard, and also a responsibility for her team. "Without the amazing colleagues in all different departments of Labor Berlin, it would not have been possible to manage all such extraordinary challenges," says Nina. Everyone gave their best and walked more than the extra mile. She asserts, "We had crisis calls every day to decide what to do next and how to handle all the challenges we were facing, from lacking face masks, tests, and analyzers to organizing child care when kindergartens closed – up to eventually having to deal with and support staff members that got infected or had to stay in quarantine."
As per Nina, looking back it was a very challenging and tough time, but it gave her the chance to learn during a short time more than she could have learned in many years without the crisis.
These are the most valuable lessons Nina learned:
Teamwork is the key and the most important task in leadership is to build an excellent and motivated team that one can rely on. Empower all team members to work autonomously and enable them to give the best they can. Such a crisis cannot be handled if everything has to be decided or controlled by just one person. In times of crisis, all hands must be on deck.
Consider alternatives and have the courage to take hard decisions. One has to accept that, for most of the time, there will not be the one option that fits 100%. Choose the one that is closest, at least from what you have understood – and accept that waiting to be absolutely sure is not the right way in times of crisis.
Give the very best you can – and accept that there will still be a chance of failure. You cannot control everything. But you can do your best at any time.
Listen to your moral compass when making hard decisions.
Supporting Others to Improve
"A team can be way more than the sum of its parts, and so is the team of Labor Berlin," says Nina. In this way, she views her greatest accomplishment as a leader to have formed the best team she could conceive of out of capable individuals. She has effectively built a team in which everyone is capable of growing above their current level.
She recalls, "A very special moment that made me proud: A member of my team recently thanked me for supporting her with my feedback and mentoring to develop her full potential, and told me that I am her role model in leadership. She now wants to pass on her experience to her direct reports in the same way that I did with her. To me, that is the greatest feedback that I could get as a leader."
Integrating Work and Life
Nina believes in integrating work and life rather than talking about work-life-balance. In her opinion, such discussions stress most people more than they help. She says, "Like most of us, I spend a lot of my lifetime working and I do not want to wait until my working day ends to start living."
Nina aims to work with people that are not only top professionals, but also great people that she likes to spend time with. She adds, "I found myself a job that I am passionate about: learning new things, finding solutions, going new ways, and especially leading a team of very smart, dedicated, and diverse individuals that challenge me every day and help me grow. Plus, there is no better purpose that I could think of than contributing to improving healthcare."
More Improvements in the Future
The vision of Labor Berlin is to become the top innovator in laboratory medicine and to shape the diagnostic future, in order to improve patient care. Nina's personal goal is to constantly improve to become a better leader. She states, "I am supporting my team members and mentees to become more successful than I am."