Farah Zulkharnain – A Dynamic Leader that is Aiming to Make a Change in the Rehabilitation Industry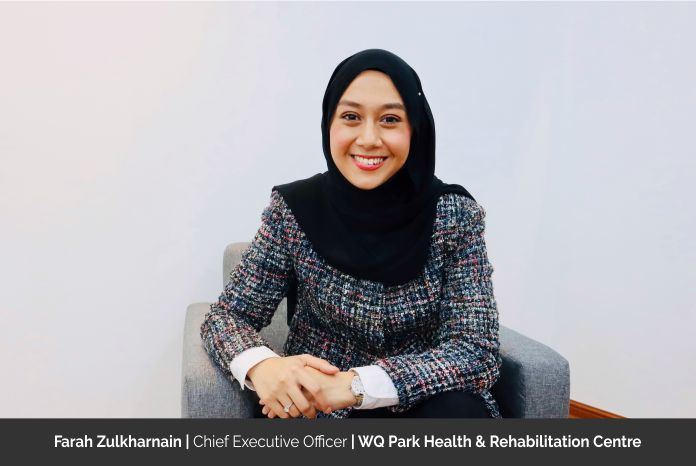 'A visionary leader who always looks at things in the bigger picture whilst still focusing on what's happening on the ground.' This is how Farah Zulkharnain, CEO at WQ Park Health & Rehabilitation Centre defines herself in her own words. She is an empowering, conscious, and hardworking woman who has always envisioned herself as a leader in a healthcare company, especially in her home country of Malaysia.
WQ Park is a one-stop centre established in 2010, providing They provide comprehensive rehabilitative services for all ages from children to adults. Farah believes claims that as a company they are aware and very particular when it comes to the quality of their services while making sure they grow sustainably.
Success is a personal and continuous journey
Farah defines success as leaving a remarkable legacy in this world through the actions or work accomplished. It's a journey to achieving short and long-term goals in life. "I will challenge myself regularly to go out of my comfort zone to improve my personal skills and knowledge," she says.
As a Muslim, she believes that doing good in this world will lead her to a better life in the hereafter, and that's why one of her missions, as well as of WQ Park's, is to help those in need, as she would want to achieve success in the hereafter too. While external motivation may help one to achieve success however, she also believes that internal motivation is more important in achieving your goals. Success comes when you really believe that you can achieve them. When one believes it, the subconscious mind will make you work towards it.
A leap of faith to grow in the healthcare industry
"I believe in my vision of bringing the Rehabilitation Industry in Malaysia to the highest level of care, equivalent to International Standards and that is why I took this leap of faith," says Farah. She also believes that with her vision, she can drive the organization to where it should be – nationally and internationally. She chose the healthcare industry because she is passionate about helping people and being in this industry helps her see and feel the satisfaction of her work by witnessing the changes in front of her eyes when patients improve their quality of life improves. "I would like to touch as many lives as possible with my job and passion," she states.
Farah's parents who are doctors have also been sources of an inspirations for her to be in this industry. They have always put their patient's well-being first and ensure they receive the right and accurate treatment following their illnesses and injuries. Their passion brought success into their lives which inspired not only her siblings and herself but also other members of their family to pursue becoming doctors. There are around 30 of their nieces and nephews who have followed in their footsteps. All of them together could open a hospital of their own since most of them are specialized in different fields.
Farah wants to give back to her country and she wants to eventually work or be a part of the Ministry of Health Malaysia. She strongly believes there is a real opportunity to transform and enhance public medical care. "We can achieve so much more with digital transformation and by having a patient-first mindset," she explains.
Roadblocks in the professional journey teach valuable lessons
According to Farah, the biggest challenge of being in the rehabilitation industry is to make rehabilitation more approachable and easily accessible to the public. The impetus for the establishment of WQ Park is that the founders believed that rehabilitation centers are the way forward in making sure the wellness of the people can be looked into as a whole under one roof. The level of acceptance in undergoing rehabilitation treatment is improving over the years however they hope to achieve more by educating the public and raising awareness via different platforms and events.
The pandemic was one of their biggest challenges. The pandemic has forced most if not all industries to invest in technology to make all businesses relevant and sustainable. WQ Park introduced tele-health for rehabilitation during this phase and it is still a service that is offered ongoing today. Other than that, they created home kite therapy tools that could help patients and caregivers to continue their care at home while the lockdown was happening – and their intention wasn't entirely to stay afloat; they wanted to make sure they could still care for them even if they couldn't meet them face to face. "We managed to get out of this pandemic stronger and better than before! I am so grateful to my team members for everything that we have achieved. I have also learned that being in this industry means we need to spend a lot of time managing people the most. Since we offer service and services that come from the people, the management has to always put our employee's wellbeing first," states Farah.
She further says, "Over the years, we have introduced many different benefits for them and we are proud to announce that we recently introduced "Lifestyle" benefits which allow them to claim for leisure travel, hobbies, digital tools, personal development, and more." Retaining and rewarding their employees has been their priority to achieve the highest level of quality care. Farah believes that this has taught her to be more vigilant in understanding the ever-changing working culture demands.
WQ Park Health & Rehabilitation Centre and its exceptional services
WQ Park is a Specialised Health and Rehabilitation Centre providing comprehensive treatment to patients of all ages – specializing from children to adults. It was established in 2010, 12 years ago by a team of specialists and doctors. Its vision is to be A One-Stop Centre that provides all the rehabilitation services and products for the patients' needs. They treat their patients with the highest standard of care and commitment to excellence. All of their physicians and therapists are certified and specialized in a range of rehabilitation methods and the centres are equipped with the latest rehabilitative pieces of equipment and modalities.
They were have been the first to introduce the First Robotic Hub in South East Asia, which is a hub that has a full range of robotics equipment for all medical conditions. WQ Park was launched by HRH His Majesty Al-Sultan Abdullah Ri'ayatuddin Al- Mustafa Billah Shah in 2010. As Malaysia's first one-stop rehabilitation center, it prides itself as an organization that nurtures the next generation of allied health professionals by providing a platform for them to grow and learn with them. They have also partnered with local universities and institutions to foster the next generation of healthcare leaders.
Simply Excellent Care – A slogan their Founder chose to represent their care and experience at WQ Park. Dato' Sri Dr. Zulkharnain Ismail, their founder is a Consultant Orthopaedic & Trauma Surgeon with almost 30 years of experience. He believes that rehabilitation is an important phase of someone's recovery. Therefore, by establishing "A Healing Park", he aspires to give hope to improve their quality of life.
WQ Park's patients come from all over Malaysia and other countries as well." With their trust, we have expanded to three branches within Klang Valley, Malaysia, and we aim to provide our services nationwide and internationally in the next few years," says Farah
Redefining the healthcare industry with integrity and innovation
WQ Park practices transparency in the organization. They have a well-balanced top-down and bottom-up management approach to ensure that the therapists they know exactly what is happening on the grounds, only then they could further improve the quality standards and enhance the treatment procedures. They are always encouraged to come out with creative treatment activities based on the patients' needs. This is measured by the patients' outcome and recovery period under their care. The aim is to ensure that the patients are given the appropriate recovery period to go back to their normal selves or increase their quality of life.
All their therapists are exposed to different job tasks to prepare them for different roles and positions in the workplace. They are allowed to propose innovative ideas and there's a culture of openness where people can share ideas freely.
"Throughout my time in WQ Park career, I have introduced a new system to track patients' progress which has helped not just internal operations but also our patients to understand where they stand and regarding where they want to be," Farah states.
Farah's life before WQ Park Health & Rehabilitation Centre
Farah obtained her Psychology Degree from International Medical University (IMU) Malaysia. Then, she was attached to Malaysia's National Branding under the Prime Minister's Office of Malaysia. "I am grateful for the exposure and experience I have had during my work there," she says. She was exposed to various departments focusing on Malaysia's branding nationwide and internationally, communicating messages to the public from the Prime Minister's office, and took part in Prime Minister's walkabouts and nationwide event management. She claims to have learned a lot and developed a lot of new skills while she was there. Some of these skills have been transferred to WQ Park and as a result, they have a more professional look.
Today's business environment is very competitive and branding is very important. One needs to stand out not just in terms of the services offered, but also in how one portrays oneself to the public, and that's what Farah has brought to the table since she joined.
The best recognition Farah states she has achieved for WQ Park is the "The Best Outpatient Rehabilitation Facility in Southeast Asia" award this year. "We are honored to receive this award. We hope this will only bring us further and better! I am looking forward to continuing the journey and hope to receive more recognition in the future," she exclaims.
Overall responsibilities as CEO of WQ Park Health & Rehabilitation Centre
Farah is responsible to maintain and further enhance the rehabilitation experience at WQ Park. She is also responsible to expand the business outside of Klang Valley, Malaysia. This year, they are expecting to open two branches in two different states in Malaysia. Their focus is to ensure their quality of care is the same in all their branches, following their integrated treatment approach.
Since she stepped into the CEO's office, she has introduced new departments such as Quality Management and Rehab support departments to increase company efficiency. They also work with non-profit organizations in Malaysia to reach out and treat individuals who are in financial need.
"I ensure to make time to see some of our patients – to know their progress and any feedback for us to grow better. You can only know how well you are doing by speaking to your patients and that is why I make it a point to do so," she says. Having said that, Farah is also aware and very particular when it comes to the quality, ensuring WQ Park Health grows sustainably.