Matthew Trerotola – An Experienced And Dedicated Leader Bringing Change To The Medical Technology Industry Through Innovation And Acquisitions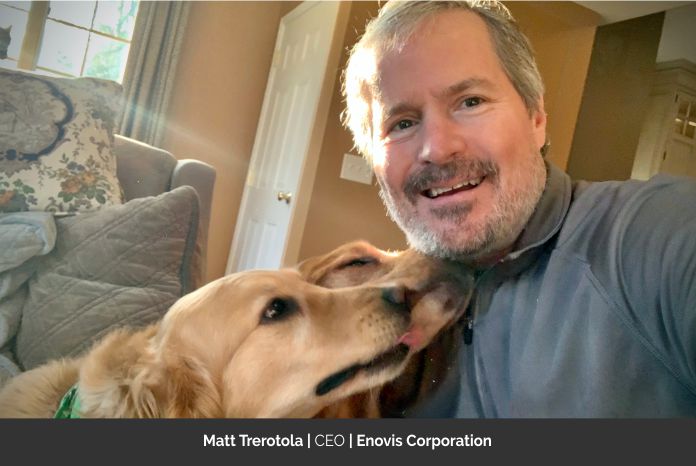 Success is a moving target
Matt Trerotola, CEO of Enovis Corporation, is an extremely passionate healthcare leader striving to bring a positive change in the medical technology industry for a better patient experience. He states that success for him is making the most of the opportunities presented to him. Every person and every business has an intrinsic set of capabilities and an external set of available opportunities. To Matt, success is reaching your full potential.
For MedTech innovator Enovis, success means using their exceptional capabilities, advanced technologies, and attractive market positions to continually outperform their industry peers. Matt carries the same philosophy when it comes to leading and developing their associates at Enovis. Everyone carries their desire and ambition, so the question is how to create the right opportunities for them to be successful and reach their full potential. "It's part of our commitment to hiring and developing extraordinary talent," he says.
Leading a business requires more than just a great idea
Matt dreamed of being a business leader ever since he was a child. He wanted to be as successful and respected as his dad, who was a tremendous inspiration. After many years of learning and growing, he was offered the chance seven years ago to be the CEO of Colfax (Enovis' predecessor). "It was a tremendous opportunity to take everything I had learned in my career and apply it to leading a great company on an exciting journey," he states. Under Matt's leadership and commitment to continuous improvement, the company was reshaped from Colfax into Enovis, a focused medical technology growth company, with the goal of creating a long-term path of growth through innovation and acquisitions. He states that leading Enovis in the MedTech industry is also very exciting because every day there is the opportunity to make a difference in the lives of patients.
Internal strength fosters resilience and growth
"One valuable lesson that I have learned through the years is that we cannot control what happens in our external environment, but we can control how we respond to the challenge," says Matt.
He was in a start-up in Silicon Valley when the tech bubble burst, he was leading an industrial business in the 2009 recession, and now he has led a MedTech business through a pandemic. These are times that test leaders and teams. Matt believes that it is critical to remain calm and help teams to process the situation quickly and turn the focus to what their response is and how they will navigate through with a focus on their values and customers. By looking at challenges as opportunities, one can turn something that was previously daunting into fuel that ultimately develops stronger leaders and teams and creates lasting, positive momentum in the organization.
Enovis and its purpose
Enovis (NYSE: ENOV) is a specialty medical technology company focused on developing clinically differentiated solutions that generate measurably better patient outcomes and transform workflows for healthcare professionals. Their ultimate goal is to create a high-value, high-growth medical technology company that extends them in and beyond orthopedics to help more patients thrive and live active lifestyles.
The purpose of Enovis is Creating Better Together. They chose that purpose because they think it's incredibly motivating and inspiring. "When we talk about creating better together, it means better solutions for our surgeons, which means better outcomes for their patients. It also means better career paths for our associates and better relationships in our communities," explains Matt. He further states that the team is consistently focused on their culture of continuous improvement and knowing that they have the power to create better together is very motivating.
Enovis' contribution to redefining the healthcare industry with integrity and innovation
The healthcare industry needs solutions that lead to better patient outcomes at a lower total cost. Enovis is committed to leading the way by always asking – how could this be better? They have already developed innovative surgical implants and braces that result in increased patient satisfaction and create better paths to recovery. Increasingly, they are combining product innovation with digital solutions that reshape the patient journey and healthcare provider workflows.
Integrity is fundamental to an organization's success. Matt takes personal ownership of the ethical climate in the company. This includes setting the tone in their leadership team and providing training and mentoring throughout the organization to be sure the culture of integrity is infused into every aspect of the company.
Matt's life before Enovis and recognition as a leader
Before Matt joined Enovis, he held various leadership roles at DuPont, Danaher Corporation, and McKinsey & Company, where he was dedicated to strengthening talent, accelerating organic growth, improving profitability, and making strategic acquisitions.
Matt started his career in sales, which served as a great starting point for his career because he learned the importance of helping customers solve problems and how their success is crucial to Enovis' success. "I am very proud of the many recognitions that our Enovis teams get for innovation and leadership in the industry. I am also proud that we were named one of America's Best Employers by Forbes – we constantly work to make our company a great place to work so the recognition is encouraging," he says.
Responsibilities as the CEO of Enovis Corporation
Matt is responsible for building an extraordinary company that innovates for better outcomes for patients and is a place where great talent can reach their full potential. He says that he loves it. "I feel accountable for tomorrow and next week but also for where we are 5 and 10 years from now," he states.
Any leader can tell you that there is no typical day! On any given day Matt could be working on their next strategic acquisition or having lunch with a group of associates. Or he could be visiting one of their sites for a business review and to see the progress they're making applying the Enovis Growth Excellence business system to drive continuous improvement. He could be meeting with potential new investors or touring an orthopedic clinic and meeting with surgeons to identify their needs and how Enovis can help them provide better patient outcomes. This variety is something that he really enjoys about being the CEO of Enovis. He values the opportunities to spend time with their terrific and talented associates and business partners.
Matt defines himself as an 'intense' person. He brings a lot of ambition to the company, and he has high expectations for their teams. "Continuous improvement is our core value and that means we
are never satisfied. With the great opportunities for growth in orthopedics and beyond this intensity is typically focused on how we accelerate our growth path," he explains.
Plans for the future of Enovis
Enovis is growing quickly! They are closing in on becoming a $2B company with a clear path for growth beyond that. Their plan is focused on creating a company that is a high single-digit organic grower powered by innovation – initially in orthopedics and beyond over time. They will continue to add acquisitions that accelerate their growth as well.
Matt's personal goal is that in the future Enovis is one of the great growth stories in the history of the MedTech industry – a company with high integrity and exceptional performance.
Work-life balance as an ambitious leader
Maintaining a balance can be difficult for any leader. Matt says that he learned a long time ago that it is very important to set boundaries and be ready to protect those boundaries. This includes things like managing travel schedules, protecting vacations, and ensuring that he spends high-quality time with his family. He is extremely grateful for the support he has had through the years from his wife, Beth.
Matt's message to aspiring business leaders is to have big dreams, and then take those dreams and turn them into an actionable 3-5 year plan. Then rinse, repeat. If you put in the work to learn, grow, and create value while maintaining some flexibility you will find the path over time to your full potential. "And make sure you are doing things that you enjoy with people whom you respect," he states.