Reshaping Kenya's Healthcare, One Doctor and One Hospital at a Time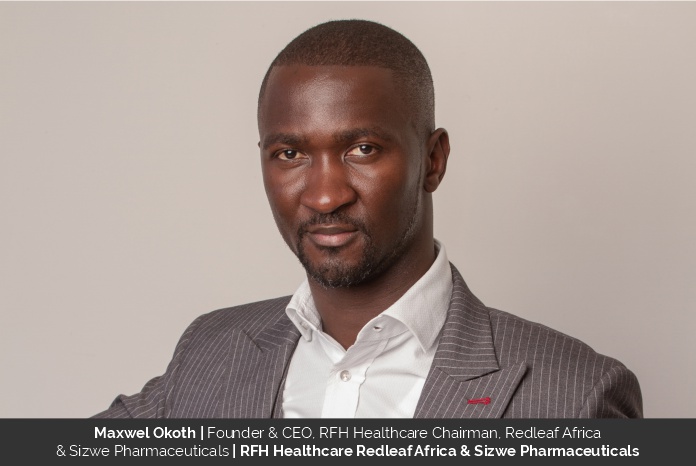 Life is precious, so goes the popular adage. To spark change and make people's lives better, you have to do something significantly different. You have to dream big, spare no effort and invest all your resources – time, money and energy – into creating an enterprise or in doing something that fundamentally makes the world a better place. And once you're on this path, you have to keep moving. The path may be strewn with all manner of challenges, but you must remain unruffled. Your guiding light must be pointed to the constant north: achievement of your goal.
This is the story of Maxwel Okoth, a doctor. He capitalised on his social background, professional training and personal and practice experiences to establish RFH Healthcare, a community and specialist hospital based in Nairobi. As a pioneer healthcare entrepreneur in Kenya, Dr Okoth's vision is to make healthcare services more accessible and affordable to the millions of vulnerable and underserved Kenyans. Dr Okoth's vision, passion, and business acumen has made him one of the most inspirational leaders in Kenya's healthcare industry. His achievement is made more remarkable by the sheer fact of establishing eight branches of RFH within a span of ten years, all from a modest resource pool. The story of Dr Okoth in healthcare entrepreneurship is the glamorous success story of RFH Healthcare. And it all began when Dr Okoth was only 25 years old!
Turning a 'Banker' into a Medical Doctor
While growing up, Okoth had no plans of becoming a doctor or joining the healthcare industry. He was drawn to mathematics and he hoped to follow in the footsteps of his mother in the banking sector. His eyes were fixed on pursuing a degree in commerce, which he planned to crown with a master's in business administration. This way, Okoth believed, he would turn out to be a successful and influential business mogul in his village and country. All these dreams were extinguished courtesy of his performance in the final secondary school exams. Okoth scored grade A in his Kenya Certificate of Secondary Education subjects. "In Kenya, at the time if you pass with good grades, everyone believed you needed to be a doctor or an engineer," Dr Okoth says. With such impressive performance, his father convinced him to join medical school. Even with this decision, little did Okoth imagine that this career path would lead him to founding and heading such a life-changing healthcare enterprise as RFH.
"When I joined medical school, I immediately loved and admired the environment because of instant gratification," Dr Okoth says. "One moment a patient would be in excruciating pain; the next moment the patient would be smiling. The experience was satisfying. I ended up loving medicine."
Dr Okoth is a graduate of Medicine and Surgery (MBChB) from the University of Nairobi. After graduating from medical school, he secured an internship opportunity at the Kiambu District Hospital, as a prerequisite to being licensed to practice. At Kiambu, Dr Okoth came face to face with the difficulties many families face in accessing healthcare services. For instance, women with symptomatic uterine fibroids would come to the hospital bleeding and in need of urgent medical intervention. However, a majority of them would be turned away since the hospital had only one surgical theatre for maternal emergencies. One would be put on a waiting list that was always full for the next two years! "If you tell a heavily bleeding woman to come back in two years, it's like telling her: 'I can't help you,'" Dr Okoth says, sadness written all over his face. "It's literally telling someone, 'Go home and come back when you are dead.'"
The Birth of RFH Healthcare
What Dr Okoth saw and experienced at the Kiambu District Hospital deeply troubled him. He told himself he had to do something, however small, to make a difference in the lives of the people he had trained and swore to care for. His passion to make a difference in people's lives only grew bigger by the day. "The situation really bothered me and I asked myself: What can I do to help make things better? That is how the idea of starting a hospital crystallised in my mind. And so, in 2011, I started RFH Healthcare," he says. "We started small and never looked back."
RFH started as an urban outpatient facility. This was informed by the inadequate and unaffordable healthcare facilities in such populous areas. Many mothers and children could not access healthcare facilities. Dr Okoth believed that RFH would alleviate the innumerable sufferings he had witnessed during his internship. He reasoned that charging patients' fees close to what government hospitals charged would benefit patients while guaranteeing that RFH remained in sustainable operation. And, ten years later, the gamble is paying off. "We have registered growth in terms of patient numbers and satisfaction and RFH's physical and service outreach," Dr Okoth says.
An institution that started from an apartment building now boasts a chain of eight healthcare facilities spread across Nairobi. The main facility has a 100-bed multispecialty hospital that offers critical care services such as neurosurgery, cardiology services, IVF, endoscopy, laparoscopy surgery, MRI and CT scan. Other regular services include X-rays, imaging, laboratory, dental and pharmacy. Dr Okoth says RFH is in the process of setting up a teaching and referral hospital which will serve as a medical training college. The college, he hopes, will provide an opportunity to those locked out of medical schools owing to astronomical tuition charges.
RFH also operates two 50-bed maternity hospitals located in very densely populated residential areas. "We are trying to bring healthcare services closer to where people live. We believe people need to be served from where they live. Long journeys in search of healthcare are costly and destabilise people's daily schedules," says Dr Okoth. "We are determined to be as close as possible to where our clients live." Most of the facilities run by RFH offer in-patient services. Currently, the eight RHF facilities have a combined bed capacity of about 250. The institution is in the process of putting up a 200-bed facility next to the main branch. The hospital aims to become a 500-bed healthcare solutions facility in the near future.
Small Steps, Big Dreams
Kenya suffers a low penetration of health insurance, further exacerbating the pain patients go through. In order to be of further service to his community, Dr Okoth established Redleaf, a subsidiary to RFH. Redleaf is an in-house insurance company that offers low-cost medical cover to the uncovered. "With about $350, you will be able to get $10,000 worth of medical cover for one year," says Dr Okoth.
RFH also has a sister pharmaceutical subsidiary that imports medical supplies for use by the hospital chain. Dr Okoth explains that this allows the institution to exercise control over its supply and value chains in a bid to realise its stated goal of providing accessible and affordable private healthcare services. "We give you quality healthcare services at a competitive cost. Comparatively, in terms of value for money, our services rank higher than those provided at government facilities. Remember healthcare services in public hospitals are extremely subsidised by the Exchequer."
Wading through Challenges
Dr Okoth is full of confidence. He knows what he and RFH have achieved so far. His sights are set on the ultimate prize: provision of quality affordable healthcare services to a majority of the downtrodden. Given his achievements so far, one may be forgiven for thinking that Dr Okoth's journey has been devoid of any setbacks. Like most successful leaders who built empires from scratch, Dr Okoth has faced multiple obstacles. Coming by capital to start the project was his top challenge. "I was mostly dependent on the goodwill of my friends and family. Part of my salary also played a little role," he says. "Literally, I had to carry the burden of the business idea on my shoulder, however heavy it seemed. But that did not stop me from soldiering on."
He also recalls the unpleasant experience of dealing with dishonest staff. Since he had no personal assistants at the beginning of the project, some staff found it easy to steal from the institution on a daily basis. "The same person I employed and was paying would steal from me. They would bite the hand that fed them," Dr Okoth says regrettably.
The other challenge that he encountered was earning the trust of suppliers as no one knew his capability in this field at the time. Dr Okoth explains that provision of healthcare services in a country like Kenya is like engaging in credit business. "You offer your services and you are paid after two, three or four months. So, you also have to depend on credit supplies," he adds. "Since you are a small player in the industry, no one is willing to supply you on credit. In such a situation, sustaining yourself becomes extremely difficult."
To navigate this challenge, Dr Okoth leveraged the value of partnerships. The benefits did not materialise immediately or easily, though. "You really need to work hard to prove yourself," he quips. "Sometimes resources do not allow you to do that; sometimes the system fails you. But you have to be able to explain yourself to whoever has given you a chance and build confidence over time."
Facing Covid-19 Waves
It is no doubt the Covid-19 pandemic has affected and disrupted several services and institutions since its outbreak. Health facilities have not been spared. During complete lockdowns at the beginning of the pandemic, many people stayed away from hospitals. There was a misperception that people would most likely get infected in healthcare facilities. That reduced human traffic at RFH facilities. Dr Okoth notes that walk-ins were almost zero and yet they had costs to cover. "It's not that you pray for people to fall sick. They fell sick at home but did not go to hospitals," he adds. "Eventually, we reached a point where we would receive very bad cases that could have been avoided and saved. There were more complications due to delays in seeking treatment."
The pandemic also affected some RFH staff, especially the frontline workers. When the Delta wave ravaged the entire country, every healthcare facility was stretched to its limit. Dr Okoth notes that there is a shortage of ICU nurses in Kenya. In a population of 50 million people, the country has only about 8,000 ICU nurses. With its highly skilled workforce, RFH was called upon to share its human resource with other facilities that were in dire shortage. "We had to bring in nurses and put them on on-the-job training. We also had to create more bed spaces to accommodate more people, as people were queuing for ICU beds. It truly stretched us and tested our resilience," says Dr Okoth, adding that the cost of their in-house services, too, shot up. During the same third wave, one mask was selling at Ksh300, the same mask RFH would buy at Ksh2 before the deadliest wave. The institution also had to deal with global logistics challenges. Obtaining some supplies was not easy; some people were also hoarding essential drugs like Remdesivir. "Sometimes patients had to buy them at extremely exaggerated prices," Dr Okoth recalls. "That also increased the cost of services."
Dr Okoth and his team decided to become proactive in dealing with the challenges. They put up a hotline, which allowed people to call and remotely consult medical practitioners. RFH also arranged ambulances that would pick patients from their homes to the hospital if they needed urgent hospital care. The institution also hired more employees and put them under the superintendence of the most experienced personnel for accelerated training to cope with the rising number of patients.
Noted Success, Basketful to Do
Dr Okoth has two definitions of success. On a personal level, he views success as the ability to have a peaceful and stable family life and bring up self-reliant children. "With that, I would say that I have achieved success as a person," says Dr Okoth. On the professional level, he believes success is the ability to grow his business beyond the boundaries of his country and maintain its unique brand. He looks forward to reaching millions of people who currently cannot access or afford healthcare services. "If we're able to do that, we will have achieved success in our mission," says Dr Okoth.
Based on these definitions, does Dr Okoth consider himself successful? He thinks he is partly successful, although his vision is still a work in progress. His journey has just begun. "We have grown more than we anticipated. So, yes, we are successful," Dr Okoth assures, "but our dream is yet to be fully realised. So, we will keep pushing." He believes that the other measure of success is the fact that RFH morphed from an apartment health facility to a well-respected standalone hospital with eight branches and counting. As a visionary, Dr Okoth draws satisfaction from the socio-economic empowerment of RFH's more than 800 employees, the smiles he sees in patients' faces after their hospital visits and the thousands of successful operations RFH has been able to conduct.
"Sometimes I am walking on the streets and a lady stops me to say, 'Hello Daktari. How are you? Do you remember this child? You're the one who conducted the CS during his birth.'" Dr Okoth reminisces. "That fills my heart with joy. There is no greater joy for me than knowing that you made a lifelong impact on somebody's life. These little things really give me the push to continue doing what I do."
Even a Healer needs Health
With such a busy health facility, how does the RFH founder and CEO juggle between his private life and the need to keep the enterprise running and clients satisfied? Dr Okoth does not have a structured day. He calls himself the chief visionary officer of RFH. And he is ever busy to see to it that his vision is actualised, one small step every second. With enough staff and more stability, he is better placed to practice work-life balance, something he was not able to do in the early part of his career. "Before RFH took off, my life wasn't that difficult. But when it started to grow in size, personnel and patients, I started to feel the pressure," he says. "There was a time I almost lost myself. The staff have been an incredible support system." Given the work pressure and his level of experience on account of his age, Dr Okoth decided to engage a personal life coach with whom he shares his deepest angsts, fears and wishes. And this has paid off and stabilised him in ways he would not have imagined. "Because of that, I was able to collect myself and maintain a good work-life balance."
His family and friends have also been part of his support system. His wife is his best friend, and she also helps and guides him. Some of the RFH board members are his mentors, who hold his hand and provide him with a shoulder to lean on in tough times. Their counsel and guidance have seen him become a better person insomuch as they have contributed to the growth and stability of the RFH chain. As for social life, Dr Okoth loves dancing and traveling. Once in a while, he will go out with friends and shake a leg, or he will take a flight and discover new places. "It's important to maintain a work-life balance; otherwise, it will be only work and no play, which can make you lose yourself," he advises. "Mental health is something I am very particular about, because I have been to the deepest part of it before. If you don't manage your time well, you can actually lose yourself and do more harm to yourself and to the people around you, both family and colleagues."
RFH into the Future
As an ambitious leader and champion, Dr Okoth wants to see RFH become a world-class healthcare brand never seen before in his part of the world. He intends to rely on RFH's fast growth trajectory to expand the brand to cover the entire Nairobi before moving to other parts of the country. His regional-expansion plans will see RFH become an East and Central African healthcare provider of choice. RFH also plans to tap more investors by listing on the Nairobi Securities Exchange. In the immediate alternative, RFH may consider scouting for private equity partners to finance its growth beyond the shores of Africa. "I look forward to the listing of RFH on the New York Stock Exchange one day," Dr Okoth says. And you can almost harvest the conviction that engulfs his face and voice.
'It Has Been a Good Ride'
Dr Okoth believes that he has outdone himself. Within only one decade, he has achieved what might have taken him more than three decades to realise. "Sometimes I say it's the grace of God. To be honest, it's not easy to do what we have done in ten years within this environment and with the extremely limited resources at our disposal in Africa," he says. "Looking back, it's obvious that it has not been rosy." He, however, would not have done anything differently, except maybe to get mentors much earlier than he did. "Generally, it has been a good ride," Dr Okoth adds with a chuckle.
Message to Aspiring Healthcare Leaders…
The healthcare space in Africa is one of the fastest growing in the world. And it is one of the spaces to watch in the next few years. Dr Okoth's message to aspiring healthcare leaders and entrepreneurs is inviting: If you have the passion, this is the right time to jump in. "There are a lot of opportunities in Africa. And we need each and every one to come on board," he adds. "Come in and let's change this space and make everyone a happy and healthy person, and make the world a better place for us all."