Matt McGuire: Innovating to Fight Pharma Counterfeiting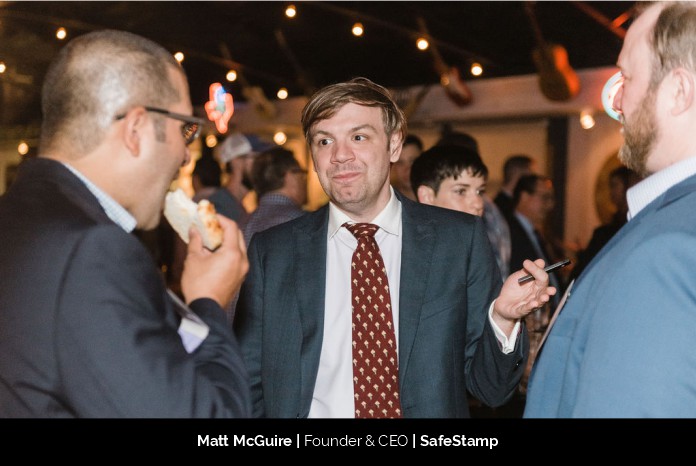 Everyone is born with a unique purpose in life, a reason for being. Some people have a special purpose: to change the world. One such invigorating and inspiring leader is Matt McGuire, the CEO of SafeStamp®. Matt is on a mission to bring about a revolution in the pharmaceutical industry through his powerful anti-counterfeiting device, which has the potential to save countless lives as well as capture back billions in financial costs to pharmaceutical companies from counterfeiting.
Origin Story of the CEO of SafeStamp®
While Matt was a soldier deployed in Iraq, his curiosity led him to discover that insurgent groups were developing fake medicines and selling them to pharmacies worldwide as a key source of funding. While pursuing his MBA, he saw international students sending vitamins and medication to their families because said families didn't trust the local pharmacies. "I decided to research the issue, and what I found was shocking: Pharma loses $200bn per year to counterfeit drugs, and the problem kills a million people per year. I even learned that my friend's brother died of fake chemotherapy! I became so passionate about solving this pharmaceutical industry problem that I took leave from Wharton and have been working on it ever since."
As a staunch believer in the words of Calvin Coolidge, "Nothing in this world can take the place of persistence. Talent will not: nothing is more common than unsuccessful men with talent. Genius will not; unrewarded genius is almost a proverb. Education will not: the world is full of educated derelicts. Persistence and determination alone are omnipotent.", he liquidated his own assets and started his venture with zero investment funds in his hands.
There is Nothing Quite Like SafeStamp®
SafeStamp® is equipped with an innovative color-change-and-glow design based on human interaction to encourage engagement. With a high-end design blended with advanced nanotechnology, this product is perfect for preventing drug counterfeiting because no one can replicate it. Matt notes, "We sell this product to the pharma firms to place on their medicine packaging. This allows the consumer to test if their drugs came from an authentic source, thus empowering pharma firms to capture back $200bn in lost revenue per annum."
Matt believes that there is nothing like SafeStamp® on the market, which makes it a one-of-a-kind product. Further, he shares, "As the product is based on a very poorly understood scientific principle (that's what makes it a good anti-counterfeiting device), it was ambiguous as to whether it would even work or not. Seeing it glow was so satisfying!" Although he started his journey with a massive risk of losing everything, a signal of hope occurred when he was invited to the White House on President Obama's birthday. Another milestone occurred when the anti-counterfeiting device first started glowing in his lab. This provided proof of concept that he had the most reliable one in the market, enabling him to create worldwide social impact and save a million lives per year. Matt and his team are currently working hard to develop a dual-trigger indicator to stay ahead of any potential competitors.
Mission-Driven Leadership with an Ambitious Vision
Matt developed this brilliant idea with one goal in mind: to end pharma counterfeiting for good. However, his vision is even broader than this. He wants to become so profitable that it inspires other entrepreneurs to go into social impact, pushing the world's brightest minds to solve the world's most damaging problems.
"Culture Eats Strategy for Breakfast"
To achieve all these goals, he makes sure that company culture provides an environment for innovation. He admires the responsible, yet free-minded work culture at Netflix, and eschews groupthink in order to foster originality and creativity. "We do not micromanage, trusting that we were smart enough to hire people who could get the job done without someone looking over their shoulder, even though we are a remote company. We not only allow but demand Radical Candor from everyone about everything; this includes providing critical feedback down the chain and bad news up the chain, as well as horizontal critiques. Finally, a key insight is not only having corporate values but listing measurable and quantifiable behaviors associated with those values and enforcing those behaviors."
Life as the CEO of SafeStamp®
As the CEO, Matt has to wear many hats. Every day presents new challenges. "Some days I work on marketing, others on operations, sometimes I manage R&D, other times I am in negotiations. Variety is the spice of life in this regard."
With the variety of roles he takes on, Matt lives a hard but rewarding life. He states, "I work over 100 hours per week, sleep very little and at odd hours, and am generally all-in on this exciting project. Still, I make time for my fiancé and am taking my first non-business trip since 2014 next week!" He maintains consistent performance in business and enjoys work and family life without missing out on anything.
Bright Future Face of SafeStamp®
With a distinguished product at the top of the market, Matt met the vice president of Ghana to discuss how counterfeiting costs the government considerable losses in domains beyond pharmaceuticals. They are pushing it on all industries in their nation in addition to pharmaceuticals.
With Ghana's demand for SafeStamp® in other industries, his team works hard to expand their impact beyond pharma. He adds, "In the next few years, in addition to serving the pharma market, we will expand into vapes, beverages, and perhaps high-end luxury goods." In this way, Matt can prevent counterfeiting and help the original product owners reap high benefits. The CEO fondly quotes Napoleon: "If you set out to take Vienna, take Vienna."