Luciano Bana: An Ardent Leader with Appetite for Growth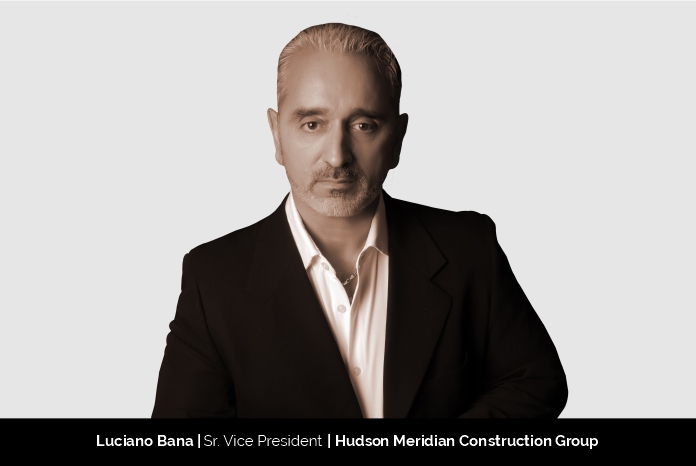 For Luciano Bana, the passion for construction industry comes from the accolades and the clients who want their projects completed on time and under budget. Senior Vice President of Hudson Meridian Construction Group, one of the leading construction firms in the Northeast, Luciano believes that his success is in the return phone call for new work. As someone who has overseen the development and management of some of New York's most notable high-rise properties, Luciano is one of the leading figures when it comes to the construction industry.
From a humble beginning to becoming a leading figure!
Growing up, Luciano wanted to be an aircraft pilot, so he got into avionics as aviation always fascinated him. He had debates about being an engineer, but he shifted course to Avionics. But life had something else in store for him. Luciano's start in the construction field was a humble, inauspicious one that could not have foretold the astounding success that he would achieve—or the passion that would drive it.
His life began with the Airline industry having been an Aircraft Controller for Continental Airlines. Foreseeing the inevitable changes in the industry forced him to refocus on a future that he can control and create. For construction, it all began with a job painting houses with his father's small business, which Luciano quickly grew into one of the top 10 Union painters in the New Jersey area. And so, it began. As Luciano explains, "I naturally migrated to doing interiors, renovations, and coming out of that to construction in New York to single-story to residential towers to institutional, pharma, educational, etc."
Little did he know what was started in the field as a laborer would take him further to painter to APM/ PM/ SPM/ Exec and now SVP. He feels he fell into this role and position based on growth. All progressively have been challenging but have mirrored his successes by a business that has accommodated Luciano's appetite for growth.
An award-winning construction group developing ground-breaking projects
Luciano joined Hudson Meridian six years ago, and in that short time has executed and managed the ground up development of projects totaling $900 million. He has handled development and management of Tishman Speyer's Jackson Park, a breathtaking $305 million glass wonder with over 1,600 residential units in three glistening towers that stretch some 55 stories toward the sky over Long Island City; and Brookfield Properties, a 458-unit residential property whose triple towers rise on the bank of the Harlem River in the Bronx. "I love this business—every part of it. Working with our clients and establishing successful teams that can grow and work together to help translate the visions of those we represent is what drives me every single day," Luciano admits.
Based in Manhattan, NY, Hudson Meridian Construction Group (Hudson Meridian) offers a unique combination of construction expertise to private and public sector owners across New York City, the Bronx, Brooklyn, Queens, Manhattan, Long Island, and New Jersey. As SVP, Luciano is responsible for the P&L for residential, high-rise properties, from pre-construction thru construction phase and to final turnover. However, his involvement does not stop at his office door. Luciano is a hands-on, "on the ground" leader with construction in his veins and a head for business who oversees the on-site teams, budgets, and deliverables of every project.
Hudson Meridian is one of the leading north east construction services firms, offering a unique combination of construction expertise to private and public sector owners. As construction services specialists, Hudson Meridian's staff possess the skill to perform as Construction Managers, Program Managers, and General Contractors to serve the specific needs of our clients.
Deep commitment to complex rebuilding and restoration efforts
Ranked among New York City's Top 100 Contractors and among the nation's Top 400 firms, Hudson Meridian is recognized as an award-winning construction manager. At the heart of its services is Hudson Meridian's deep commitment to complex rebuilding and restoration efforts born through its work at Ground Zero in 2001, which fueled the founding of Hudson Meridian. As a result of this experience as well as the comprehensive experience in coastal resiliency of its leadership team, today Hudson Meridian is a leader in resiliency and disaster recovery, a growing area of expertise that requires infrastructure and engineering skill as well as solid core construction expertise.
Talking about the beginning of the construction group, Luciano shares, "Born from the ashes of 9/11 and officially formed in 2002, we provide Construction Management, Program Management, and General Contracting solutions to serve the specific needs of our clients. We are Construction Services Specialists who work with a broad array of public and private sector clients who demand nothing but the best from those entrusted with their projects.
"Our expertise in vertical construction, infrastructure, waterfront, coastal resiliency, disaster recovery, and public projects contributes to our collective wisdom and capabilities with over $5 Billion in completed construction. With an accessible leadership team drawing on decades of experience, who take the initiative to pass their wisdom down through all levels and staff regardless of position, Hudson Meridian is able to offer our clients an experienced, educated, and eager team every time we arrive on a project."
Continuing to meet and beat client's expectations
For a man who has spent over 25 years in residential, commercial, and institutional construction, directed the development of over 75 projects, and executed deals totaling $1 billion over his career, one might expect the feeling of wonderment to have faded for Luciano. But that would be an erroneous assumption, indeed. Luciano's passion for the construction industry and building reflects of his clients' visions and is contagious.
"Every building that we build and create, that we touch and have our hands on takes a piece of you because it takes your time, energy, and it becomes a part of you. It's a part of your life that you leave there with that project, the people, the work, the hours, the dedication to seeing it get to where it had to be. I'll drive by a building that I helped develop years ago, still with a sense of awe," Luciano shares. "I have taken the approach that this business is generally made up of 2 distinguishing requirements. One is having a Management style of Building and the second is having a Master Builders approach and applying both as a common cost approach to our client's needs with a focus on safety." Luciano continues to grow a following of clients and making their goals is what drives him to deliver.
"Succeeding in the visions of what we are engaged to do. Committing to what we agree to and beating those expectations," Luciano shares. His goals are pretty simple; budget and schedule – completing them both under scheduled expectations and ensuring that the projects are delivered as designed. Furthermore, the strategy he holds and maintains is to be transparent, commit to his goals and maintain them. When asked what are the three best qualities that he possess, Luciano simply replies, "Commitment, Driven, and Attentive." Luciano points out, these qualities when applied equally help me bring the right minds and talent on the roles they are needed on.
Keeping his hands on the pulse of every project
Luciano's typical day generally consists of constantly reviewing all site activities and keeping his hand on the pulse with each project. Then following up with key members of the organization to ensure the message is always consistent. All in all, his job is to apply those techniques to his vendors and trades and supporting his team's successes.
His daily schedule is somewhat like this: "Up at 2:30am. Work out at my gym for 2 hours. (Cardio and or Weight training and catching up with worlds events). Then leaving at 5am to work. Arriving on site around 7. Walk the site and or key personnel on site for a few hours. Meetings up until noon. Leave the sites by noon. Head back to HQ. Review corporate business matters and scheduled appointments. Spend that afternoon to 330/4. Then perhaps meet a client at 5/6 for a cocktail and or dinner. Wrap up business by 7:30 pm. Head home and repeat."
For Luciano, teaching a lesson or two comes naturally. His transition from a student to a teacher is an unexpected but at the same time a pleasant one. Recalling such moment from the past, Luciano shares, "About several years ago, I was a meeting with the client and my owner was there. The client was discussing issues and I spent the later part of that meeting discussing processes to help mitigate those issues. That turned into more of a schooling session for NYC 101 then a simple class. As everyone left, I sat there and said how did I wind up teaching this class? So, I packed up my stuff and computer and began to roll out. As I left the client came back and said that was a wonderful lesson; you make for an amazing teacher.
"I realized then that the student has now become the teacher. So, I have come to realize that I don't know everything, and I still learn in this business as laws and things change. But with certainty every model you create has a set of directions. Make sure everyone knows how to read them so they share the same intent. And if they don't know how to read it then teach them. It's a dividend that pays results."
Different life balance and goals for everyone
Luciano believes life balance and goals are different for everyone. Not everyone has the same life. Not everyone has the same goal. His goals are simple. He loves what he does. That is his reward. He says, "The fact that I get paid is the bonus." Luciano also believes that he has all that he needs in his career. But sometimes, he says, that is not the goal for oneself. "It is your responsibility when you reach the top to send that elevator down. And I haven't finished bringing everyone back up just yet." He advises fellow business leaders to "surround yourself with those you wish to mirror and absorb all that they know. Those lessons will come back to you both financially and professionally."
Moving forward through crazy days of pandemic, Luciano's goal is to "support my founder in his visions and to help contribute and continue to manage his growth. Although, the year 2020 has been daunting for us all we do believe that markets will return, and that future holds bright days for both Hudson and its employees."