Mariame Farqane: Changing lives of destitute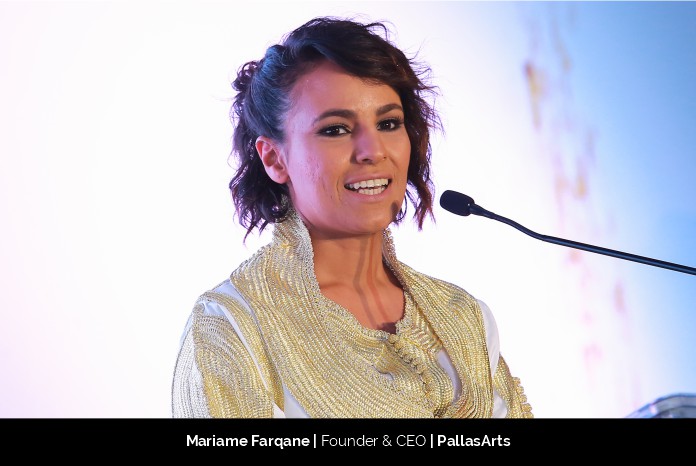 Everyone has a unique purpose in life. There are several children out there in the world who are orphans and have no means to get even the basic necessities. With the race for money becoming too sharp, these kids become invisible to the modern world and are even rejected by society. However, there are still some noble souls who love to help the needy and have a firm dedication to change the world from them. Mariame Farqane, CEO of PallasArts, is one such angel who is currently trying her best to help the destitute children with their education and other needs. People like her are quite rare and she has always been a gem for all such children who desperately require the support and assistance from others.
Being passionate about art, she chose the field to help these kids. She founded PallasArts an SA company that funds Bab'El Institute, a non-profit organization whose main objective is to foster intercultural exchange and education for destitute children.
Advent of PallasArts
Back in 2015, Mariame and her friend visited London's Royal Academy of Art to attend the "Rubens and his Legacy" exhibition. She is quite passionate about art. She adds, "Art is everything I have around me, nature, people, sounds, smells, food… (laughing)."
Rubens was a Flemish painter from the Renaissance period, a pivotal time when the protestant Low Countries, at the forefront of modern capitalism, were asserting their rising power at the expense of the Catholic Spanish Empire, which represented an already ailing feudal tradition.
While contemplating the artistic expression of this crucial period of a historical transition, the idea of PallasArts sparked in her mind.
So, in 2015, she founded the PallasArts and registered the company in Qatar in 2018. In 2020 the head-quarter was established in Geneva, Switzerland.
Attitude for the setbacks
She adds, "I always believed (despite difficult moments) that there are always and only solutions. The market is alive; dig into it! In order to learn and grow, we have to tumble down with love and face situations without fear."
She believes that it is natural to face hurdles along the way to chive something big in life. Having a clear vision in mind and heart allows her to see past the fog of failure and allows her to strive for excellent solutions.
Dedication, passion, and firm belief are the three pillars to achieve anything in the world. If one firmly believes in something, then he/she must have these three qualities to fill real colors in their dreams. She emphasizes on them and has a strong belief that one who fulfills them will definitely achieve success in all walks of life.
She adds that the corporate market has something for everyone. One needs to dig in hard with determination to get fruitful results.
Serving destitute children with Pallas Arts
PallasArts is the only art brokerage of its kind and is registered in the Gulf Region (Doha, Qatar), with its headquarter in Geneva, Switzerland.
The company provides a red carpet for art lovers to buy and sell their arts. If anybody is looking to acquire some art pieces then, he/she can easily buy them from the platform. The company has an excellent collection of mesmerizing artwork by some renowned artists.
She states, "PallasArts is placing artists in the art market. Exhibiting established and emerging artists in the same scene. Educating without border, physically and metaphysically!"
If anybody wants to showcase their artworks to the world, then the company provides the limelight to present their art pieces. All the artists can simply connect with the platform and get the right stage to showcase their artworks.
Most of its income generated by PallasArts is donated to Bab'El Institute, a non-profit organization whose main objective is to foster intercultural exchange and education for destitute children.
She adds, "The Bab'El Institute is a cultural center for the promotion of exchange between the West and the Middle East. The center will dedicate itself to providing lifelong education to its members and affiliates. It will also organize artistic and cultural exhibitions, international conferences, forums, cultural events, and many other activities. Most importantly, it will host a very special orphanage promoting a revolutionary approach to education."
Life as the CEO of PallasArts
Being passionate about the art from the start, Mariame loves her work. As the CEO of the company, she focuses on transmitting and delegating her vision. She aims to become a global entity that will search for the invisible artists, help them rise, and contribute to the betterment of the world.
She focuses on her team and sees that they are growing as time proceeds. For this, she keeps them motivates. She adds, "We go have some drinks! We know very well that we rather be crazy and useful than being idiots and useless."
She feels that good communication is the key to break new limits in the industry. She guides her team to build a network where everybody communicates with each other to grow together.
She states that without the hardworking employees working at PallasArts, the company could not achieve the things it has achieved till now. She tries to make an environment where every employee knows his/her place and role and takes the onus to perform all the assigned duties.
She starts her day with a cup of coffee and then takes on the things as the day moves further. She does not have a strict schedule and loves to be unpredictable in life to enjoy the current moments.
She adds, "I literally and honestly have no answer about my personal life! Regarding my professional life, I just realistically dream more and higher!"
Future roadmap for PallasArts
Mariame wants to expand her business globally. However, she likes to keep her future plans a secret. She believes that it is better to show results and do something to change the world. So, the world will witness quite a huge success from PallasArts with her diligent and consistent efforts.