Jessica Dunn: By Acts of Love and Selflessness, Helping Many Others to Live New Lives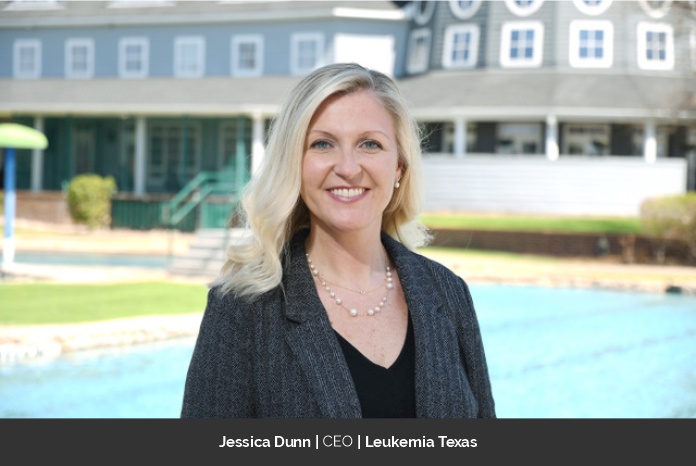 Jessica Dunn, an experienced non-profit executive with a track record in fundraising, philanthropy, non-profit management, social media, and special events, joined Leukemia Texas during the peak of the COVID-19 outbreak this summer as the new Executive Director. Jessica was up for the task as Leukemia Texas celebrated its 50th year of service in an uncertain time.
"We are a small team of 3 employees who cover the whole state of Texas, so I am not only the CEO but also our COO, CFO, Grant Writer, Fundraiser, PR and Marketing, Board Liaison, Special Events Planner, and Coordinator. I wear many hats," says Jessica.
Following Love for Helping Others
Jessica has 16 years of experience working in the non-profit sector and enjoys assisting the North Texas and Texas communities via these organizations. When she joined the AmeriCorps National Preparedness and Response Corps in 2005, she began her non-profit career. In August 2005, she joined the American Red Cross-Dallas Chapter (which eventually became the North Texas Region) and reacted to Hurricanes Katrina and Rita within her first week. Jessica discloses, "We housed over 25,000 people in the North Texas Region for 45 days, and I fell in love with all of the non-profit and community organizations working together to help these families." From there, Jessica spent eight years with the Red Cross, responding to numerous disasters and creating their first corporate fundraising program.
Jessica went on to become the Executive Director of the Dallas Stars Foundation, where she spent the next four years developing their giving pillars, volunteer program, Foundation Stars, grant process, community initiatives, and building their players, alumni, and other significant organizations. She then joined the March of Dimes to help restore the Dallas Market's personnel, community activities, special events, and Board of Directors. Unfortunately, because of a nationwide financial crisis, the March of Dimes had to stop markets and lay off a portion of her crew, including herself, as they amalgamated the State of Texas to save money. While that door sadly closed, a new one opened with LiftFund, a non-profit that assists minority, woman, and veteran small businesses that have been turned down for business loans by traditional banks. Jessica became the first Vice President of Philanthropy for North Texas on their team.
With PPP and emergency funding, Jessica and her team were able to help so many small companies pivot and keep their doors open when Covid-19 hit in early 2020. Jessica was then offered the opportunity to join the team at Leukemia Texas, and she had respected their work while working with them at the Dallas Stars Foundation. Jessica asserts, "Being able to join their team and support them in a major transition and year has been an exciting adventure that I am so grateful for."
The Inception Story of Leukemia Texas
Leukemia Texas was founded 51 years ago by Buddy Minyard. When his wife was diagnosed with leukaemia, he wanted to find a way to support people who were also going through their cancer journey by helping them offset their living, medical, and travel expenses. He wanted to make sure that all the money raised stayed in Texas to directly help patients. The team has continued that mission to this day, and Buddy's two daughters are still on the board.
For 51 years, Leukemia Texas has been providing Patient Aid Grants to leukaemia patients of all ages across Texas. These funds help alleviate the financial burden of medical treatments, travel for treatment, and living expenses. The organization has supported thousands of patients in their journey and helped make sure they are able to focus on their health and well-being while alleviating some of their financial burden. Through its Research Grant, it provides $100,000 annually to Texas researchers who are working on new treatments, testing, and potentially a cure through a competitive process.
Standing Strong during the Pandemic
According to Jessica, the majority of Leukemia Texas' fundraising was done through huge special events for many years, and when 2020 arrived, the organization had to cancel all four of its events. This put the organization in a position it had never been in before, and it was intended to be their 50th anniversary year. Jessica joined the Leukemia Texas team in June 2020, and while they could have seen the cancellation of their year as a negative, it instead gave the team the opportunity to look at how they could improve, re-engage with the organization's partners and patients, and find new ways to have a mutually beneficial relationship with them all. This has led the organization to create new programs like Buddy the Bear that let donors adopt a stuffed bear to give to a patient so that they are never alone on their journey and have a true buddy to join them. She says, "We have also partnered with other organizations to collaborate instead of recreating the wheel and can work together."
Taking Responsibilities in Uncertain Times
There are many things Jessica is proud of, but she thinks being able to step into this role in one of the most difficult and uncertain times for non-profits, but also for people, and to completely change 50 years of doing things to pivot quickly and keep the organization's doors open. She asserts, "We were able to take our BEATLEukemia Ball and turn it into our first virtual event ever and raise over $100,000, which helped us provide patient aid for 100 patients." According to Jessica, the foundation also created its Buddy the Bear program, which allowed donors to adopt bears for its patients, so they knew they weren't alone during this crazy time. She adds, "Being able to pull this all off while working remotely, never having met the board or staff in person, and virtually schooling my two sons was a big win for me."
Enjoying Family Time even while working
"It has been interesting, especially this past year and a half, trying to find a balance because while I have been working virtually, my two sons have been in virtual school as well," says Jessica. Jessica's sons are in 7th and 3rd grade, and they have been balancing their school, their sports commitments, work and Jessica's community initiatives like Make 380 Safe while being creative, but the great thing is that with technology, she can work while sitting in the evenings at the baseball fields if she had to help them during the day with a school assignment. She has, however, learned not to schedule Zoom calls when the trash trucks come, which neighbour mows their lawn when and how to avoid calls during those times, and she is trying to keep the boys' lunch period open on her calendar so the family can all eat together and watch a show together for 45 minutes each day. As stressful as it has been, Jessica has appreciated spending this extra time with them, but she thinks they will be ready to go back to school when they can.
Preparing for the Worst
Jessica's hopes and goals for Leukemia Texas are to make sure that any qualified leukaemia patient in Texas who needs assistance can receive financial aid. She believes that to do this, the company will need to make sure it has multiple streams of revenue and ways to engage volunteers, donors, and patients. Jessica considers that no one ever knows when another situation like 2020 will happen again, so she needs to have other ways to be engaged and carry out the organization's mission.
"We look forward to growing our patient programs, engaging volunteers all over the state of Texas to be our ambassadors, reimagining our special events, building donor programs, and creating lasting partnerships. There is so much potential and we are excited about the future, "says Jessica.