Viktoria Thur: The Dream-Hunter behind the Smart Mirror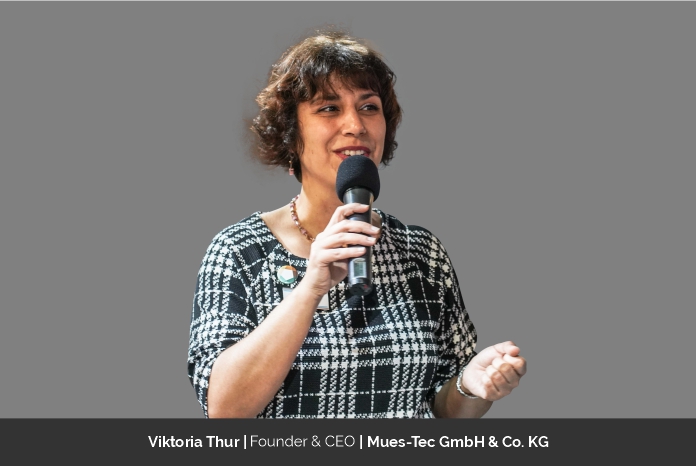 Failure is not an option for the founder and CEO of Mues-Tec, Viktoria Thur. And she never gives up. She has the drive and killer instinct to keep going regardless of tough times. "I'm a hunter, not Bambi or Peppa Pig," she says. "I hunt for my dreams. I'm confident, patient, goal-oriented, got a killer instinct, and sometimes I just got the necessary luck to go big!"
Viktoria has gone through a lot of ups and downs in her career and personal life. And it is her steely determination, focus, and persistence that have enabled her to build a successful company from scratch. She started Mues-Tec with just four people in 2016. "We came on the market with a company no one knew, a brand no one identified with, and a product no one knew existed," Viktoria says.
And it is at the ISH Frankfurt, the world's leading trade fair for HVAC + Water, that Mues-Tec's product Smart Mirror made a big splash for the first time. Everyone in the media started talking about them. Viktoria says that they were overrun by the press – television news channels, radio, and the national newspaper were reporting about them.
"I remember falling in bed every night, and mind you, it was not in a fancy hotel room but in a tiny Airbnb studio, too exhausted to eat and so happy to have taken this step," Viktoria says. "Well, that tradeshow was followed by about 30 more in the coming years, up until the Covid-19 pandemic put a stop to it all."
Mues-Tec: Developer of Smart Mirrors
Mues-Tec develops and produces Smart Mirrors. They are no ordinary mirrors but interactive, futuristic mirrors with touchscreen and voice control. They can be used for smart home control and entertainment – users can watch YouTube, CNN, TikTok videos on the screen. And, it also connects with other smart products such as a smartwatch, smart scale, or similar Bluetooth devices.
"Imagine standing in front of your mirror – any mirror, your bathroom mirror, your wardrobe mirror, your beauty mirror – and having next to your own reflection a smart monitor which provides you any information your heart desires, simply by voice command," Viktoria says. "Play your favorite music, watch the news, get the weather information, traffic, stocks, read your emails if you wish."
The smart mirror also enables users to start their coffee machine, answer the front door while brushing their teeth, and if they are using a smart toothbrush, they can even get dental hygiene advice on the screen, Viktoria adds.
At present, Mues-Tec's customers include private end-users and hotels. Viktoria says that their Smart Mirrors are intuitive and easy to use. "We believe users should have many options and possibilities to customize their user interface, choose their favorite daily apps and attach as many smart devices as their heart desires," she says. "And our Smart Mirrors are developed with and for the user."
Mues-Tec works closely with the local university in Fulda, Germany to do case studies and user experiments.
Life before Founding the Company
Viktoria grew up in Germany. And at the age of 17, she moved to Fort Lauderdale, Florida. When she was studying finance at Florida Atlantic University, she dreamed of climbing the corporate ladder. And everything was going as Viktoria had planned. She graduated with Magna Cum Laude and Business Honors, obtained an internship at the prestigious Morgan Stanley at Las Olas Boulevard, which according to her, was certainly a good step in the direction of realizing her dream.
"But then, as it sometimes happens, things changed, and by the end of my Bachelor's degree program, I was a young single mom of a gorgeous baby son living in Abidjan, Ivory Coast," Viktoria says. And when she was applying for a position at the World Bank, the African country plunged into a civil war. She had to move again, and this time, she had to look after her son as well. They could only leave the country after France sent in their troops to secure the way to the airport, which fighting forces had taken over.
After leaving Ivory Coast, Viktoria worked for a brief time in Germany, and then she returned to Fort Lauderdale. "Young, single, broke, I soon found an opportunity in Finance and worked in the Mortgage Industry until 2011," she says. "So yes, I lived and worked through the financial crisis, and it certainly wasn't fun." And, then she made an entry into the consumer electronics industry by chance.
In 2011, Viktoria decided to quit financial services and look for a new challenge. On Craigslist, she saw a small job ad and answered it. It was looking for a German native who could do some translation work. "Little did I know that this job was with a multi-national consumer electronics firm, and what can I say, I quickly moved on from translator to manager, then key accounts Europe & Mena," Viktoria says.
She enjoyed her work and working with her colleagues. But she longed to be self-employed once again. "In 2016, I founded Mues-Tec. And it has been quite a ride since then," she says.
Success is Important
Viktoria says that success is "very important" to her. And it is also like a ladder, as after every accomplishment, one needs to think about the next challenge, the next goal, and the next step. "Sometimes, that also can be tiresome," Viktoria says. "I am barely reaching the feeling of satisfaction when I have to begin climbing once more the next step. It is an inner drive, a fire if you will, which keeps me going."
Once, Viktoria was invited to give a speech to aspiring women entrepreneurs. And, after her speech, an attendee asked her about her driving force and what made her push forward. "I think when failure just isn't an option, you keep going," Viktoria says.
When she was growing up, Viktoria says that her family was very poor at one point. "When I say poor, I mean so poor that our electricity was cut off," she says, adding that her mother would get up every morning, go to work, come back home and take care of her, and she would light candles when it got dark outside. "She didn't give up. And neither do I."
Viktoria believes that when one door closes, another one opens. "Focusing on the present and the future and not dwelling too much about the past also helps," she adds. And for her, challenges are something that comes and go. The Covid-19 pandemic has been a challenge for her and her company. Most of their resellers were forced to stay closed over several months in Germany and Austria. And her business too came to an abrupt halt. "Large projects were canceled or postponed," Viktoria says. "We used that time to re-launch our websites www.mues-tec.de and www.smartmirror.de ."
Competition in the Industry
"Marktbegleiter" is the word Germans use for competitors. It means "market companions." Viktoria says that it sounds friendlier compared to the English word competitors. And a mentor of hers once told me, "if you have no competitor, the market is dead."
"Well, by the sheer number of competitors coming to the market, Smart Mirrors certainly is not a dead market," Viktoria points out. MarketWatch's report estimates the Smart Mirror market to reach 1,22 Billion USD in 2022, growing at a CAGR of 14.4 percent.
By being one of the first Smart Mirror producers in Germany, Mues-Tec got a head start in the game. "That continues to give us leverage," Viktoria says. She also does not worry about the new market companions, as she believes that the market is big enough and competition ignites the spark for new ideas and innovations.
She, however, does not like competitors when they try to copy their products. "Too often, we must write cease and desist letters due to copyright infringements. That is something I don't like. I want an even playing field. Mine is mine, yours do yourself," she says.
Proud Moments as Founder and CEO
Mues-Tec is a highly specialized entity that focuses its entire resources on mirrored displays and interactive smart mirrors. Hence, many large corporations want to rope in the company as their technology partner. "They want technology similar to ours but do not have the in-house capacity to focus on it," Viktoria says. "Those are generally cool projects, with various requirements, and not seldom did we create entire new mirrors, hardware, and software, to meet the project demands," Viktoria says. She feels that it is exhilarating sitting with those name brands one knows from any electronics store on one table and helping develop their mirror. "It is with partners like those that our multimedia mirrors are presently in the Connected City located in Pasco County, Florida," she says.
Viktoria also always feels very proud when they are featured in the media. She remembers that once when she appeared on National TV to demonstrate their Smart Mirror, her uncle saw it in the morning news. "He called me super excited and proud," Viktoria says.
She also felt proud when she discovered that their products got featured at three different stands at the IFA, one of the oldest industrial exhibitions in Germany. And her personal proudest moment is: "When I was able to take my two children to Paris and visit our customer on the Champs-Élysées, there is just something about seeing your products in a 5-star hotel," Viktoria says.
Always Tries to Lead by Example
Viktoria believes that the role and responsibilities of the CEO include being sometimes a coach and sometimes a therapist. A demanding leader, she expects no less from her team than she expects of herself. But at the same time, she is very compassionate as well. "I try to lead by example. I am tough, but also compassionate. I have cried before in a job interview," Viktoria says.
The Mues-Tec team consists of individuals belonging to diverse ethnic backgrounds. It also has a healthy age mix, nearly 50 percent male/females, and international colleagues as far away as China.
"Everyone supports one another, believing in the company and our amazing products," Viktoria says. And she would not accept it any other way. "I will not allow a blame game, everyone is responsible for their own action and the actions of their team. One for all and all for one," she adds.
Viktoria also says that good employees are key to the success of a company, and the team is only as good as its leader. "We have an amazing young colleague who never got a real chance to shine in business due to his handicap and his terminal illness," she says. "He is such an inspiring young man and a sheer wizard in MS excel. And when we met for the interview, he told me his story, he finished with 'and I wouldn't want my life to be any different – because this is who I am and I am ok with it'."
"Having the opportunity to have hired him is a true gift of being a CEO," Viktoria adds.
Vision for Future of Mues-Tec
Viktoria's vision for Mues-Tec is simple. It is to provide the most fun and useful Smart Mirror solution, and thus gain the largest global market share. And, along with that, she is also planning to build an engaging community in a new ecosystem.
Message to Aspiring Businesswomen
Viktoria believes that it is not the one that wins the sprint, but it's the one that has the perseverance that ultimately will bring home the big win. So her message to aspiring businesswomen is that they need to stay focused and not be narrow-minded. "Keep on the path, but allow for detours," Viktoria adds. "Life is never a straight road. Setbacks shape and form you. Have patience."