Ashley Ferguson: Disrupting the Efficacy of Consumer Wellness Products with RESET Bioscience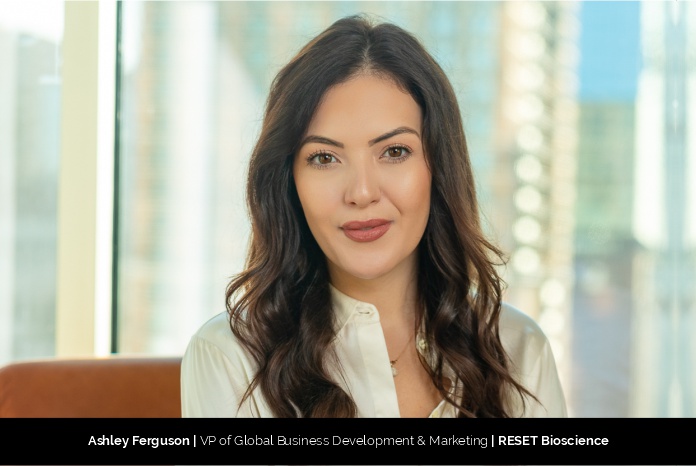 With a passion for her work and a product backed in science, Ashley Ferguson, Vice President of Global Business Development and Marketing for RESET Bioscience, is positioning the brand as a consumer go-to to reap the potential benefits of cannabinoids. Offering RESET products as a better alternative to other white-labeled CBD oils saturating the market, Ferguson is leading RESET to global distribution with their best-in-class range of cannabinoid SKUs. Explaining, "With so many people buying into the CBD trend, it's been exciting to help educate them as to why RESET Bioscience is the best choice. Our products are scientifically powered with a proprietary drug delivery technology making our products more effective, affordable, and more sustainable for the planet."
Transforming The Industry With RESET Bioscience
RESET Bioscience is a wellness brand on a mission to improve lives through premium wellness products inspired by nature and backed by science. RESET is committed to elevating hard-to-absorb ingredient industries with a special focus on bio hemp to safeguard end-users through sophisticated, transparent testing and technology for products that actually work.
Regarding their products, Ferguson states they only use "premium ingredients and feature 'Powered by Santé' proprietary delivery technology created by the pharmaceutical drug delivery experts at Santé Laboratories. This technology solves for poor bioavailability, solubility, shelf-stability, and label transparency plaguing the wellness industry today."
In addition to testing to the highest standards in the industry ISO/IEC 17025:2017 accredited CRO Santé Laboratories using only accredited methodologies, and they follow pharmaceutical best practices to manufacture all of their products. Ferguson explains that testing is "extremely important as hemp plants are natural bio accumulators meaning they absorb everything in the air, soil, and water around them. Many products in the market are riddled with everything from heavy metals to pesticides without consumers knowing. With RESET products you know your products are double-tested for these things– even mycotoxins."
Behind The Scenes
Early on in her educational career, Ferguson took interest in an unlikely combination of topics: writing and science. With science based on hard data and writing exposing her creative side, her early interest in both skills showed her willingness to explore different areas. After college, she went into the Public Relations field working with hospital networks, and from there she'd eventually work for a leading global children's toy manufacturer before making the leap into biotechnology to lead the RESET Bioscience team. When asked about her career path and road to success, she explains: "There have been two common threads throughout my life that I think brought me to this point: I've always said yes to things that interested me (even when I wasn't super confident I could do it right out of the gate), and I've always liked trying new things. This pattern hasn't always led me down the right path, but I've always approached any opportunity with both passion and a willingness to work hard."
She continues, "I really believe in fate; what is meant to be yours will always be, and no one can ever take that away from you. I definitely took some big risks, and it's been an exciting journey that ultimately led me to where I'm meant to be."
Moving from toys to biotechnology, Ferguson comments that when she joined the RESET team "I was unaware that not all vitamins or supplements are built the same." Armed with this new knowledge, she continues to explain "It's become my purpose of educating consumers that it's not just about the ingredients you put into your body. Proper testing, the science, and the technology behind how your body accepts these ingredients also matter. Being able to offer Santé Laboratories' proprietary delivery technology to big brands so they can create safer, more effective products is powerful."
Taking Onus As Vice President of Global Business Development and Marketing
Wearing the hat of the Vice President of Global Business Development and Marketing, Ferguson is responsible for exploring new heights in the commercialization aspects of the company. Bringing her experience in retail entry, global branding, and product development to her position at RESET, she leads the business from branding to sales with her talented team. When explaining the hard work her team put in since her first day, Ferguson comments that "when I started six months ago, there was only one SKU, and that was our Balance CBD. Its cult following really solidified that people love the consistency in RESET's consumer experience that no one else in the CBD industry can offer."
Ferguson has never lost sight of the company's main goal – and she believes that is the source of some of her biggest accomplishments. One of which is leading her team on the right path by example. Commenting, "I never give a big deliverable without truly understanding the steps my team will need to take to get it done out of respect for their time and hard work. Secondly, we take the time to celebrate the little wins too." She is a good listener and, as the leader of the team, is open to discussion on different aspects of the company with the team members. Ferguson never gives direction without an open conversation where everyone can voice feedback to help them to do better. During these open forums, she always tries to steer the conversation from a solution-oriented perspective.
Regarding her leadership style, Ferguson comments, "A previous boss and mentor who was pivotal in my career used to say 'we need warriors, not worriers' and that really resonates with me. It's easy to get lost in what went wrong or what are the potential issues, so we try to stay focused on a proactive approach to get ahead of issues. This mindset helps me in leading and even in my day-to-day tasks juggling so many parts of the business at once."
Micromanaging isn't Ferguson's style, and she isn't afraid to delegate work to more experienced members of her team. She hires people who have more knowledge in domains where she does not and leverages their potential to fuel the company's growth.
Thoughts On Work-life Balance
When asked about balancing work and her personal life, Ferguson explains "I've always struggled with work-life balance because I was raised to give my 100% to anything I do, whether it's taking out the garbage or leading a global wellness brand."
She believes that when you love your job, you can manage everything with it. To keep herself calm and composed and stay fit for the job, she includes some breaks in her work routine that help her to get the energy to deal with challenging situations.
Future Roadmap For The Company
Ferguson states, "We're on the brink of mass commercialization, but we never put revenue over putting science first in everything we do. We're paving our own way in the industry. We don't white-label or sell oils just because they sell. We've taken a risk using innovation that's not largely understood, but it's absolutely the key to doing the right thing by our consumers and retailers, alike that gives me confidence in both our small steps and huge leaps."
Consumer safety and transparency are the most important thing to Ashley. So, they are launching new SKUs this year of not only cannabinoids but also functional wellness ingredients.
She adds, "We look forward to our continued growth in Hong Kong and launching in the UK, Australia, and Central America this year. Better natural wellness should be easily accessible and affordable to everyone, and that's exactly what we'll do."