Sarah Liberty – Your Vibrant Go-To Person for insights into human rights, digital trends, gender equality & mental health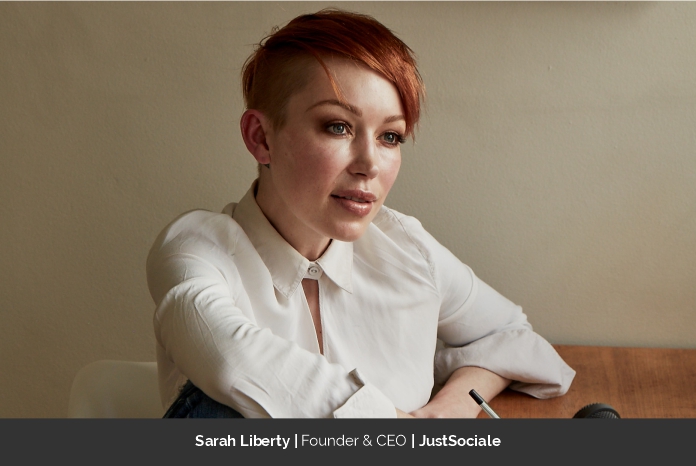 Change is the only constant and one can be triumphant in life once they believe in themselves embracing and working through the change that comes along on the way to success. Sarah Liberty considers creating change as her success and is also a big believer in the fact that each one of us has the potential to create change in our own way. The courageously defiant CEO and Founder of JustSociale introduces herself as an intersectional feminist, and hence is confident of the fact that we are all equal – regardless of gender, or our personal background – and we all have the capacity to create change if we choose to. Sarah is a human rights advocate UN Women #GenerationEquality Ambassador and global citizen who has worked in London, New York, Paris, Jogjakarta and Sydney in senior NGO roles.
The Rise of an Australian Human Rights NGO
The incident that inspired Sarah to start this organisation is messy and abusive. She states that ever since she can remember, she has been passionate about fairness, equality, inclusion, diversity and human rights. However, she had her share of a terrifying experience that helped her break through and become this powerhouse brand ambassador for human rights, digital trends, gender equality and mental health.
Sarah was in Paris last year, and took a course in Internet Governance whilst completing my Master of International Relations (Human Rights) at Sciences Po. It's the same degree the past 3 French presidents have done. "It was intense!" she exclaims. She not only learned about the latest internet trends, but also about the many positive and negative impacts on people around the world. Sarah says, "We use social media and the internet daily to connect with friends and loved ones, grow businesses, start movements and create change like Greta Thunberg did. Yet at the same time, tech platforms like Facebook are more powerful than countries, and there is a growing sense of disillusionment and distrust with the major players."
For one of her final essays, 'Sex, Lies and Social Media' in the Internet Governance course, she happened to write about the phenomenon of gender-based violence on social media, which disproportionately impacts women, particularly on dating sites. I discussed how it's being addressed (and not addressed) in Australia. "The inspiration for this essay was my own experience of having my computer hacked by an abusive ex-partner; they logged into my emails and social media accounts to digitally surveil me. When I finally discovered he was doing it – long after we had broken up – it took me weeks of persistence to obtain an AVO from the police," she says. Sarah had to actually convince the police that what was happening to her was abusive, threatening, terrifying and a violation of her human rights. When she was finally granted a protection order, the police didn't alert her to the fact that what her ex- partner had done was a breach of Australian law.
Sarah states that after receiving a Distinction for her essay, she popped some champagne (she was in Paris after all), and a few mornings later I knew that her next calling was – to start an Australian NGO dedicated to the awareness, promotion and protection of people's online human rights. Sarah has always used the internet professionally, even since the MySpace days, way before Facebook was created! "I've always been fascinated by how it influences society," she explains. Only this time she used it to build this empowering institute.
A Brief of the Work, Services & Vision for JustSociale
Sarah claims they are Australia's first federally accredited NGO with the ACNC included on the Harm Prevention Register, and they promote safe online behaviour and good digital citizenship amongst all sectors of society.
Their four core Activities are:
● Media – Promoting public awareness of online human rights, and engaging with the different sectors of society that are more disadvantaged than others.
● Education – Promoting awareness of online human rights through conducting speeches, producing marketing and educational collateral targeted at different & disadvantaged groups.
National Alliance

– The JustSociale Alliance is a collective of social entrepreneurs, creatives, civil society actors, technology platforms, media outlets, activists, private businesses and members of diverse communities who are passionate about making the Internet universally accessible and inclusive, so that we can all use it to connect with each other, and the global community – safely. And, whilst they are an Australian NGO, their members come from around the globe. They are courageous, optimistically defiant innovators, and their alliance stands for ethical freedom of information.
● Online Code of Conduct – They have produced Australia's first Online Code of Conduct. In 2012, the UNHCR declared that their online human rights are no different to our offline human rights. Yet – almost ten years on – many Australians are still unaware that they have online human rights, or how to ensure they are protected.
In the rapidly evolving realm of the Internet and social media – which we rely on to conduct our lives on a daily basis – navigating online human rights and ensuring they are protected can be challenging. That's why, at JustSociale, they are developing Australia's first Online Code of Conduct, with a focus on collective action amongst all stakeholders with an interest in Internet governance.
Their only vision is to ensure that the Internet is universally accessible, inclusive and safe, so that diverse Australians can use it for connection with each other, and the global community.
Experiences and Growth as a Thriving Leader
Sarah doesn't believe in setbacks, she believes in learning from experiences. She says, "The biggest learning experience for me has been stepping into a Governance role. That means I am not only the CEO of JustSociale, but also the Chair of our Board. I'm very passionate about working with such a diverse range of people, but at times it can present challenges when trying to get everyone to agree on our strategy." She truly enjoys the nature of her work and wouldn't see anything as a setback but as a professional development opportunity she embraces.
JustSociale prides itself on an inclusive board selected to represent the voices, concerns and
needs of diverse Australians. Sarah feels truly honoured to have such a diverse board. They have high profile Transgender Authority Melissa Griffiths, high profile Indigenous Board Member, Former Young Conservationist of the Year and Tedx Speaker Josh Gilbert, high profile Disability Influencer and Model Lisa Cox, Digital Guru and Postgraduate Psychology student Nicholas Riggs, Digital Communications Maven, Online Meditation Teacher Ashley Hunt, Director of Womens' March Sydney Jaime Evans, Associate Professor John Mikler from Sydney University's Political Science department, and myself as Chair.
"When I meet someone who shares my passion for promoting diversity and inclusion, we often stay in touch and our paths cross again not long after! I was delighted when they all agreed to join the board. I've never found it difficult to find talented people who are diverse and inclusive," she says. She keeps all her employees motivated by always listening to their insights and opinions. The richness of all the views shared only serves to strengthen JustSociale as a team and as an organisation.
Personal Life & Work
Sarah truly is a courageously defiant, diplomatic optimist, but life hasn't always been easy. She is a survivor of gender-based violence, homelessness, anxiety and has lost a best friend to suicide, and she speaks forthrightly about this in the media both in Australia and internationally. Her #FeministFriday Podcast reaches 42 countries, and she is dedicated to engaging with diverse people. With a Masters in International Relations, I know human rights & humanitarian law, Internet governance – and how they relate to today's news.
Sarah founded JustSociale because she is passionate about promoting online human rights. It's her dream job! She is so passionate about it that she has 'equality' tattooed on her knuckles. As CEO, her main focus areas are on the organisation's governance – reporting to the Board and donors, 'steering the ship', and also on forging strategic partnerships. She does have multiple hats to wear as she is featured in media as well, but she proudly exclaims that she would not have it any other way. "I won't lie. I'm a big thinker, so I do find it hard to switch off!" She exclaims. I'll have ideas for opinion pieces or strategy at 9pm at night or 5am in the morning, which means my days are often long and unpredictable! What I do strongly promote, and try to model myself, is unplugging and switching off.
Every Sunday is self care day when she'll go to the cinema, cook something nice and wear something nice whilst meeting a friend for a walk, "just because I've earned it and believe that nothing beats real human connection. On a daily basis, my life is often a blur of meetings, engaging with the media, fielding phone calls and looking at our finances. There's never a shortage of things to do!" Sarah explains.
While continuing to aspire to work closely with tech platforms and the government, since they can't create online change without engaging with all key players; Sarah would like us to continue to celebrate their milestones – because acknowledging how far they've come in so little time definitely deserves a pat on the back.