Danny Wong: Transforming the Risk Management Space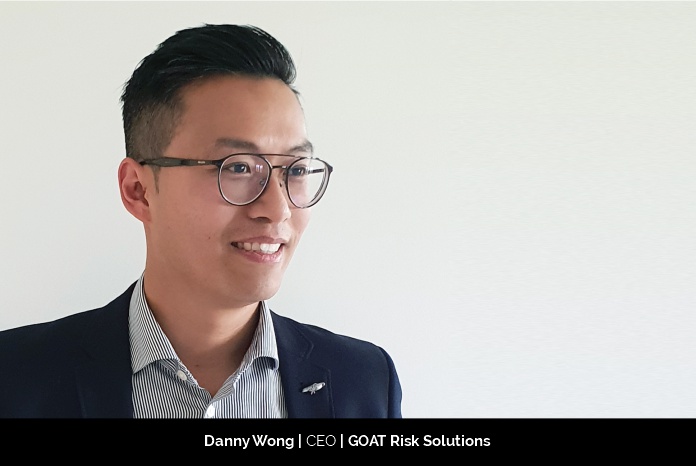 With a passion for exploring new heights in business, Danny Wong, Founder and CEO of the risk management software company, GOAT Risk Solutions, is leading the field in changing the perception of risk management.
Motivation to create GOAT Risk Solutions
Danny grew up in Canada and completed his Bachelor's degree in Mechanical Engineering from the University of Waterloo and then went on to complete an MBA in Strategy and Organisational Behavior from York University – Schulich School of Business.
In 2000, he kicked off his risk management career at Bell Canada, becoming Associate Director of Enterprise Risk Management. Having moved to UK in 2005, he took on ever more strategic roles, he continued to expand his knowledge, experience and presence in the risk management sector.
Not being a risk-taker, he didn't set out with the idea of starting his own business. He states, "I'd spent my entire career in corporate roles and had never considered running my own business. Not just any corporate job, I was a risk manager, so if stereotypes are anything to go by, this is probably the last place you'd look for an entrepreneur."
Throughout his career, his aim has been to transform the perception of risk management from being a blocker that slows down progress to becoming the fuel that helps drive business growth. He adds, "Risk management is a capability that every business needs and my goal is to turn it into a value-adding core competency that helps create stronger, more successful, sustainable and resilient businesses."
In what would turn out to be his last corporate role, Danny spent 3 years leading an important piece of research into risk maturity. Conducting surveys with over 150 companies including many FTSE listed UK businesses, small and medium businesses, not for profits and government sector. He also had the opportunity to hold a further 50 in-depth interviews with senior business leaders, to study the market in far greater detail beyond the data. His research delivered valuable insights into the risk management sector that identified a desperate need for fresh ideas. Taking matters into his own hands, he launched GOAT Risk, an innovative risk management technology platform.
Disrupting the market with GOAT Risk
Danny explains, "The research told me that whilst many businesses knew they weren't doing enough to effectively manage risk, they were frustrated by risk management software solutions that were overly complex, expensive and difficult to buy."
Armed with these insights, Danny decided to turn the risk software marketplace on its head and designed an easy-to-use, works 'straight out of the box', inexpensive risk management solution to address the real needs of business leaders.
Danny states, "In this age of cloud computing and SaaS (software as a service), there's no justification for high priced software unless it's bespoke or packed with big data and advanced technologies. Often companies end up with software solutions full of features they don't need, making them overly complicated and difficult to use. In turn, this makes it difficult to encourage widespread adoption, limiting effectiveness – it's a vicious circle. Fixing the biggest risks and problems companies face is the key challenge and should be where available budget is spent. The process and tools for identifying these risks and problems should be simple and inexpensive; that's what GOAT Risk is all about."
He goes on to say, "In a nutshell, GOAT's low cost risk software tool helps organisations manage their business risks more effectively by bringing key management information together within a secure, simple, collaborative platform."
GOAT Risk is a small startup built by a handful of super talented and motivated team members, all with a common vision and passion for being the best at what they do. Whether it's branding, product, IT, customer support, or marketing, they're a small and nimble organisation, passionate about listening and responding to customer pain points.
Danny expresses, "We're very fortunate to have customers that really like us and feel emotionally invested in our growth and success. Innovation is key, and our clients actually provide us with many of the ideas for our product development roadmap. I've also found that when customers love your solution, they naturally refer you to others."
Wearing the hat of CEO and Founder of GOAT
Danny expresses, "I cringe at labels like 'entrepreneur', and I'm certainly not a tech guy. I'm just a risk manager, and I have a lot of ideas on how to make risk management work, often when even recognised best practices fall short. This is informed by 20 years in the profession and topped off by data and insights from hundreds of business leaders speaking in detail about their risk maturity."
He takes an innovative approach when dealing with challenges. He likes to explore a number of different solutions and possibilities for a particular issue and wherever appropriate, opts for the one that solves more than one problem. He adds, "I often speak about taking a holistic view, imagining or seeing the wood from the trees. This comes intuitively for Enterprise Risk Managers who need to operate across the entire business, constantly working to break through silos and get a Board level perspective."
Thoughts on work-life balance
Because a significant part of the business is handled by automation and delegation, Danny gets to spend the time he needs with his family.
As he loves what he does and is passionate about the business, Danny is constantly thinking about how to propel GOAT to new heights. He is keen to add many new features to the platform, but understands that patience and timing is key.
Future plans
Danny adds, "Our recent focus has been on enhancing our user experience. As many are non-risk experts, we've launched a new product tour to help them get started creating their first risk profiles. We've also included a new feature to help users figure out what risks they face using a risk universe, which is proving to be really popular. Our longer term clients, who are keeping a larger amount of risk data in their system, have greater needs in terms of analysis and reporting. So our next round of product development will see us introducing some tools to help there. In this way, we're maturing alongside our customers, introducing new features they actually want and need."
Danny is also really excited to see the international nature of the company's customer base and how risk management cuts across all sectors, delivering value to every size of organisation.
"Ultimately, my ambition is for GOAT Risk Solutions to become synonymous with a simpler, more impactful approach to risk management, helping businesses improve their risk maturity so they can enjoy successful growth".