Amin Chaar: Restructuring the e-learning space with ecadema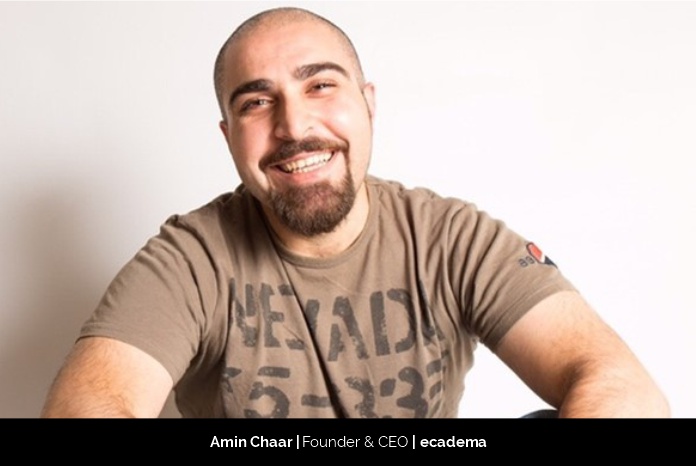 Passion is a powerful force in accomplishing anything you set your mind to, and in experiencing work and life the fullest extent possible. Amin Chaar, Founder & CEO of ecadema has always been passionate about becoming a business owner  before reaching the age 35. He says, "Once you're passionate about what you do, you're automatically fueled with a high voltage power that would keep you running and running to accomplish your goals." This quote kept him going further fuelled by passion. His chief aim has always been to bring simplicity and ease to all his clients.
Behind the scenes
Having a passion for providing simple and best solutions to his clients, he expanded his educational base and skill set.
He completed his Bachelor of Applied Science in Business Administration from the Yarmouk University. After this, he attained different tiles to add more arrows to his quiver with which he can bull eye every vertical in his life. He attained his Certified Management Accountant title from the Institute of Management Accountants and Certified Public Accountant title from the American Institute of Certified Public Accountants.
Then he went on to grab the title of Certified Fraud Examiner in Financial Forensics and Fraud Investigation from the Association of Certified Fraud Examiners. He completed the Cybersecurity Nexus program from the Information Systems Audit and Control Association and Certified Internal Controls Auditor program in Internal Controls from the Institute of Internal Controls
In 2018, he became a certified Financial Modeling and Valuation Analyst from Corporate Finance Institute®. By completing different programs and attaining all the titles, he honed his skills and expanded his skillset.
He stepped into the corporate world by handling different accounting and administration roles in different companies and paved his way up the ladder. While progressing through his professional career, he realized the need for a platform for other successful certified trainers to broadcast their services. This marked the advent of ecadema.
Role of ecadema in bringing change
ecadema originated as an idea that came in the beginning of 2019. He along with his co-founder Yumna Nashashibi stumbled upon the fact that there is almost a platform for each and everything that people are doing these days.
People are using Facebook for family and friends, LinkedIn for jobs and expanding professional networks, Tinder for dating, etc. However, there has never been any platform that provides an opportunity to Certified Trainers in different fields around the world to get a perfect medium for them to get all the bookings, render live training sessions and get paid with few clicks.
Amin's role at ecadema
Amin's background in Audit & Assurance has helped in gaining exposure to numerous businesses in a plethora of industries. It trains you to look at details very carefully. He says, "Throughout my audit career, there have been countless situations when I saw for myself that things can be run much easier and more accurately but couldn't do a thing about it. Now running my own businesses, I feel like I have a great chance to avoid all the unnecessary complications and inaccuracies I was exposed to in my previous career."
He says, "ecadema and BusinessBOX are like two little toddlers. I would say I'm lucky to be backed by a strong passionate team who share the same vision. Thanks to them, they have made my job easier."
Traits that distinguish Amin from other leaders
Amin exhibits several traits that make him a terrific leader:
Passionate: It imparts the boost to make efforts to achieve the impossible. Passion will play a great role in making a person determined so that they don't give up on the first downfall. It acts as a silent motivator that helps in
Determined: Determination is the bridge that meets the gaps of ideas and efforts to complete all tasks on-time.
Perfectionist: Completing the work is one thing and doing it with absolute perfection is another. Perfection aids in building trust and acknowledging him with accolades.
For him, creativity is the key that unlocks the doors of passion. Then comes the perfection which is the main thing customers look at. He firmly believes that if you provide services or products not of a high quality and close to perfection, someone else will do and customers are smarter than you think.
As there is no final destination in the business world, he has not really achieved any huge success. However, he is striving hard with his team to become a successful leader in his field.
He shares, "I'm driven with dreams. As long as you dream about something and you believe in it, there will be a day to come to realize your achievements of what you thought of one day as dreams."
Maintaining Work-life balance
Family is the main core that should get ample time even if there is a high load of work. With his job initially, he took a lot of pressure without enjoying any time with family.
He adds, "The main reason why I turned to entrepreneurship is to plan my day. I care about my family and I believe that if I don't spend time with them now, I'm going to regret this. So I try my best to not take work back to the house. I try to have lunch with them every day and at least hang out for 2 hours on a daily basis. It is not easy but also not impossible. My kids are also understanding."
His family knows that if he stops working, no one else will pay the bills and thus, such understanding has grown him closer to the family and bonded well.
ecadema's plans for future expansion
Being a visionary leader, Amin has already sorted all the future plans for the company. He shares, "We have developed ecadema online learning to incorporate for different types of users (Trainees, Trainers and Corporates). So, our plans ahead are to be considered individuals, corporates and organizations as the main hub for Certified Trainers around the world."
ecadema will soon be a household name for everyone willing to learn new skills around the world. Amin and his team are working hard to turn this dream into reality.
For more information, please visit
aminchaar.com
,
BusinessBOX.me
or
ecadema.com
.