Yariv Haim: Rocking the investment management space with evidence-based investing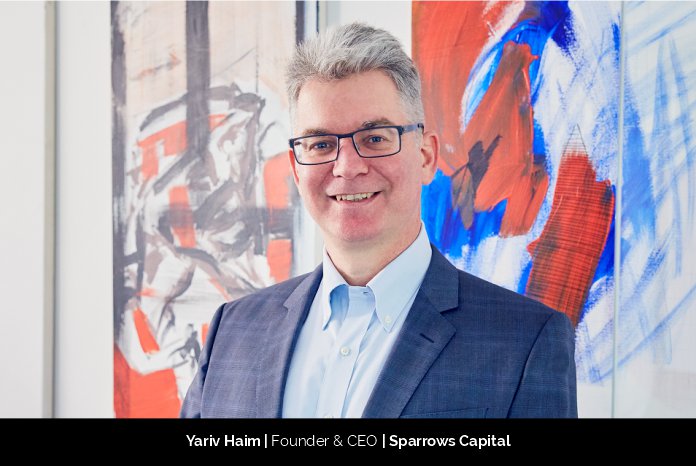 Investment space is witnessing a huge transformation from the last few years. Yariv Haim, Founder and CEO of Sparrows Capital, has always been passionate about changing things for the better. It was this passion which made him eschew family tradition and take the path less traveled. He is open-minded, always prepared to take a leap of faith, and always chasing new exciting goals.
"At Sparrows Capital, I enjoy working in an entrepreneurial, vibrant, and fresh-thinking environment. I am proud to be a member of a group of experienced professionals who do not shy from challenging norms, aiming to develop better, fairer, and more efficient ways of doing things. I am not suited to maintaining a status quo. Luckily, my work at Sparrows Capital is the opposite; every day produces unique and unpredictable challenges."
Sparrows Capital
Sparrows Capital is an evangelist of evidence-based investing. The company is eager to see the discipline adopted widely as a means of improving people's livelihoods.
Sparrows Capital is a forward-thinking investment management company that began its operations as an Israeli family office in 2008. The company's evidence-bade philosophy weathered the Global Financial Crisis of 2008 and 2009 successfully. In 2014, Sparrow Capital was authorised by the Financial Conduct Authority and offered its services to high-net-worth individuals and quasi-institutional clients.
"In 2020, we launched Score MPS, a suite of highly efficient evidence-based models for Independent Financial Advisers and their clients. To highlight our value proposition in a crowded marketplace, we developed an innovative fee offering that caps our management fees at £20 per client, irrespective of the size of assets."
The introduction of a fairer fee in this industry addresses the regulator's call for asset managers to deliver value for money, and helps advisers provide a more efficient and transparent service to their clients. It passes the benefits of scale and technology directly to the end client.
The company's goal is to simplify and enhance the efficiency of investing.
Standing Out from the Crowd
Yariv knows that building trust with investors takes patience, commitment, performance, and above all, time.
"The real breakthrough for Sparrows Capital has been with the intermediaries – consultants, lawyers, accountants, and financial advisers – who play a major role in the manager selection process. It has been very gratifying to see these professional advisers accept the framework of evidence-based investing and acknowledge the role it has to play in managing portfolios efficiently."
"Sparrows Capital's investment approach is underpinned by extensive academic work, and we were extremely fortunate to be introduced, at an early stage, to one of the most well-known academic researchers in our field, Prof Elroy Dimson, who – amongst other things – chairs the Centre for Endowment Asset Management at the University of Cambridge. Prof Dimson is a consultant to the board of Sparrows Capita. He is a fountain of knowledge, and we are privileged and honored to benefit from his support of our work."
The Challenge of Leadership
As CEO of a young company like Sparrows Capital, Yariv engages with a variety of stakeholders. He reports to the board of directors and the Financial Conduct Authority (FCA), while catering to the needs of the company's shareholders and the interests of its staff and clients. "Having stood in the customer's shoes, I have first-hand experience of the tension between service providers and their clients. When I created Sparrows Capital, I vowed to close this gap."
Yariv has experienced numerous rewarding moments along the way. His constant desire to drive change for the better is hid driving force.
"I strive to achieve the improbable first, before proving the impossible can be done! Sometimes, I experience "eureka moments" along the way. I recall a conversation with a client who, after we had shielded his family's assets from his instinct to react to short-term market volatility, told me: "I have finally figured out what I am paying for. Your job is to protect my assets from me!"
A Future full of Promise
Sparrows Capital's Oyster
"Investors across the globe have concerns about the financial products they are sold, the price they pay, and the alignment of interest between them and their service providers. Our innovative, transparent, and predictable approach addresses these concerns and provides a stronger basis for the building of trust in our industry."