Bruno Haidar: Stirring up mental health and well-being space with OrienteMe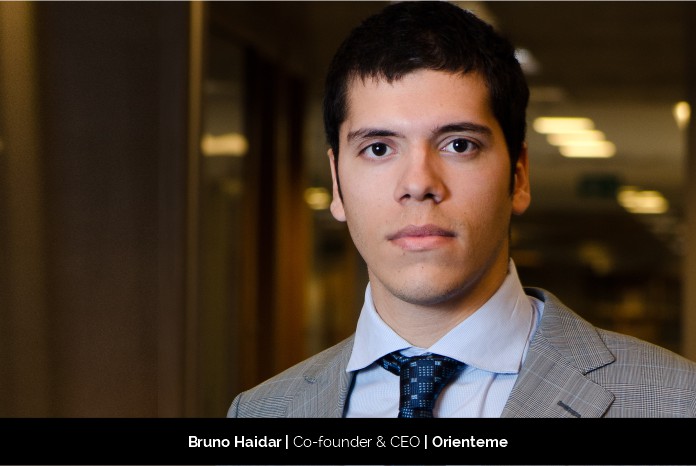 Ailing Mental health in the corporate sector is a vexed question since many years. Bruno Haidar, Co-founder and CEO of OrienteMe had no sorted goal while growing up. He believed that every stage in life brings different challenges and aspirations. However, he always had a permeating feeling to impact the lives of many people. He shares, "I had never considered being an entrepreneur (aside from featuring in an award-winning full-featured film in Canada!), but suddenly it seemed all factors converged to make me completely dedicate myself to this endeavor."
His initial idea consisted of creating a highly scalable platform that ameliorates the lives of millions of people dealing with mental health issues in a financially sustainable way. Now he is inspired to witness more and more results and wants to improve the solution further. He says, "As Steve Jobs puts it in his notorious Stanford commencement speech: "you can't connect the dots moving forwards, only backwards"."
Source of Motivation
Bruno believes that the present generation faces a huge challenge of having a strong purpose. With numerous technological advancements everyday with access to all comforts such as energy, water, internet and quasi-instant delivery of goods and services along with high productivity, a large number of the population still lives in poverty. He says, "When deciding to build a company, we wanted to be a part of the marvels of our generation and apply them in a way people would use and find helpful to solve (at least some) of their problems."
The Brazilian population, having the highest prevalence of anxiety in the world and the second of depression in the Americas (after the USA, according to the WHO), tackling mental health became a serious subject.
He says, "We believed that if we found an exceptional person to code the platform (neither Dani, my sister and cofounder, nor I know how to code – thank God we found Alessi!) we could start by emulating platform models in the USA that addressed the 4 main barriers to therapy (access, cost, stigma and fit). We also believed that it was the right time for the platform (timing is the highest predictor of success in a platform according to some studies) because most Brazilians have access to the internet and over 20 million people were struggling with mental health issues."
Now they are striving hard to impart the best services and their success lies in receiving great reviews from the people that use OrienteMe and charting the further growth of the company by expanding the platform using the model they developed to scale.
Comprehensive Services of OrienteMe
OrienteMe shines as an efficient corporate mental health platform that offers the best therapist for every patient. Using this solution is super-easy via both smartphone and computer without any privacy issues. The patient needs to fill out a brief questionnaire so that the team can understand his/her needs and then the system allocates the best performing therapist available at that time to consult with the patient via unlimited messaging (text, audio and video) and live video sessions. The platform also renders a corporate dashboard where the HR department can easily view aggregate population data and associated risk levels.
He shares, "OrienteMe also offers white label solutions to other providers of healthcare and wellbeing, including other types of consulting (financial, legal, social assistant and nutrition). Tens of thousands of patients have received treatment or consulting in the platform and millions of lives are covered in 2021. Leading telehealth and insurance companies, besides traditional companies, have chosen and maintained OrienteMe as their platform and benefited from its network of service providers (therapists, inter alia)."
Available in Android and iOS versions as well as on the web, OrienteMe has an easy-to-use interface that reduces all barriers to entry for patients. They can comfortably reach out to their therapist at any time and get responses typically twice a day. They can even get slots for scheduling video sessions whenever required. Equipped with a real-time user rating system, it seeks customer feedback as to apply or improve any existing features of the system. The team ensures high quality of the product to succeed in designing the vision.
Managing roles at OrienteMe and home
Both he and Dani ensure the formulation of a killer strategy and a skilled and reliable team to implement it. With Bruno handling the sales team and Dani managing the engagement team, they both want to remain at least partly in the same roles.
He proudly shares that he has achieved a lot, however, there is a need of maintaining an exceptional team so that large-scale operations can be consistently managed at the best rates for all clients. He adds, "We feel we are on the right track (OrienteMe grew over 1,100% in 2020) but surely there is still a long journey ahead of us. To keep determined I listen to a lot of inspirational music (soundtracks from movies, games, bands) and try to bring and share results so that the team is also driven and determined."
Work-life balance is the key to maintain good focus and achieve business goals faster. Right now, with no kids, he has ample time to allocate on the success of the company, OrienteMe. However, he also loves hanging out with his friends, family, enjoying sports and reading books whenever he can. He feels that they are equally crucial and contribute in the long run to maintain excellent work-life balance. He firmly believes, "life is more like a marathon than a sprint (we actually try to avoid burnout through therapy!)."
Future Goals of the Company
As per Bruno, further success lies in successfully implementing all the large-scale projects, landing new clients and expanding service lines to include different kinds of consulting and treatment. Continuing in this way will help OrienteMe become a top corporate wellbeing platform in both Brazil and (soon) abroad.