Chris Sizemore: Building long-term business relationships with open, transparent and honest mindset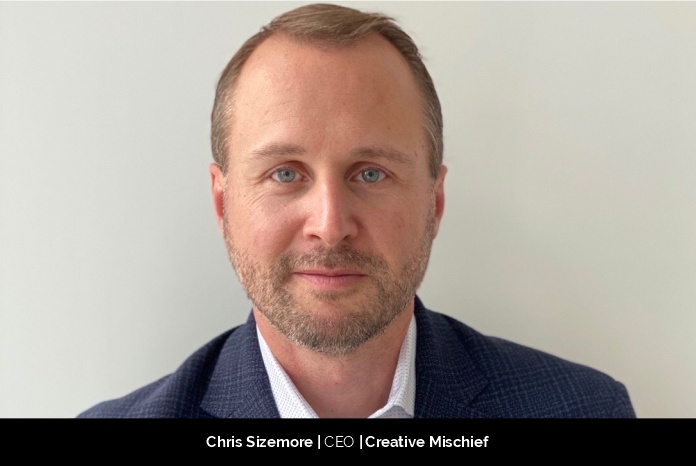 An interest marks the foundation of an invention while passion drives it ahead to bring the best in leaders. Chris Sizemore is one such intrigued leader who later converted it into passion to witness success in marketing industry with his brand Creative Mischief.
He and his business partner Isham shared a common vision to build a name in the powerful industry. He shares, "Our belief was we can be better thought partners to our clients – it is not about the budget it is about relationships. We are our client's guide on their journey to success, our clients are the hero's. As a guide, doing right by our client is the goal. Understanding from a user perspective. Understanding people is my passion." While Isham was equipped with strong creative skills, Chris's experience in IT, operations, narrative assessment and project management helped them achieve their aim faster.
Clearing the Stumbling Blocks in Business growth
Team is the only asset that becomes the key growth cultivators. Chris says, "As an entrepreneur when you start out you do everything, accounting, sales, hiring, – as you grow you have to let go to grow. You have to let go of your baby – you have to let go and trust the team in place to allow the company to grow. As an entrepreneur and co-owner who founded the company during a recession, it is extremely hard to let go of your baby, the company you have nurtured."
He once tried to merge with a client as a unified agency on the foundation of culture but failed leading to relaunching the brand from scratch with new virtues as the pillars.
Services and culture of Creative Mischief
Creative Mischief is a Marketing, branding and communications agency. They impart full support to client in different aspects like email marketing, brand communication, website development, identification, and creating marketing and awareness campaigns. He adds, "We develop marketing solutions that incorporate technology for the client that benefits a team to develop, design and implement strategies." The firm believes in creating long-lasting partnerships by becoming consultants for the clients and giving best to make their business rise.
There are 3 main pillars to ensure a strong culture:
Openness among the team members,

Honesty which ensures being truthful with the team members,

Transparency without fluff to ensure everything is communicated well be it, good, bad, ups and downs.
As a responsible leader, Chris shares, "We made sure to communicate a commitment to team that we wouldn't reduce salary, benefits, layoffs, during COVID. Ownership would take the hit, not the team."
Standing Apart from the Crowd
Chris realizes that all marketing and promotional activities do not just focus on the product or services or brand and rather emphasize on a larger picture i.e. what people stand for, b. Owing to this, he shares, "Our agency has learned to be agile enough to be where our customers are, engage them in a way that's completely different."
Having honest conversations with team as well as clients is the main thing that drives growth for him. He adds, "I bring a relationship focus, a culture focus – more of a belief that family always comes first – we are family as a team, we put staff first, clients second, community third. If staff knows that they are loved and cared for, they are first in my book, they give that same love and care to every client we have. Doing that allows me to let go to grow – so I can focus on passion of mine which is helping community."
It is this honesty and integrity that helps their agency stay unique and work efficiently. He doesn't want to be on top or make others out of business, rather he believes in partnering, collaborating and sharing ideas with clients. He further shares, "I want the client to know they can trust us. We are not just a branding, marketing and communications agency – our belief that true success lives in the trust others place in us. We will do what is right for our clients, their customers, stakeholders, employees, and bottom line. It is about the relationships, quality over quantity – we are in the business of building relationships."
Life Struggles and Greatest Achievement
Having a child at a very young age calls for responsibility early in life. Starting out at an entry level position in a corporate law firm ignited the passion to learn different skills such as handling operations related to IT, emails, marketing and user experience. He learnt all these skills and expanded his horizon ahead by working for 10+ years there. His business-focused mind got the support from Isham and they both decided to work together on building Creative Mischief. Now he is a life-long learner.
His greatest achievement in life doesn't comprise of any materialistic thing rather he measures it by building strong relationships and watching others succeed. He adds, "Today, success to me is my three amazing kids, growing up to be amazing humans. Success is working pro-bono for over 18 months to pass a state-wide constitutional amendment to protect kids from sex trafficking. Which is passed at a historic high of 83.3%. With business, success is not defined by the awards we win but the relationship we create."
Balancing the Personal and Professional front
As the CEO, Chris serves as the public face of the agency, building and maintaining relationships with clients and community. He mainly works in overseeing operations, formulating vision and strategic direction and giving back through skill based volunteering or financial volunteering.
While his kids are his biggest motivation, he has his open culture to help the team motivated. He further shares, "Showing and trusting them to take on new leadership roles with clients boosts the team's confidence. I also allow them to take ownership of new things. I am motivated every day because I get to hear great stories every day about our clients and how they love our team."
Finding balance while being an entrepreneur is somewhat hard for him. He adds, "I don't know if anyone finds balance between the two, but how do you incorporate balance of community, family and passion into one thing. That's what you search for in life. So, I believe it's more about connecting your works together versus a balancing act."
Future goals for business
He says, "Globally, we have plans to grow internationally, but not right now. Currently, we focus on owning our market and our region – based on the foundation of openness, honesty, transparency and integrity." Thus, Chris is emphasizing on growth in revenue, profitability, services, team members, as well as cultivating staff on their career path.