Anna N Schlegel: Leading Big Tech Companies Expand Their Global Footprint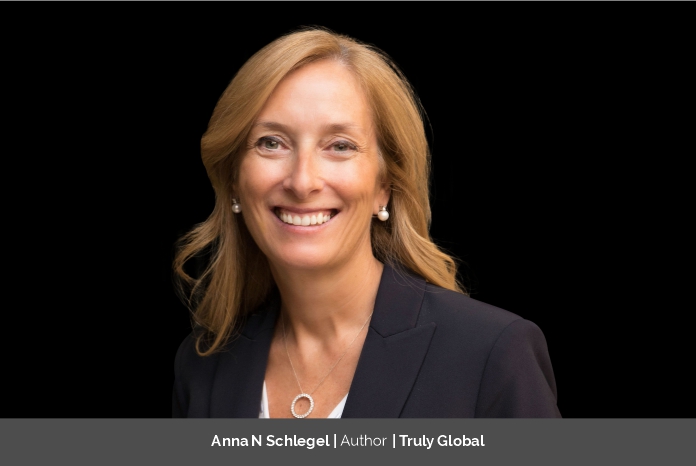 In the early 1990s, a 24-year-old arrives in San Francisco, California from Olot, a town in Catalonia, and starts a globalization agency. Undeterred by the challenges of running a business in a new country and equipped with oodles of energy, she makes her start-up profitable. But then, at the age of 26, two years after becoming a U.S. resident, she sells her company and joins Cisco Systems to form its first group of globalizers. Today, she is 53 years old and is known in the Silicon Valley for leading American high-tech companies become global players. Meet Anna N Schlegel, the writer of "Truly Global" and vice president of product, international globalization, at Procore Technologies. Helping companies go global is Anna's specialty and her happy place.
Helping Companies Become Successfully On Truly Global Scale
In a career spanning almost 30 years, Anna has helped several tech companies become global players. Most companies want to scale across borders, but only a few of them actually succeed in markets outside their home markets. They fail due to a lack of research and preparation before announcing their decision to enter and compete in a new market. Anna knows the work required to go global, how to avoid cross-cultural mishaps, promote products in international markets and build a successful global brand; therefore, she is counted among the very best when it comes to globalization. And business leaders across all industries can learn a lot from her globalization strategies. Anna has explained them in great detail in her book "Truly Global: The Theory and Practice of Bringing Your Company to International Markets."
The book, first published in 2016, and the revised second edition released in 2021, offers an "insider's look" at how companies can thrive in international markets, overcoming different cultures and language barriers. Anna spells out the globalization process from start to finish. And the book also covers topics such as who to hire for the globalization team, how to make globalization an integral part of each department, and how to use the team's research to build a brand's presence in new markets.
Riding a Rocket Ship
Anna arrived in San Francisco armed with a post-graduate degree in linguistics, philology, and German studies from Humboldt University of Berlin, Germany, and a global view. She soon launched her first start-up, unaware of the dangers of starting a business in a country far away from her home in Europe. Anna says that at the time, she was a young, innocent, energetic, and inquisitive person, and it is probably because of that, she could make her company successful. It was her global view that opened the door of the technological space for her.
A client of hers recommended her name for the first localization team at Cisco Systems, the IT and networking company. When Anna got the offer to join the company and create the first group of globalizers, she decided to sell her small but very successful company and take a big leap of faith. "I said yes, I will join. Head in, very brave I think, so I suffered. But I learned very much," she says.
"We were young and inexperienced," Anna says. "And Cisco was one of the first tech companies in the mid-1990s that wanted to expand globally very fast." So soon after joining the company, she began traveling to Latin American countries to identify appropriate locations for Cisco's offices and determine what would be needed to make them successful locally. "I was getting paid well. The company's stock was doing very well. And I was being sent to learn, to travel, and they placed me on a management track from the beginning. I could not believe how lucky I was," Anna says.
And, as she was young, innovative, risk-friendly, and had an appetite for learning, Cisco became like a big school for her. She learned from her colleagues, from her vendors as well as from her acquisitions. Anna was also highly successful at what she was doing. "I was on a rocket ship," she says, remembering her time at Cisco.
Got Recognition for Hacking a Product
After Cisco, Anna worked for Xerox Corporation, VeriSign, VMware, and NetApp. "I had an incredible ride at NetApp," she says, adding that she "really loved" the company.
She worked at NetApp, a hybrid cloud data services and data management company, for 12 years. She started as a one-person contributor and then went on to lead a 200-member team. And she finally ended up heading a team of 1300 women in technology "on the side" for nearly 5 years. While working at the company, her team produced 70 trade secrets, and enabled a joint venture with a Chinese company. She and her two engineering colleagues were also granted a patent. "At NetApp, we saw a clear delineation of before my team started and after we started. We took the company to gain 52 percent of its revenue from outside of the U.S. It was the ride of a lifetime, with a lot of trust and freedom to innovate" Anna says.
The first time Anna got recognized as a leader was when she hacked a product to enter the Japanese market. She did that to convince the engineering team that products in English would not work in Japan. After she had hacked the product, she feared that she would get fired. She got phone calls from the company's CEO and the Executive VP of Sales. But, instead of firing Anna, they wanted to know about her, as she had opened 60 million dollars of net new business in one quarter. "That gave me a lot of street cred, but the engineers were still mad" she says, adding that, later, her story was narrated in front of 11 thousand employees as an example of someone who worked on an idea to innovate and helped the company earn significant profits and created the pattern that products needed to be market fitted and globalized, there was no return from there, her team took off, she was able to hire international product managers and engineers who under her wing transformed the company into a truly global engine. Her influence within the company grew after that. And she did not indulge in hacking again. "I promised not to hack anything ever again," Anna says.
Orchestrating Procore Technologies Global Growth
Anna joined Procore Technologies in May 2021. The company, dedicated to "construction and construction alone," aims to reach more global customers. And Anna is ensuring that it becomes a leading global company as vice president of the international product, international markets, global infrastructure, and globalization teams. "We know that growth and opportunity are vastly outside of the U.S., around 85 percent of the TAM [total addressable market] is outside of the U.S., and that is why I signed up, I need to see this!" she says. "My job is to help orchestrate the global growth across the enterprise so we can support our global country managers reach their targets."
As she is still relatively new to the company, Anna is still in learning mode at the moment. "But, I love it," Anna says. "I think we have been able to make our first impact." Her vision for Procore is to see its global footprint grow. The plan is to "methodically" enter one country after another and offer localized experiences and products. "We are preparing to go global at a relatively faster speed," Anna says.
Success Is a Life Well Lived
For Anna, success does not mean reaching the summit, profits, or a healthy bank balance. She feels that having a great day during the week is a success. "Success to me is when I am able to go for an early run, followed by a good breakfast, and I have a good day at work with my teammates, where we are able to move the ball forward on behalf of our customers," Anna says, adding, "And, right after work, I am ready for a great evening with my family."
Success, according to Anna, also means living a life with core values intact. And she feels that seeing her family happy, healthy and doing what they love is also success. "Success is when I can support them and when I see my kids go through college" she adds. "Success is when I can sneak in a daily call to my mom in Catalunya."
Anna also feels successful when she contributes to the community and receives unexpected cards and flowers. "Success is also a quiet evening or a house full of family and friends," she adds. "Success is when I can run just a bit longer or when an old friend reconnects."
Lots of Energy and Positive Attitude
It has not always been an easy ride for Anna. As an immigrant, woman, and mother, she has encountered several challenges. She has been consistently categorized as Hispanic, when Europeans don't consider themselves as Hispanic, and has faced consistent questions about her accent, if it was her husband the one getting the award, why her background matter, you are not good at… And, Anna has also experienced the "bro culture" of the tech industry. "In the past three decades, I was often the only woman in a room, not invited to the golf game, or the hunting trip" she says, adding, "I have been called 'dude' or 'man' so so so many times."
And as a mother, Anna faced the challenge of raising four children. One of them is a kid with special needs – who is now "very successful, because of the weekly investment in therapy" she says.
Anna has not let challenges and roadblocks dampen her spirit. She says that it is because she comes from an "incredibly strong" family. Her great-grandparents survived wars and established successful companies in Catalunya. And, "my father, Joaquim Navarro, had us running and walking marathons from middle school onwards," she says. "We would go on hikes, run a lot, and bike regularly." Anna also reveals that she played volleyball from age 10 to 24, and she also made it to the Catalan national volleyball team. "It [volleyball] became my life. I learned to be a team member and a captain, and I was challenged daily," she says. "Maybe this is why smaller things that others may consider a challenge, like running daily or being in great teams, are in my DNA."
A natural optimistic, Anna has accomplished a lot because of her positive attitude and high energy level. She says that she maneuvers her daily challenges with a lot of patience, laughter, reading, and perspective.
Love for a Healthy Work-Life Balance
Anna loves to maintain a balance between her personal and professional life. But, because of her new job at Procore, she has not been able to do that quite yet. "As a new Procorian I am spending a lot of time learning and probably more hours working than I should, but I know that it will eventually balance out better, I think it is normal for any executive as they start a new role, it takes months to understand the orchestra" Anna says.
She loves to spend time with her family. Anna regularly calls her children to check how they are doing. And she keeps herself healthy and fit by sleeping well, eating healthy, going for her morning run every day, and doing yoga. "I still hike sometimes," Anna says. And she reveals that she dances with her partner all the time, sometimes we listen to the same song 5 times if we love it. "We dance a lot at home. We have music playing all the time."
"If I show up happy and healthy at work, my teams can be calmer, think better, and collaborate more," Anna says. "And if I am healthy, I can think clearer, and I am more open to advice."
Personal Goal and Message to Businesswomen
Anna is also well known in her country, and she is often invited to speak and advise European organizations like the EU, Economic Circles, Catalan organizations across Europe, and to advise Catalan technology start-ups and midsize companies. And a lot of people ask her if she will ever join the Catalan government. She has no plans to do that. "I think I will leave it at the diplomacy level for now," she says.
Anna's personal goal is to keep updating her book, "Truly Global," every year. "I released it again this year and it sold out within a few weeks. I don't see another similar book, so it is thrilling to keep updating," she says.
"Never stop learning and staying optimistic" is Anna's advice for aspiring businesswomen. One door closes? It's probably a good sign! She advises women to keep learning , to network, to listen well and learn how to ask the right questions. "I also know that the more I learn, the less I know," she says. "To remain humble and happy, right now to me the 'How' is way more important than the 'What'."