With Innovative Ideas, Adalysis Shapes the Digital Marketing World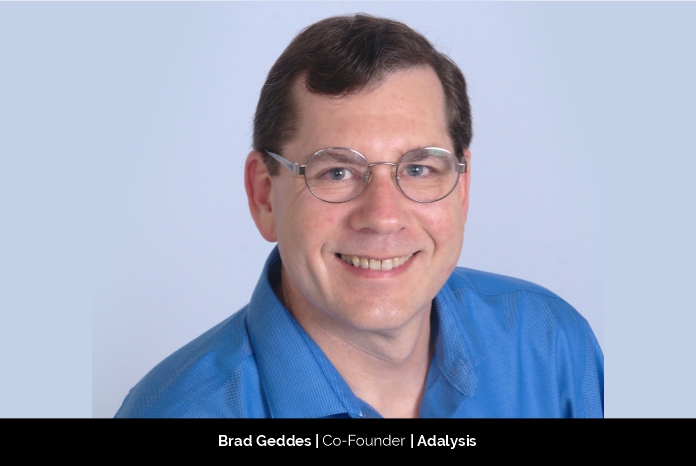 With a vision to combine the strengths of humans and computers together into scaleable workflows to make PPC accounts more profitable while saving people a significant amount of time a professional in certified knowledge and an expert in advanced precision marketing joined hands and co-founded Adalysis, one of the leading digital marketing companies. It was a perfect blend of passion, hard work and market knowledge that worked in unison, birthing innovation and transformation in the digital marketing realm. The journey of Adalysis is remarkable with evolved to success despite the ups and downs. Sharing their insights with us are the founders themselves Brad Geddes and Emmanuel Gad.
The Start of Something New
Like every startup, Adalysis too had to face their initial share of struggles. One such challenge was working with large amounts of data and the APIs from Google and Microsoft. While they are two great companies, at times, they can be a struggle to work with from how they manage their technology and API to changing how their systems work. These were overcome with great development and communication with their technology partners as well as some trial and error making the pieces fit together. Another struggle that cropped in was hiring which perhaps is still prevalent. It is challenging to find talent that can combine various skillsets together. In paid search, you often are working with clients who are good at math and creativity, which is not a common combination. In addition, they are a group of time-strapped workers. This means that workflows and interface presentation layers have to accommodate those who want to dig into the math and decisions while making everything streamlined to easily accomplish a task. Finding user interface and user experience designers who can think about how data should be presented while maintaining workflows can be difficult. Hence, hiring people from a variety of backgrounds and sources has helped alleviate this process. In addition, they talk to their customers a lot about their struggles and how they manage accounts to help in this overall process.
The Product and Services
With their vast knowledge of the field, the founders saw many shortfalls in how accounts were managed and their potential effectiveness. In the realm of digital marketing, PPC analysts were wasting too much time running the same reports, crunching the same Excel files repeatedly, and spending too much time doing the math and statistical analysis. That time spent doing redundant math meant they weren't playing to a human's strengths, which are creativity, critical decision making, and finding insights among all the data. Their goal was to automate the math, data crunching, and statistical analysis with great computer algorithms and present PPC analysts with an automated todo list so people can focus their time on actionable information. Once a person has that information, they then give them workflows to easily accomplish those tasks in a variety of manners depending on how the person wanted to address the situation. By marrying the automated computing power with human creativity and decision making, they've taken the strengths of humans and computers are wrapped them into a single interface for PPC managers to be highly effective.
The Market Experts
Being a pro in the digital marketing industry and back by 20 years of experience Brad co-founded Adalysis. He was one of the first PPC managers, and hence has seen the evolution of the industry and how it has changed. This gives him useful insights into what PPC analysts go through daily, what their bosses need to know, and what to think about as the next type of features we should support. Another master mind in the success of Adalysis is the other co-founder Emmanuel. He handles the development portion of the software. Brad serves as the subject matter expert to the development team on how pieces of PPC accounts fit together as well as necessary workflows. "Personally, I'm an introvert. Introverts are often good listeners, can read people quite well, and consider their responses from all available sources of information, so you get wonderful information from them once they are willing to talk. This means they are often great contributors within a subject, especially ones defined in advance such as scheduled meetings, speaking at a conference, or writing", says Brad. Contrary to his nature, Brad is the front person for a software vendor and working in business development which means he talks to a lot more marketing agencies and in-house marketing teams than ever before. He has had to learn how to network better, start conversations, and manage small talk when there is not always a predefined topic. This has led to meeting a lot of new and interesting people across the industry and seeing even more ways that companies are managed, which can then be used in the company's software building processes. Brad also heads marketing and business development. "If you are only doing work you are comfortable with, you probably aren't learning anything new" Brad adds.
The Success Principle
Brad has witnessed the different phases of the industry in all these years. He shares of his experience that taught him a life lesson. "A different team that I worked with sold our company to RH Donnelley (now called SuperMedia after Dex Media and Super Pages merged) and one of the SVPs told me "Try to be lazy while getting everything done. You'll never get there, but by trying to be lazy, you'll learn how to delegate, be efficient with your time, and know how to focus on what is the most important items to accomplish." Well if you are not a self-starter this is probably not a good advice. However, if you are always taking responsibility for getting top quality work done on an ongoing basis, it's excellent advice. Brad has followed this to learn when to just let a conversation go as it's not that important, create efficient workflows, and even structure his day around Ultradian rhythms so he can be as productive as possible based upon the body's natural energy flows. By learning how to be productive in a variety of environments, leveraging the best person to accomplish a task, and using consistent workflows, he has become a highly productive person. This dramatically lowers the day-today stress of looking at task lists and thinking about what needs to be done. Knowing how you work, how others around you need to work, and yet being flexible enough to meet with clients is an essential part of being a successful executive or company founder. Brad has written 3 editions of Advanced Google AdWords and has sold or been involved in selling, multiple companies and products. He has spoken in more than 300 events across more than a dozen countries, has shared meals with Larry Page, Sergey Brin, Satya Nadella, and Al Gore. He has also met Bill & Hillary Clinton, Bill Gates, Marissa Meyer, Cheryl Sandberg, and a host of other legends across the world and especially in the tech space and cites that he has still has a long way to go. He worked with a team at LocalLaunch!, on a revolutionary product that would help businesses quickly get online, start marketing, and ensure that their data was correct across all the online platforms. It was after his meeting with Larry Page and other Google executives that Brad realized, they together had had built something that was going to change how marketing for small businesses was done. "At times it's hard to validate your own work, it takes the validation of another person who really wants to work with your products and services for you to realize your hard work is going to pay off" asserts Brad.
The Exclusive Thoughts
In the paid search industry, there is a considerable push towards automation and machine learning. Machine learning is providing incremental gains month over month and is fantastic at bidding and ad serving and has disrupted the industry when large scale data analysis is involved. However, machines lack empathy, context, and human understanding. These are three critical elements of marketing. A machine can easily make mistakes. Some of these mistakes, such as a big being submitted sub optimally, don't affect the long-term viability of an account. Other mistakes, such as blocking entire targeting methods, providing a poor brand experience that stays with the consumer, can negatively affect marketing and brand perception. What makes Adakysis stand out is they provide context for humans to oversee their brand and marketing in a scalable manner. If people make emotional decisions, and are persuaded by the world around them, then people must be involved in marketing and having conversations. Adalysis is a company that uses technology to empower the human side of digital marketing.
What Lies Ahead
Adalysis' future is to keep on their current path. They are growing and will continue to grow and will keep examining the market and what PPC analysts need to efficiently get their job done – which is gaining profits for their clients. They have been in the market for more than years, and they plan to stay and succeed. They have a vision of how you can marry computer algorithms and human creativity and ingenuity together, and will keep building towards that focus so their clients, and their clients, find success with digital marketing. The journey in creating Adalysis has been enriching despite every struggle they faced. Experience knowledge and passion played a significant role is shaping the success of the company. They have outshone their market value is a short span of time and have a long way ahead of them as they gear up for new heights.