SecurityHQ: Transforming the Cyber Space with Advanced Cyber-security Solutions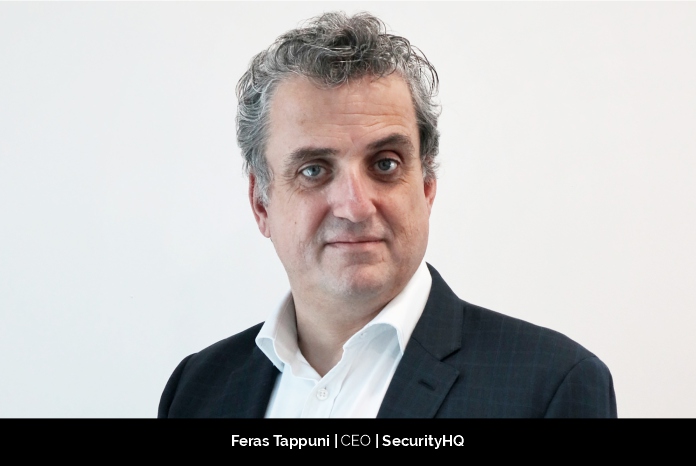 Feras Tappuni is the CEO and founder of SecurityHQ and is responsible for overseeing all the technical and financial aspects of the company. With over 25 years' experience, he has dedicated his life to cyber security and is driven by the desire to offer his clients the highest degree of protection against today's cyber threats. Feras has delivered complex security and engineering projects to prestigious clients globally. From harnessing the right technology, processes, and people, he ensures that SecurityHQ delivers a truly enterprise grade experience.
Every leader has a unique definition of success. Tell us about your thoughts about success and why do you feel that?
The definition of success changes depending on where you are standing. What I deemed as success when I started the business, was simply to survive. All I wanted was to make sales, and maintain another month, another quarter, another year. Now that the business has grown globally, there are different forms of success. There are sales numbers, targets, revenue generation, all those metrics can provide you with the definition of success. But the real definition of success for me is if my customers are happy with the service that we deliver and that we are achieving their needs. If your customers are happy, and if you focus all your energy on that, then you will succeed.
Leading a company to success is not an easy road to take. What inspired you to take the step of faith? What laid the foundation of SecurityHQ?
I have spent a great deal of time helping friends start businesses by giving them advice. But I had never ran my own business, despite really wanting to. Then the company I was with at the time decided to restructure the business, and it was very easy for me to see that I had to be part of that restructure and had to exit. I knew the exit was coming, and the ugly part of that job was I had to let quite a few people go, and the last person to go had to be me.
This forced me to take the leap of faith to start my own company. It was something I had wanted to do since I was a child. I did not need to think or write about it anymore, I just needed to get on and do it. The way I did that was to just get my first client, and then I just spent, and still do spend, the rest of my time packing the backend to make sure that each element was a success.
Challenges make you stronger. What is your take on this? What were the roadblocks that taught you valuable lessons in your professional journey and helped the growth of the company?
When you have a business that starts off with a few individuals and then it grows from the ground up, personal life and business merges into one. There are huge roadblocks and setbacks. I recently read an interesting stat, from a conference in America know as 'Titans of Business'. They estimated 20% of those types of business were merely 4 weeks away from bankruptcy, at any one point. It is a very stressful environment, and sometimes these stresses cannot be controlled. But they do make you stronger. You have to go through the low points because it makes you stronger, and it makes you say, 'I won't be in that position again, I won't let that happen'.
Tell us in brief about the products and services of SecurityHQ.
SecurityHQ is a Global MSSP that monitors networks 24/7, to ensure complete visibility and protection against your cyber threats. Threats can be both external and internal. Which means that the right combination of tools, skills, people, and processes are essential, to manage, detect and defend your environment from all malicious activity proactively and effectively.
From Managed Detection & Response to Managed Firewall, Managed Endpoint Protection, Digital Risk and Threat Monitoring, SecurityHQ offers a wide range of services, covering both audit and management, and detection and response, to ensure that all cyber security needs are met.
What are the growth strategies that you implemented for the expansion of the company?
We invested in marketing, we invested in our brand, we invested in understanding the product range that was required and we went after it aggressively. We are ideally positioned, because we have always been international/global, so we just broke out into the separate markets, and we have an insistent 5-year plan going ahead. The most important thing is we do what we say we are going to do. That is the most important thing in business and in life.
What marked the beginning of the company as a recognized brand in the cyber security industry?
We always had a brand, but I would say the change of the name from Si Consult to SecurityHQ was a turning point. When we rebranded ourselves, our name, our services, our whole company, we made it globally known that we are serious players in the industry.
How do you ensure a culture of integrity and innovation in the company? What are the core values of SecurityHQ?
With respect to integrity, we do not compromise. Never, ever compromise on integrity. That integrity must permeate through everything we do. From how we talk with colleagues, how we talk with clients, to the quality of service we deliver. A patient does not self-medicate so, if the client wants you to do something you are not comfortable with, then you do not do it. It is that simple.
When it comes to innovation, we work very closely with our clients, to understand their needs and the risks of the market and the growing threats to make sure that we are pivoting in the right direction. It is necessary to pivot constantly as the threat landscape changes and grows daily.
How does the company stay abreast with the increasing competition in the industry?
We do not dwell on our competitors that much. We really are focused on ourselves. We have a little look over the fence every now and then, but it is a waste of time because you really should just stay focused on what you are supposed to be doing.
How has SecurityHQ influenced the industry with innovative ideas?
SecurityHQ has been a successful business for over 15 years, which makes us a veteran in the industry. We are not a start-up, we do not have any new VC, or equity, or anything like that. We are engineers that built the company from the ground up. That already makes us a huge differentiator. People who started this business still run this business, we know where we are at and, more importantly, know where we are going.
What has been the best recognition that the company received? Tell us about the best client feedback you received that made you proud as a leader.
We have won some fantastic accolades. We were recently honoured as a 2021 IBM Beacon Award winner for Outstanding Security Solution.
But even though awards are testament to our hard work, our technology and dedicated team, the greatest recognition we can have comes from our clients. An example of this happened only 6 months ago, with a ransomware attack on one of our clients who was significantly impacted. That client went through unmitigated hell for 4/5 days. We were there with them when they basically went into freefall. And after, when we pulled them out of the dark, got a call saying thank you to all our team. That simple thank you means everything, absolutely everything. We are very conscious that people's jobs are at risk with this kind of attack. It was a simple phone call, but it was the thing that made me so proud of what we do.
What are your responsibilities as the CEO of SecurityHQ? How do you keep your employees motivated?
You have to worry about today, and you need to motivate your team. But your real job as a CEO, is to focus on tomorrow. Make sure that the path is cleared for your team of experts to trail blaze through it. Keeping staff motivated is always hard because you have some tough days as well. But it's just about teamwork. And making sure that the team clicks. Great individuals don't necessarily make a great team, the team must work and run as one unit. You have to keep that in mind.
Being open and frank is crucial. Sometimes difficult conversations must happen. But the most important thing is that we do not dwell on them and keep moving forward as one.
What is your vision for the future of SecurityHQ? How do you plan to extend the company services, globally?
Our vision is to continually expand our services globally. Particularly in the back end of the year you will see an aggressive push into the US market. We already have some clients there, but we want to invest more in that area. And, who knows, maybe in the future we will also delve into Latin America as well.
We are also looking at continuous expansion in our current markets, which is MEA and APAC.