Mohammed Mubin Mallick: Smart Solutions for a Smart World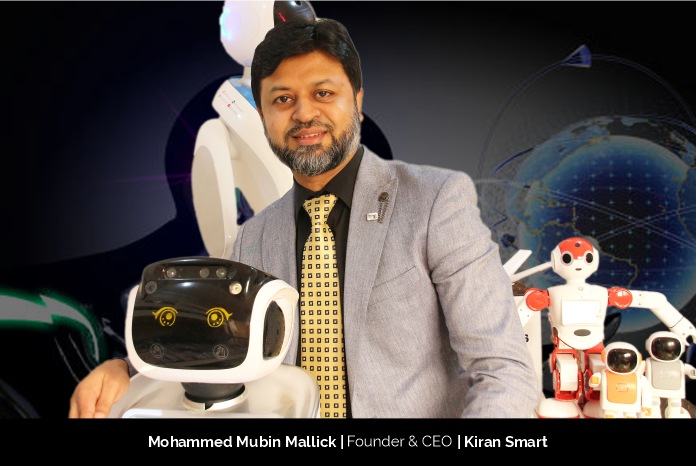 From IT solutions and services to AI robotics, from being an innovative entrepreneur to a digital transformer, from a local business in Kuwait to a global market, Mohammed Mubin Mallick, Founder and CEO of Kiran Smart, has conquered it all. With hard work, honesty and optimism, this self-dependant, straightforward and dynamic entrepreneur aims to be the leader in IT support and AI robotics while maintaining a high standard of customer satisfaction.
When every achievement counts as success
Mohammed Mubin finds contentment in knowing that he is serving humanity and pleasing the higher power.
He affirms that there are two ways of achieving success – the longer path and the proverbial shortcut. It takes a long time to reach the destination if one chooses the longer path. However, it offers valuable lessons along the way, tough lessons that build character and make you strong. The 'shortcut' may offer a lucrative alternative, but it lacks the learning experience and may take you off-course. And leading a company is not an easy road to take, he confesses.
A leadership role is not new to Mohammed. Since childhood, he has always played the lead role in sports. He was the captain of a football team, a cricket team and he has also led the school athletes' team. Moreover, he was the school Vice-Captain. This gave him confidence that he possesses the traits required to lead a company and inspired him to create Kiran Smart. It was his father's dream to start a company and Mohammed Mubin chose to fulfil this vision. The purpose was to help people around the world.
Challenges help you win
The word 'Challenge' is Mohammed Mubin's favourite word. Challenges give him the motivation to achieve his goals in life. Every mission poses challenges: visible and invisible ones. He firmly believes that challenges not only make you strong but also help you build strategy to overcome them. Challenges help you win.
In the IT business, Mohammed Mubin has always introduced new products in the market. These products have challenged the existing products in the market. Mohammed Mubin acknowledges that they have to face several roadblocks that included, but are not limited to, financing issues, building a smart and innovative team, customer loyalty, keeping up to date in the market, upgrading employees to the latest and innovative technologies and winning the trust of investors.
Innovative Smart Solutions
Kiran Smart started with IT solutions and services. They collaborated and partnered with multiple IT product vendors around the world to provide solutions and services to the local market. The company provides custom-tailored hardware and software products. Hardware products include network switches, wireless access points, network firewall, HSIA- Surfsonix, servers, backup devices, printers, computers, Smart Devices, Smart touch tables, interactive touch screens, digital screens, restaurant pagers, service robots and disinfection robots. Software solutions include email signatures, digital marketing software, anti-virus, network security software, backup and disaster recovery. They also provide Annual Maintenance Contracts in their services.
Kiran Smart will be adding more products to their portfolio and implementing technology diversification as growth strategies for the expansion of the company. The latest products they offer are Digital transformation and AI humanoid robots.
Kiran Smart became a recognized brand because of customer trust. Their dedication led them to acknowledgement in the market and the IT industry.
Productivity matters
The core beliefs of Kiran Smart are equality and togetherness. They believe in a conscientious execution of individual responsibilities. Mohammed Mubin confidently states, "When we have a team that understands the holistic approach of the organization, we achieve 80% of our goals."
Mohammed Mubin likes to keep the core values of Kiran Smart simple, per their mission and vision and focused according to the trend in the market. They emanate from his personal values of "passion, innovation, commitment, dedication, efficiency, competitiveness, honesty, loyalty, positivity and optimism."
Staying ahead
Mohammed Mubin personally does all the research and development to keep the company and his team abreast with the latest trends in technology and market requirements. For this purpose, he travels to different countries to witness the development. He attends several exhibitions, market expos and seminars. Meeting tech company manufacturers also helps him to plan strategies and stay ahead of the competition.
'Social distancing' Innovation
Kiran Smart started with IT Solutions and Services for a local market to fulfil customer demand. However, as the years passed, they ventured into Digital transformation and Robotics. After they diversified to AI Humanoid Robot Services, the company got more recognition locally and internationally. AI Humanoid Robot Services have been a boon during these pandemic times. In these unprecedented situations, human contact has to be kept minimum and the AI robots have been pivotal in helping businesses survive. For disinfection purposes, human contactless services or deliveries, robots have been used by hospitals, restaurants, schools and corporates. AI Humanoid Robot Services has also started delivering in different countries. The UV disinfection robots and delivery service robots especially are in high demand.
Most Innovative Company!
Kiran Smart holds several laurels for being the Most Innovative Robotics Technology Company in Kuwait. They have received awards from the Kuwait Institute For Scientific Research, Ministry of Awqaf – Kuwait, recognized as Top Most Disruptive Robotics Company of 2020 and company of the month by Analytics Insights. Recently they received the Award and recognition from Corporate Vision UK as 2021 Corporate Excellence Awards for being the Most Innovative Robotics Technology Company 2021- Kuwait. Mohammed Mubin considers this latest achievement as the best recognition so far.
Building Trust
Mohammed Mubin acknowledges lots of feedback and testimonials from his customers. "But the best I still remember is the one from Mrs Anita Lobo, IT Cluster Director of Crowne Plaza Hotel and Holiday Inn Hotel Kuwait. She said that she can never forget the support of Kiran Smart when she needed it during the Ramadan month when no other company would provide the support or service. Due to this due diligence, the hotel did not suffer any technical issue", he reminisces.
He trains his team to be the best by providing round the clock and prompt services. Customer trust and loyalty have helped Kiran Smart to expand their services and customer base.
Kind leadership
Being a CEO, Mohammed Mubin handles numerous responsibilities, including
Leading the company

Researching latest trends and technologies

Making Kiran Smart an international brand

Maintaining the reputation in the market

Making the company more innovative

Keeping the team up to date

Ensuring customer satisfaction

Securing happiness of the employees
He treats his team as his family. This keeps them happy, motivated and energised.
Best Innovative Solutions Globally
Mohammed Mubin has a very focused vision for Kiran Smart – to be the most innovative solutions and service provider company globally. He aims to add to the list of services provided by Kiran Smart. Moreover, global business expansion is also being achieved by having a company presence or by appointing local distributors or partners in different countries.