HighSpark: Helping Brands Communicate Powerfully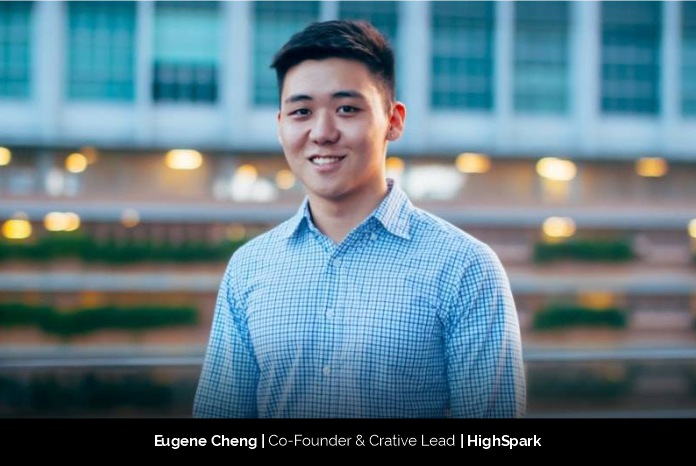 The professional education industry in Singapore has been active for decades now, but little has changed. Apart from the evolving vernacular due to upcoming technologies integrated into programs, most education companies are still selling the same approach of old. Enters HighSpark as consultants in its presentation storytelling and design niche. The company considers itself fortunate to be able to offer a first-hand perspective with directly applicable case examples to improve communications across teams in large, complex organizations.
Isolating its underlying processes in the way HighSpark does business and helps its clients has proven useful in transforming persuasive communications for the participants it trains. It's more common to find trainers that show up and share generic tips and techniques on a variety of topics like public speaking and stories. For HighSpark, it doesn't just 'teach' the topic, but it actually does it on a daily basis in its agency arm of the business.
The roots that paved foundation
It all started when the idea came years back when the founders saw a clear gap in terms of internal and external corporate communication when presentations were concerned. Seated as a student in their many school lectures, the founder, Eugene Cheng noticed that his lecturers were putting boring, sleep-inducing presentations. Some were even reading from their slides! After deeper exploration, they found out that this problem was not only isolated in the education space, but also rampant in corporate organizations as well. Areas like public speaking, presentation design and such were all overlooked. Even the largest organizations (apart from design-focused ones like Apple) didn't have an in-house team to design persuasive presentation narratives and experiences. After validating these ideas by uploading on Linkedin and SlideShare, HighSpark began offering such services and found that the uptake was brisk. Before they knew it, business began picking up at an exponential rate.
Helping corporate leaders ace their presentations
Today, HighSpark is a strategic presentation consultancy and presentation training company that helps corporate leaders ace their high-stakes presentations. Most executives lack the time and communication expertise to present their thoughts and ideas in a clear, simple and persuasive story. Till date, HighSpark has developed more than 300 presentations for top executives and organizations.
Presentation Consulting: Typically, clients come to HighSpark with a complex brief, existing presentation or idea they have in mind. The team then gathers more information and transforms it into a clear, persuasive narrative that increases buy-in. For startups, the company offers pitch deck design services. Past consulting clients include Fortune 500 and best-in-class organizations like Nike, Oracle, institutions of higher learning like SMU, NTU, public organizations like A*Star and soaring startups like Glints, Plusmargin and even block chain companies like BOLT and Switcheo.
Visual Presentation and Storytelling Training: Organizations that seek to empower their teams to improve their presentation visuals and align on sales narratives reach out to arrange presentation skills courses that run for half-day or full-day runs for their staff to learn the methods HighSpark uses to service its clients. Via associate trainers, HighSpark also offers sales training and public speaking training for organizations that seek an end-to-end training solution. Previous training clients include MasterCard, Singapore Management University, FWD and many more forward-looking organizations.
Childhood interest only grown to be a full time entrepreneur
Eugene has always been interested in starting an enterprise of sorts since his youth, but only properly understood the idea of entrepreneurship at a much later age. In his younger days back in primary (or elementary) school, Eugene his peers used to catch and collect various types of spiders and erasers for fun. Encouraged by his parents, Eugene took it a little bit of a step further and began selling them to his friends for a dollar or fifty cents.
"Since starting the company at 19, I'd say we've had to grow tremendously as a result. The steep learning curve accompanied with 'learning-by-doing' has enhanced our capabilities and thought processes very quickly," Eugene shares. "Early on, we faced a lot of push back from prospects because of our age. Especially in a field like consulting, looking too young can work against you. There were many instances in the early days where prospecting clients didn't take us seriously because of how old we looked and were at the time," he further adds. "They weren't willing to pay the premiums we were asking for, and are almost always initially skeptical on our ability to deliver. We'd get objections like: "You're my son/daughter's age, what value can you add to me?" or "Are you sure you can do this?"," Eugene remarks.
However, over the time, HighSpark has managed to overcome this through experience which reflected in the way they spoke, carried themselves and dressed. Eugene believes that putting on a jacket and a pair of fake glasses does wonders in adding years to your perceived age. "We've learned that age is just a number, and that it's very possible to deliver equal or more value than our older peers if we offer fresh perspectives that deliver results. As professionals, we've gotten much better at holding our ground and proving our worth. As individuals, we've learned through growing our business in terms of various skills in communications, negotiation and finance as well," Eugene says.
Inspiration for the years to come
Talking about his inspiration, Eugene remembers, "One day, during a marketing lecture in high school, there was an announcement to participate in a business competition. I felt that there was nothing to lose and decided to participate. That's where my partner Kai Xin and I first began working together."
They didn't win the competition, but emerged as finalists. Shortly after, during a term break, instead of relaxing and playing as Eugene would usually do, he went to participate in another competition where his team was awarded 2nd runner-up. He also went to immerse himself in deep study on communications, entrepreneurship and specifically presentation design and delivery.
"When I returned back to school after the term break, the effect was transformational. The new skills that I had acquired became very useful in class projects. Our clearer and more persuasive approach to presentation visuals and storytelling helped us stand out among other business students and gave us a clear competitive edge," Eugene adds.
The journey always made him look at his roots
Like any other entrepreneur, Eugene has had his ups and downs in business. The key highlights of his journey involved him and his partner being able to return back to their high school to train the lecturers that used to teach them about visual literacy and storytelling.
"At the same time, we sometimes have the opportunity to witness our clients taking the stories we developed together with them to the big stage at conferences, Demo Day events and we also celebrate when our startup clients successfully close a fundraising round. Till date, we've collectively helped our startup clients raise close to $20Million in funds from investors. As we tell most clients, the proof is in the pudding and the return-on-investment they get when using us. It also validates the work that we do," Eugene asserts.
"After striving for close to 5 years in this line, it's clear that our hard work has paid off as we've built a lean team of six to service anchor clients like Oracle, Universal Robots and more innovative companies driving a comfortable income for the firm and lasting value for our clients," he adds.
The vision that is powerful enough to become a global brand
Moving further, HighSpark is seeing increasing demand from its clients who want to apply the storytelling methods the company teaches to achieve a higher level of clarity in marketing initiatives. This can include digital presences or print collaterals. The company will gradually be offering a wider scope of services for selected clients and expand the team in those areas. There is also great room to expand its training business into more horizontals and deliver added value via education. HighSpark is putting together its training methodologies on storytelling into a book that Eugene is hoping to release next year.