Tompkins Robotics: Defining Innovative Techniques of Automation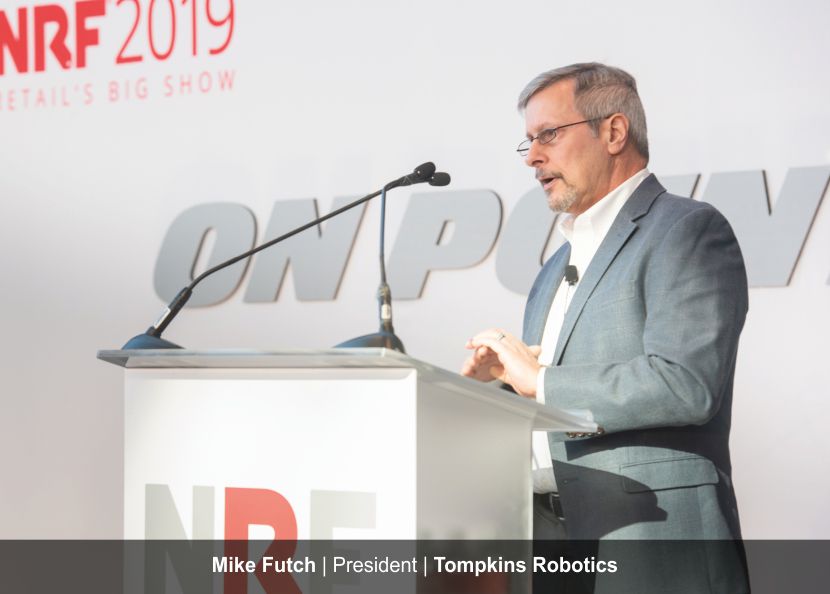 Automation in distribution centers (DC), fulfillment centers (FC) and warehouses is not only becoming more and more important, it is becoming a necessity. Automation adoption has continued to rise over the past six years, as companies are facing increased pressure to cut costs, address the workforce shortage and provide an optimal customer experience. Robotics are a popular form of automation due to their versatility, affordability and efficiency. Their applications span across the entire supply chain, from pick and pack to sortation and transport. Robotic solutions also offer scalability and rapid deployment, with a typical installation going live within just four to six months.
In 2017, global supply chain consulting and solutions firm, Tompkins International, launched Tompkins Robotics to introduce an innovative material handling sortation system. A business unit of Tompkins International, Tompkins Robotics is a leading provider of autonomous mobile robot (AMR) solutions. The company has developed and deployed the world's first, portable automated sortation system, t-Sort, a revolutionary unit and parcel sortation system that is patented for North America and Europe. This new and innovative robotic technology helps build world-class supply chains while providing unmatched flexibility and throughput. Tompkins Robotics' systems accomplish volumes ranging from small operations in the backroom of a supercenter or mall anchor store to large fulfillment centers processing millions of units a day.
With two models, t-Sort and t-Sort Plus, and two sortation methods, tilt trays and cross belts, Tompkins Robotics' systems can handle items as small as a penny to up to 40 inches long by 30 inches wide and weighing up to 120 pounds. The fast, efficient and modular unit and parcel sortation systems can handle a wide variety of product unmatched by traditional sortation solutions. Given the unique flexibility and scalability of this application, t-Sort installations have proliferated since its first implementation in 2018 and continue to rapidly grow year over year.
t-Sort is a game-changing unit and parcel sortation system that performs much like a tilt tray or crossbelt sorter without a fixed track, allowing independent robots to travel freely to any divert or induction station along the shortest path, greatly enhancing efficiency and maximizing operational capabilities. Unlike traditional sortation systems that require a large upfront investment and have excess capacity that may be underutilized for years, the t-Sort system is fully modular and allows robots, chutes or induction stations to be added or removed instantaneously without any interruption or downtime. A typical installation takes six months or less to go live, and the completely portable system can be collapsed or set up in minutes and relocated to another location overnight, providing an added level of versatility.
Other major benefits of the t-Sort solution include:
Maximum Efficiency: Robot navigation via real-time control to ensure movement along the most efficient path.
Space-Saving: Utilizes approximately 25 percent of the space of traditional sorters.
Wide Range: Multiple interchangeable tray designs are capable of handling a wide variety of products for any size or type of operations.
Rapid Implementation: Installation time is less than half of that of traditional tilt tray and cross belt sorters.
Cost-Saving: Investment is between one third and one half of the cost of traditional sortation systems and generates more than twice the ROI.
High Volume and Capacity: A single t-Sort system can handle 50,000 units per day per module and between 5-6 million annual units.
Labor Productivity – High sort density in compact space results in larger batches for greater picking efficiency and productivity.
Redundancy & Risk Mitigation – No single point of failure anywhere in the system. The system has mirrored servers, redundant infrastructure and an uninterruptable power supply backup.
The t-Sort system is powered by the Tompkins Warehouse Execution System (tWES), which eases the implementation through its quickly configurable design and is highly flexible with the ability to interface with a variety of host systems.
t-Sort, combined with tWES, helps further evolve supply chain automation, improving the efficiency of logistics operations. t-Sort is a highly effective solution for automated order fulfillment with the flexibility to sort both units to complete an order and parcels for shipping operations. The system's unique flexibility and wide range of capabilities improve the flow of goods, labor productivity, operations planning, implementation, space utilization, use of capital and operating expenses, and ultimately, customer service.
Tompkins Robotics' award-winning t-Sort system is used by some of the world's top retailers and shippers, which together represent more than $1 trillion in annual revenue and include retail, e-commerce, 3PL, and package and postal channels. The company also integrates with key partners to grow its overall offering on its goal of providing dock to dock robotic automation in logistics facilities.
The t-Sort system's unique design provides unheard of flexibility and enables a tremendous reduction in capital cost and space in the warehouse, compared to traditional automated sortation systems. t-Sort users experience lower and delayed investment, shorter lead times, faster implementation, reduced space and labor, and greater ROI.