Transforming HealthHealthcarecare by Integrating Innovation with Process Improvements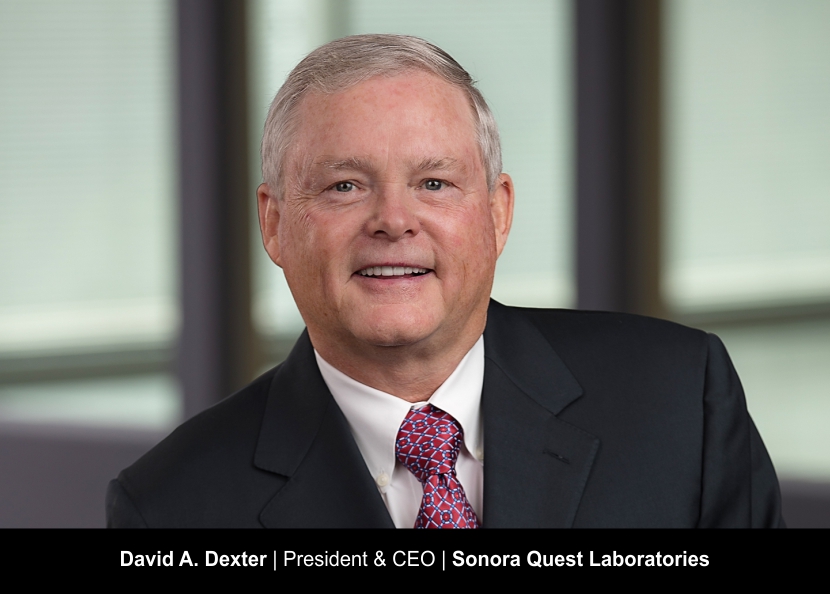 He never wanted to be a CEO however he was certain that he wanted to help people through his works. When he got the opportunity to be a CEO he sought the challenge as a way to fulfill his desire to touch peoples lives. 20 years ago, David Dexter said yes to be the CEO of Sonora Quest Laboratories making it one of the leading providers of diagnostic information services today. In his enthralling journey of 20 years he has come across numerous obstacles and has learned out of the lessons of life. We would like to highlight a few inspiring thoughts and success mantras from the expert himself, making his success story a source of motivation for every individual who aspires to inspire.
The Real Deal
Sonora Quest Laboratories is a joint venture between Banner Health, the largest non-secular hospital system in the U.S. and Quest Diagnostics, a Fortune 200 diagnostics company. For 20 years David has been leading the organization with a view to make a positive impact in people's lives through improved health outcomes and they have. They have executed their business turn-around plan very successfully, turning it around from 27 consecutive months of $1M/month losses, to profitability in one year, well ahead of our two-year plan. Together with Laboratory Sciences of Arizona, which manages the 30 Banner Health Hospital labs in 6 western states, they have grown the enterprise into the largest and most successful integrated laboratory network in the nation.
"I'm proud of the fact that our integrated laboratory network serves the entire continuum of healthcare from inpatient, outpatient, and outreach, to direct-to-consumer testing", says David who also serves as a general manager of joint ventures for Quest Diagnostics. "During my tenure, Sonora Quest Laboratories has grown five times over, serving as the market share leader in clinical laboratory testing in Arizona, performing more than 60 million diagnostic tests per year. I have also served as the board chair for Health Current, Arizona's Health Information System, for the past 7 years and 11 years as a board member; it has become one of the most successful HIE's in the nation", he adds.
The Customer Benefits
The vision of Sonora Quest Laboratories is to be the Trusted Leader in Diagnostic Information and Services. They believe that lab results impact more than 70% of healthcare decisions so it is imperative that they provide results and analytics solutions of award-winning quality to their customers. Sonora Quest Laboratories in conjunction with LSA, is the market leader in clinical laboratory testing in Arizona with more than 3500 employees serving more than 25,000 patients every day statewide. They perform more than 60 million diagnostic tests per year and offer a local comprehensive test menu ranging from routine to specialized testing.
With 75 Patient Service Centers located throughout the state, and timesaving services such as online appointment scheduling, Sonora Quest is proud to offer Arizona residents convenient and affordable access to healthcare. They are contracted and considered in-network with most of the major health plans in Arizona, offer reduced pricing for patients who wish to pay at time of service due to lack of insurance coverage or high-deductibles, and have other programs available to patients and consumers to keep healthcare affordable.
The Inspiring Outlook
Driven by his vision to be recognized as a trusted leader in diagnostic testing and information services, David and his team make consistent improvements in their methods and services. He believes that this is the most challenging time in healthcare and the leaders of the industry have the power reshape and significantly improve the industry. Sonora Quest Laboratories has been the state's leading laboratory provider fostering collaborative relationships between providers and patients for the best possible outcomes. They employ values of quality, integrity, collaboration, accountability and compassion to help guide the organization's behaviors and decisions in the workplace. Sonora Quest Laboratories is more than a lab – they're focused on delivering data-driven insights to support their customers in improving outcomes, which lowers overall healthcare costs, improving quality and delivering an exceptional customer experience.
His motivating factor is his business philosophy. He believes that it is all about focus"It's not how many hits you get, it is how many runs you score." Focus, alignment, and execution are the keys to achieving the desired outcomes, but it must be accomplished with integrity; no exceptions.
The Future Approach
Sonora Quest Laboratories has been leading the industry for 20 years however David there is a long way to go in terms of transforming the healthcare field. His vision is to lead their integrated laboratory network to Lab Future State 2.0, which is build the largest most capable Core Laboratory in the nation which is in progress, serving the entire continuum of healthcare, focused on innovation using robust data analytics and AI to drive differentiation, to support population health, coordinated care, precision medicine, an exceptional customer experience, which will result in improved patient outcomes. The road ahead is full of challenges and opportunities and the team of Sonora is gearing up to pave new ways to help people. Healthcare is an industry that needs new techniques and advanced technologies to make patient care more convenient and available. David wants to make a difference for others and help shape the future of healthcare.
When he started his journey as an amateur, he had only one focus in mind which was to help people. His strong desire made him overcome every challenge eliminating the fear of failure. At this time of his career David wants to change industry paradigms by integrating innovation with process improvement. Albeit, he never wanted to be a CEO David has left an inspiring trail of success that encourages us to undertake every opportunity as a challenge and make an impact on people lives helping them to lead a better one.