Julia Anthony: Conquering Fears to Simplify Adrenal Crisis Health Management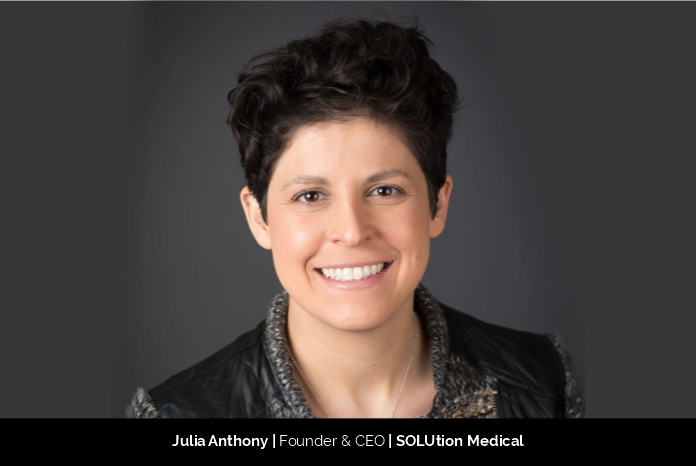 While medical advancements occur every day, some health conditions still remain unnoticed. Such health conditions take precious lives due to inadequate treatment protocols.
Salt-Wasting Congenital Adrenal Hyperplasia (SWCAH) is one such severe condition. The lack of cortisol produced by the adrenal gland results in an adrenal crisis, a potentially deadly event if not treated immediately.
Julia Anthony, the visionary behind SOLUtion Medical, has emerged as the life savior for those suffering from adrenal insufficiency. Julia, SOLUtion's CEO, has Congenital Adrenal Hyperplasia (SWCAH) and knows first-hand the difficulties of current adrenal rescue medication.
A survivor of SWCAH herself, Julia has left no stones unturned to modify the existing medical emergency protocol. She knows first-hand the trials and difficulties of current adrenal rescue medication. Founded by a patient with the aim to help other patients, SOLUtion differentiates itself from the current plenitude of medical device and pharma companies by staying laser focused on the human-facing aspects of a medical product to provide users re-assurance and life-saving care.
Nearly 1,000,000 people in the US and Europe are at diagnosed risk of an adrenal crisis due to a variety of rare adrenal diseases including Addison's Disease and Congenital Adrenal Hyperplasia. At greatest risk in this patient population are the ~250k children and adolescents at risk of an adrenal crisis. A disproportionate number of children and adolescents are at risk of serious complications and death from adrenal crisis compared to an adult with a similar adrenal disease due to the complexities of managing adrenal disorders throughout childhood and adolescence. To help them and meet the healthcare industry's needs, Julia and her team at SOLUtion Medical are developing proprietary user-friendly delivery systems for reconstitutable drugs for patient-injected life-saving medication. With their simpler, faster, and safer solution, SOLUtion's device will improve user experience and increase adherence, improve outcomes and decrease healthcare burden, and, most importantly, save lives.
The fear of losing life becomes a driving force
Julia and her brother both suffer from adrenal insufficiency and have almost died multiple times throughout their lives due to adrenal crises. Many rare diseases put patients at risk of an adrenal crisis and like people at risk for anaphylaxis, adrenal insufficiency sufferers must all carry rescue medication with them. However, people at risk of an adrenal crisis do not have the luxury of an Epi-Pen. This is because their life saving medication requires 14 steps and multiple minutes to mix and administer. Because of the complexity of the current rescue injection, they can rarely self-administer the life-saving medication and a non-medical bystander unfamiliar with the multiple steps needed for the current injection would have to perform a veritable chemistry experiment to save their lives. The fear of dying due to an inadequate medical delivery system was simply unacceptable.
While everyone waited for a miracle to happen someday, Julia knew exactly what she wanted to do as she pursued her graduate studies. She made a life-changing decision to set foot in the medical industry. Julia explains, "I decided: never again would I want my brother to fear for his life due to his condition. I was going to make an auto-injector for adrenal crisis – a tangible improvement to our health management that would not only save lives, but also evoke education and advocacy for our often overlooked, rare disease."
At that instant, Julia's ultimate goal became improving the existing health management system and spreading awareness by shedding light on rare adrenal insufficiency diseases that are often overlooked. This firm decision and need to meet the demands of the healthcare system inspired her to begin her arduous journey.
The Major Setbacks on the path of success
Like other leaders who had to cross a myriad of hurdles laid on their path, Julia has also experienced a long process and overcome challenges to reach where she is today.
Developing an auto-injector is a complex task especially because the product is a combinatorial product, meaning it combines two regulated components, the rescue drug and the drug delivery device. Manufacturing, testing, documentation, and other regulatory compliance add multiple layers of complexity on top of normal manufacturing adding to both time and cost. These processes are all individually understood but combining them into a product such as this is certainly non-trivial.
"We experience setbacks every day and use these as opportunities to learn, grow, and be successful in achieving our vision," Julia says. For example, while SOLUtion is pursuing regulatory approval in the United States first, they expect to procure approvals throughout the world so their device can be obtained by anyone at risk of an adrenal crisis regardless of location. In pursuing global availability, the SOLUtion Medical team learned the standard of care in the United States does not necessarily hold true in other countries. More specifically, the drug formulations for treatment used throughout the world vary – at a high level, some drug formulations contain preservatives while others do not.
"This is a critical consideration when exploring product market fit and designing our device to meet as many health-seekers' needs as possible," Julia explains. Rather than becoming daunted, Julia went about expanding her network within the adrenal insufficiency community, establishing relationships throughout the world including the Europe, Canada, and Australia, to ensure the drug in their delivery device will best serve all patients.
"When strangers say, 'I learned something today'; When people living with adrenal insufficiency from around the world write 'thank you for hearing us'; When investors describe our product as 'elegant' and 'game-changing' – the challenge is well-worth the rewards of saved lives, shared knowledge, awareness, and user convenience."
The essence of SOLUtion Medical
The primary mission of SOLUtion Medical is to develop user-friendly delivery systems for reconstitutable drugs, or drugs that require mixing immediately prior to injection. Keeping in view the current delivery systems that are complex to use, Julia and her team at SOLUtion Medical have put their best efforts to simplify them. SOLUtion Medical has developed an effortless drug delivery system that requires only a single step to reconstitute the drug.
The one-step process ensures the reduction in the possible errors and makes the entire delivery process simpler, faster, and safer. This delivery system is 20 times faster than the current adrenal crisis standard of care. Moreover, it removes air automatically and gets activated irrespective of the device's orientation. The most crucial aspect about SOLUtion Medical is that it is incredibly reliable, accurate, and saves lives. SOLUtion's auto-injector is a breakthrough in the medical field for treating adrenal crisis.
Julia has managed to keep abreast with other contenders in the same field by carrying out extensive research and studies. Julia showcases incredible business competency, which is why her company is performing so well. She explains, "We continually research our competitors in the reconstituting medical device and auto-injector spaces, making sure we stay abreast of the marketplace while we continue to expand our patent portfolio."
Ongoing trials and extensive research are the key to a successful business, and Julia has proved the same through her actions. It is thanks to inspiring CEO's and Founders like Julia who have established companies like SOLUtion Medical that patients will have access to improved healthcare solutions.
Julia's role in keeping the fire of motivation burning bright
While Julia has explained the adverse effects of her condition her whole life to all around her, she feels that people lack knowledge about the disease:
"I've had to teach people about SWCAH my entire life – friends, family, classmates, coworkers…paramedics, ER staff, and the nurses at the universities I've attended. While the former is somewhat understandable, the latter is not. This is not to say self-advocacy isn't important. On the contrary, it is vital. However, awareness about adrenal insufficiency is significantly lacking, even within the medical community. In some ways, adrenal insufficiency and the conditions that cause it are hidden and become clinically significant only during times of physiologic stress. For this reason, people unfamiliar with adrenal insufficiency and adrenal crisis sometimes have a hard time understanding the life-threatening severity of such conditions. The need for continued and improved systemic awareness about adrenal insufficiency, adrenal crisis symptoms, and how to properly administer life-saving medication during emergencies is paramount."
The positive impact that SOLUtion Medical is creating in medical science is the driving force behind their determination to change the scenario for adrenal crisis care and improve the system for good.
Dealing with SWCAH on a daily basis
Julia knows first-hand the symptoms of adrenal insufficiency and the toll it has on daily life. She is grateful to have a team around who understands her condition and provides full support in every way possible. She keeps her focus on the families and individuals being helped by her vision
Since the many rare conditions that can result in an adrenal crisis are often misunderstood, Julia shares her personal rare disease stories with others to create an everlasting bond through empathy and learning.
"I remember being carried over the shoulder of my mother through the emergency bay doors of Temple Children's Hospital; life a swirl of lights and noise, too tired to purposefully move yet my body shaking with fever. This was one of many adrenal crises I experienced when I was little, and each door we passed through felt like peeling away the layers of an onion, each portal one checkpoint closer to a hospital bed and some relief from the aching, vomiting, and headache. After having experienced many "tune up" visits to the emergency room, the reverse scenario became a sharp reminder that each door we walked out of led me closer to a world of people with varying degrees of understanding and empathy towards my medical situation. While doctors, support groups, and immediate family are bubbles of knowledge, help, and hopefully comfort, managing adrenal insufficiency conditions and relating to the rest of the world can be challenging. Though some of these frustrations are outside of my control, others can be changed."
The Shining Future of SOLUtion Medical
Julia has a strong, long term vision that has always motivated her to keep moving forward and leverage opportunities to create a better drug delivery system for adrenal crisis health management. In the next five years, she aims for SOLUtion Medical's device to be recognized as the new adrenal crisis standard of care.
At present, Julia and her team at SOLUtion Medical are optimizing their devices for manufacturing. In the longer-term, Julia intends to make her devices applicable for several other drugs and medical treatments. Her motive is to develop more devices that can be used for improving at-home delivery of high-volume reconstitutable drugs for self-treatment in a timely manner.
To learn more about the acute nature of adrenal crisis and SOLUtion Medical's life-saving work, please tune in and watch one family's adrenal insufficiency story on Beyond Explanation Magazine or SOLUtion Medical's website.