Michelle Lanter Smith: Chief Marketing Officer, EPAY Systems For Moving Beyond Excellence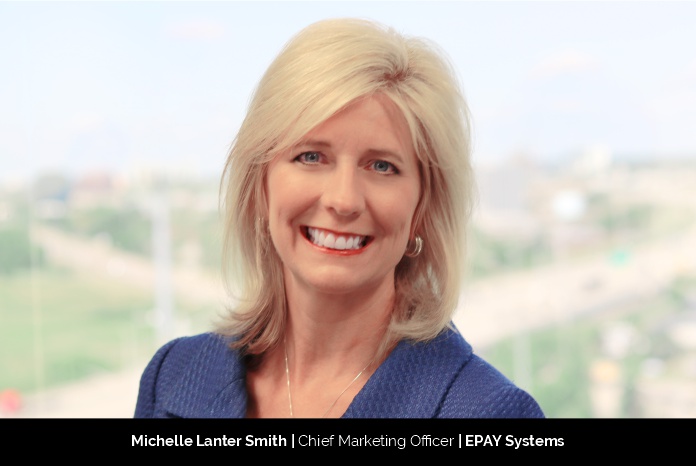 Over the last seven years, Michelle Lanter Smith, Chief Marketing Officer of EPAY Systems, has helped her company grow from a niche time and attendance software provider to a cutting-edge HR tech provider that serves some of the world's largest enterprises.
And EPAY isn't the only thing that's growing. Over this period, Lanter Smith's responsibilities have expanded from managing a two-person marketing team to leading a 60-person organization that includes customer service, training and product management. Recently, she assumed responsibility for the retention and revenue growth of EPAY's customer base.
In addition, she reinvented EPAY's B2B sales process, building a powerful marketing engine that drives more than three-fourths of the company's new revenues. She also led EPAY's venture into the human capital management space—launching a new tech solution that, less than three years later, accounts for more than 60% of sales.
Along the way, she's acquired some impressive accolades, getting named to such key lists of movers and shakers as NAWBO's Influential Women in Business, Diversity MBA Magazine's Top 100 Under 50 and the 300+ Women in HR Technology Worth Watching.
She also serves on the Board of Trustees of Elmhurst College, a four-year liberal arts college.
But if you ask her, she's just getting started.
"When I'm not moving forward," she says, "I feel like a bird with clipped wings."
From the Family Farm…to IBM
As an only child born on a farm, Lanter Smith was raised with a killer work ethic.
Always a hard worker, she first recognized her desire to lead in high school. It wasn't enough to belong to the choir and National Honor Society—she needed to lead them. The pattern continued at Marquette University, where she not only became active in various activities, but quickly assumed leadership roles in them.
Her first job out of college was as a Marketing Representative for IBM. Excelling in sales, she advanced to Marketing Strategist, and from there was promoted to Marketing Manager. In that role, she would pioneer a process that would soon become part of the emerging field of Integrated Marketing.
Although we take this marketing process for granted today, what she did at the time was breakthrough: executing campaigns that extended beyond advertising to embrace value-based tactics, then using them to cultivate sales leads. Her work was not only recognized by Northwestern University's School of Medill, but ultimately integrated into its curriculum. That led to guest lecturing gigs at Northwestern, which she relished.
For this, she received IBM's Golden Circle Award, its highest employee honor. During that time, she earned her MBA from Northwestern's Kellogg School of Management.
Taking a Detour for Motherhood
Embracing motherhood with the same zeal she embraces business, Lanter Smith took a six-year break to have three children. During that time, she volunteered for a not-for-profit that funds local women's and children's charities. True to form, she became president—and her fundraising campaigns broke all records.
"The volunteers either loved or hated my all-out approach," she laughs. "I was a little too intense for some. Somebody actually told me, 'girl, it's time to go back to work'."
In 2006, she formed Hi-Impact Marketing & Sales Solutions, an agency that offered customized sales training and marketing support services. One of her key projects was creating The Business Accelerator Program for American Family Insurance. Thousands of entrepreneurs have successfully completed the program, which is still in use today.
But in 2012, EPAY came calling—and Lanter Smith found herself eager to return to her roots of digital B2B marketing. Things were starting to boom in the marketing tech world, and she wanted to be part of it.
Balancing Work and Family
Like many women executives, Lanter Smith has devoted great thought to finding a balance that works for her family. Her husband, also a software development executive, has a big job, too.
From the beginning, they vowed to make family time a priority and always made decisions from that point of view.
Because she and her husband both have demanding careers, they've learned that, from time to time, one needs to man the home front when the other pursues something big.
Says Lanter Smith, "I know I'm lucky to have a spouse who's willing to trade off on roles."
Words of Wisdom for Women on the Way Up
One of the things Lanter Smith enjoys most about her role at EPAY is coaching and teaching her ever-expanding team. Here's her best advice for women who crave leadership roles:
· Continue Your Education – Get an advanced degree from the best school you can. No one can take your education or credentials away from you.
· Embrace Networking – Many women don't enjoy it, but learn to love it. Take pains to nurture your business relationships and contacts.
· Market Yourself – Women are taught to be self-effacing, but find a way to be comfortable communicating your wins.
· Keep Your Promises – Deliver on everything you promise, and it will become part of your professional persona.
In addition, Lanter Smith encourages them to work on these essential skills:
· EQ/Listening Skills – Don't just hear what others are saying, but what they're saying 'between the words.'
· Creative Thinking – True leaders approach problem solving from unexpected angles. Give yourself permission to entertain crazy ideas—every great idea gets its start somewhere.
· Risk Taking –You can't get far if fear of making a bad move paralyzes you. Be willing to possibly flop.
Positioned for the Future
Today, EPAY services half a million users spread over five continents and processes half a billion in payroll each year. It's one of the very few HR and payroll solution for employers with a distributed, hourly workforce.
While the average growth rate of EPAY's markets averages about 10% per year, the company has been growing steadily at 20% per year. Lanter Smith is fierce about nurturing that growth and has a host of new marketing tools and strategies she's eager to implement.
EPAY enjoys a steady 97% customer retention rate—largely due to a comprehensive customer service revamp Lanter Smith initiated four years ago. When customer satisfaction scores weren't quite where EPAY wanted them to be, she employed a sweeping talent development strategy to elevate the team's performance.
That included working individually with staff to identify and develop skills, putting performance measurements in place, and plotting career paths that sent motivation soaring. Customers started raving about EPAY's service—now part of the company's secret sauce.
One of Lanter Smith's current goals is converting long-term time-and-attendance customers to EPAY's full-suite HCM platform—and EPAY's exemplary service is a big part of her pitch.
Says client Phil Gaudy, Executive VP of Interstate Cleaning Corp., a leading building services company, "We were always happy with EPAY's time and attendance software. But because of our standout experience with their enhanced service, we moved to their complete HR platform—after 31 years with ADP payroll."
"And Michelle was the driving force."
From solving tricky problems to opening up new products and markets, Lanter Smith continues to seek out new challenges to conquer. The girl who was raised on a farm still loves to roll up her sleeves and tackle whatever needs to get done.