Mauricio Arce Lara: A Dedicated Leader in Engineering & Architecture Transforming Regional Logistics & Industrial Infrastructure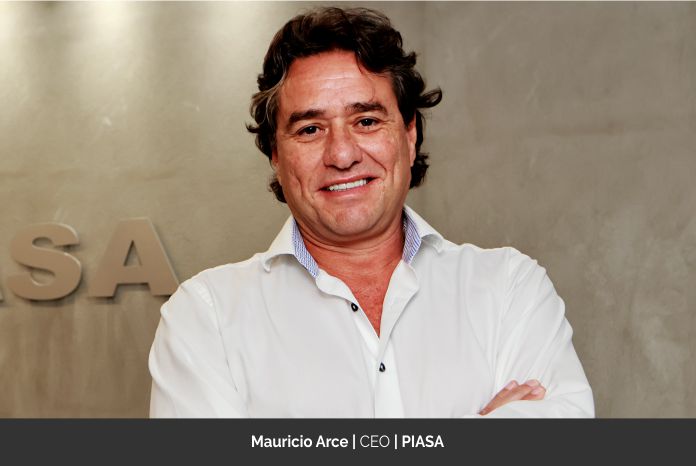 Mauricio Arce Lara, CEO of PIASA stands out for his dedication to land development, flexibility, and emphasis on best practices and novel approaches. His definition of success is waking up every morning eager to get to work to contribute to making the world a better place and helping others be successful in their businesses. "Putting your heart and soul into what you do every day, is what makes me feel a very successful person," he insists.
Raised in the San Jose area of Costa Rica, Mauricio earned a Bachelor of Science in Civil Engineering from Universidad de Costa Rica in 1993, followed by a Master of Business Administration from National University and a Master of Science in Construction Management from Texas A&M University. He has taught courses on project structuring and evaluation and has additional studies from INCAE Business School's Project Finance program.
Working to Transform Regional Logistics and Industrial Infrastructure
Since its inception in 1971, PIASA, a leader in the design of Business Parks in Latin America for over 50 years, has operated regionally with solely Costa Rican ownership. It provides Consulting services in Architecture and Engineering, project structuring, feasibility studies, and project management using innovative and efficient solutions.
Mauricio joined PIASA in 1988 and his efforts to improve regional logistics and industrial infrastructure by drawing on best practices elsewhere have helped to establish PIASA as a leader in a dynamic market. Since 2007, he has served as PIASA's CEO and as a partner at the company.
Since 2009, when he took the helm, the company has expanded to new regions, becoming a leader in its field in Costa Rica, Panama, Nicaragua, El Salvador, Guatemala, and also providing services for projects in the Dominican Republic, Jamaica and other Caribbean Islands, Colombia, Peru and Paraguay.
PIASA's services are centered around land planning, project structuring and financial analysis, architecture, engineering, and project management.
PIASA has earned its well-deserved reputation thanks to its extensive work in a wide variety of sectors, including airports, commercial projects, hospitals and medical centers, hotels, offices and Institutions, logistics and industrial parks, banks, and residential and urbanistic projects.
Business Park planning, especially for manufacturing and supply chain operations, is a primary focus. PIASA is currently working on the design of over 16 business parks in the region. They have a combined floor space of over 20 million square feet, making them ideal for manufacturing and distribution operations.
Mauricio points out that PIASA has an extremely bright future ahead of it. As a developing business, the organization's primary objective is to fortify its operations throughout South and Central America in addition to the Caribbean. Its primary objective is to assemble the most talented team possible for the years to come to compete successfully. In addition, it is planning to launch businesses in Puerto Rico and Ecuador as early as 2024.
Offering Innovative Solutions Adapted to The Needs of The Market
Mauricio notes that an important strength in the engineering and architecture field is the ability to understand the specific needs of each customer and adapt the design of the distribution centers accordingly. Each company that starts operations or seeks to expand has unique characteristics related to production, storage, picking, and merchandise management.
PIASA understands this and is committed to optimizing each design, as well as optimizing the resources used in the construction of manufacturing facilities and distribution centers. Innovation and constant updating are key elements, so PIASA's technical team uses state-of-the-art tools, such as three-dimensional Building Information Modelling as well as virtual reality in the design process. These technologies allow the company to offer efficient and customized solutions.
"Our goal is always focused on innovation and transformation of the manufacturing and logistics map in the region. In most parts of Latin America, this process is just beginning. PIASA is committed to continue leading this transformation, offering innovative solutions adapted to the needs of the market," says Mauricio.
The core values of PIASA are:
Creativity – Believe that anything is possible.
Excellence – Find the best solution.
Trust – Make lasting relationships.
Innovation – Live in a constant evolution.
Accessibility – Easy to contact us.
A privilege for Mauricio has been the opportunity to play an essential role in the development of the logistical and industrial infrastructure in the region during his 20-year journey. This change involved the creation of business parks and facilities that had not been in the area previously.
Changing the mentality of the typical "business as usual" in the early phases was a challenge, as he points out, and the journey has not been an easy one. It was quite gratifying for him to witness large companies gain the trust and confidence they needed to invest in the area as a result of this shift.
"During the last 20 years at PIASA, we've consolidated our experience and best practices by observing and learning from parks construction and operations in first-world countries. This approach has allowed us to generate infrastructure that creates optimal conditions for the manufacturing processes, as well as storage and distribution of merchandise," Mauricio explains.
"If you build it, they will come."
The Road Less Travelled Is Where the Payoff Is
Mauricio believes that there's no straightforward route that may be taken to professional achievement. Amid an older way of thinking and investing in the area, the primary mission of his professional life has been to take on the issue of transforming an industry, which requires him to construct and produce using a different set of criteria. He believes that if you believe in your ideas and know that they are for the better, you can eventually show everyone that you were correct, that the road less travelled is where the payoff is, even if it is the more difficult route.
"All paths that lead to a successful career are not easy roads. The main task in my professional life has been the challenge of transformation of the industry, of building and creating based on a new standard, amidst the old way of thinking and investing in the region. Believing in your ideas and knowing they are for the better, will lead you, eventually, to prove to everybody you were right, that the hardest way is where the payday is, and that, is the road less travelled," he says.
Mauricio points out that all the scientific and technological advances made in the last several decades have irrevocably altered the globe for the better. How people throughout the world connect today have ushered in a new era in terms of the workplace, personal relationships, and knowledge of issues about the environment and sustainable living.
These important issues need to be included in a more comprehensive manner of conducting business for there to be success moving forward and for the development that Mauricio predicts will occur in the following years in America. If this is accomplished, employment and economic growth will occur simultaneously in the coming years in the United States.
"I believe that one of the things I like about myself is the fact that I am the opposite of selfish. I want all the generations coming to learn from my knowledge, my mistakes, and my countless hours of working, learning, and trying. Collaboration and the sharing of knowledge is what I want to leave the next generations to embrace," Mauricio reflects.
Helping Everyone Reach Their Full Potential
Mauricio's most important responsibility at PIASA, where he serves as the leader of a large team of professionals in the fields of engineering, architecture, finance, law, and marketing and sales, is to assess the strengths and weaknesses of each member of the team.
He does this to help everyone reach their full potential by assigning them work that they both enjoy and are good at. In addition to this, he is involved in the beginning stages of the creative process of the projects, and also acts as a rainmaker, bringing in new business for the company.
"What I definitively enjoy the most is the quiet creative moments with my team and the conversations with my clients about a new project. I consider myself to be very authentic, and the management style that I have is empowering our professionals as much as possible, allowing them to grow and learn as quickly as possible," says Mauricio.
Trust Your Instincts & Never Be the Smartest Person in The Room
Sunrise marks the beginning of Mauricio's workday, which begins at an extremely early hour. Being a resident of a dairy farm requires spending the early morning hours outside. The doors open at seven in the morning. During the hours that businesses are open, he divides his attention among four distinct domains.
He spends 25 percent of his time supervising projects and collaborating with engineers and architects during the early stages of the creative process; another 25 percent is spent as a counsler and facilitator for all of his collaborators; 25 percent is spent meeting clients and new projects; and the final 25 percent goes in performing administrative and financial responsibilities.
Mauricio organizes a variety of activities as if they were equally important to keep a healthy equilibrium in both his personal and professional lives. This includes having lunch with loved ones, practicing tennis or golf, spending time with friends, and attending business hours. He does not work on the weekends in the office and instead spends the majority of his time with his family, and his friends, and either at the beach or working on his farms.
Mauricio's advice to people who aspire to be leaders is to trust their instincts, follow their gut feelings, empower people and give them the authority they deserve, put together the very finest team they possibly can, and make it a goal to never be the smartest person in the room.