Steve Hittman: Impacting the Real Estate Industry – An Interview with Crossroads Companies CEO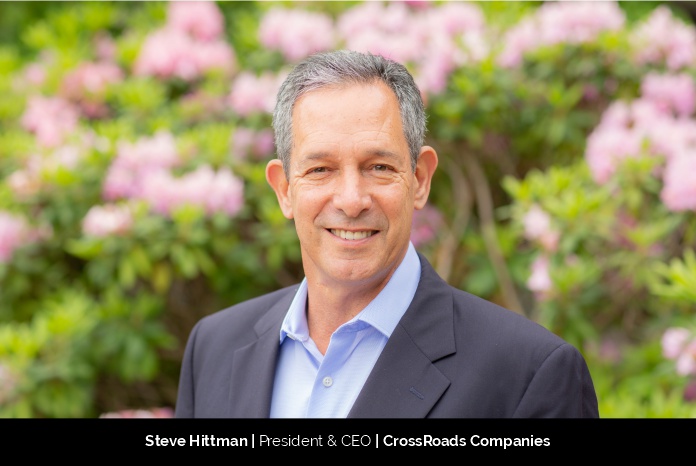 With the goal of helping firms monetize underperforming real estate assets, thereby obtaining capital to grow their own businesses, Steve Hittman in turn achieved financial independence when he founded Crossroads Companies. Since the advent of the company over a decade ago, the team has developed over $200 million of real estate assets and manages over 800,000 sq feet of shopping centers. They currently have four new projects under construction which will add approximately 200,000 sq feet of new shopping centers and an additional $100M dollar in value of their real estate portfolio. Crossroads manages all the aspects in detail, as they handcraft the best value deals for their clients and investors.
Journey to success
While growing up, Steve had a goal common to his generation, be the 1st to obtain a college education in his family and ultimately attain financial independence. He completed his BA degree from the State University of Potsdam and subsequently obtained a diploma in Real Estate Finance & Development from New York University.
He started his professional career in New York City as an office leasing broker. There he represented Fortune 500 companies and some of the City's top real estate developers and owners in commercial transactions.
A client, one of the region's largest supermarket chains recruited Steve to join as a key executive. His challenge was to assist the company achieve its strategic expansion plan. The task was quite challenging due to capital constraints and a severe economic recession, nevertheless, over the next few years, he raised the development capital necessary to renovate, replace and expand the business from a 22-store to 36 store chain. His drive and vision opened new development opportunities where he was able to ultimately establish one of the region's most successful development firms.
He states, "Relatively early in my career, it became apparent to me that it is better to own assets and derive income from investments, than to solely rely on being a high wage earner. Having been exposed to most aspects of commercial transactions, leasing, acquisitions, dispositions, sale/leaseback investments, and ultimately development and construction of buildings, it was natural to progress from an intermediary to a principal."
His firm developed a strong network of clients and investors in need of development and related services. He adds, "My wife would say to my chagrin, that he has built a company from the ground up, overcome adversity, and achieved results based on the efforts of many, including loyal clients, as well as a sprinkle of luck! He is the type of person that visualizes what is possible, creates a plan, and is then the catalyst to make it unfold."
Bringing change with Crossroads Companies
Steve states, "We are a vertically integrated development firm that owns and takes capital risks on prospective development projects. Over the past two decades, we have assembled an enviable portfolio of income-producing properties. The quality of our real estate portfolio, by both locations and credit quality, is our primary focus, as are the needs of our clients. We represent users and investors and have skill sets in all phases of real estate development which set us apart from our industry."
Crossroads offers a unique suite of development services, a comprehensive team approach offering a one-stop solution for everything from strategic planning to site identification, entitlement risk mitigation to the design of specialty properties. They plot every aspect of development, including contract negotiations, entitlement approvals, venture capital, debt financing, leasing, budgeting, construction, and property management. 
Its team members are experts in their fields and cater to all the necessities of their client's projects & needs.
Wearing the hat of CEO
Steve adds, "It is a transformation that occurs over a long period of time, from managing transactions and earning commissions to running a company, being responsible for its cash flow and expenses, banking relationships as well as employee's well-being, being its tactical as well as a strategic planner. To start as a financial intermediary to becoming a developer and risk-taker, investor and fiduciary, mentor, and leader. These are cumulative business experiences built over a lifetime and the result of the efforts of many, including phenomenal mentors. I have been blessed to be able to have made the transition from an intermediary to investor and developer."
He believes we all can visualize an outcome and when combined with tenacity and determination see it become a reality. He expresses that clients, investors, and associates of Crossroads are the lifeblood of Crossroad's business success.
He states, "We have grown over several decades to a point where we can point to tangible results from our collective efforts. Investors can look to our property portfolio and assess the value we have created for our clients. Prospective clients, commercial & retail tenants have a body of work performed on behalf of existing clients that attest to our track record of success. Our partners and employees are rewarded for their successful efforts and achievements."
He expresses his excitement despite the unpredictable nature of development outcomes. He takes every challenge with a measure of caution and respect and yet enjoys the challenge that the outcome will be successful. He takes pleasure in knowing that a development project will not only create needed jobs in the construction industry but ratables for municipalities and school districts, as well as permanent employment in communities. Even though his capital is placed at-risk there is satisfaction knowing that he will assemble a formidable development team for each project, lawyers, architects, engineers, as well as a plethora of sub-contractors and trades.
Steve is a leader. He says, "If it were easy, everyone would do it. We need to have a purpose. We need to believe in ourselves. We cannot let disappointments keep us down. Nor let others diminish our self-esteem. Of course, we need to be realistic, but we also need to dare to dream BIG! When something it is not working, pivot – change course! Learn from your mistakes, adjust your plan. Set goals, write them down, read them on occasion. Collaborate, keep your word, be ethical, acknowledge others – say thank you. Reward people for their efforts. Your success is dependent not just on yourself but with those you work with, as well as the clients and investors who allow you the privilege to represent them."
Achieving work-life balance
Steve rises early and plans the day ahead. He likes to read, novels, history, the latest news, and financial and business investments.
He tries to maintain a balance between his professional and personal life. He expresses, "Just be thankful each day. Surround yourself with family, friends. Enjoy your collaboration with business associates. Find a balance between work and play. Make sure to find time for loved ones, they matter the most. Leave your business at the office, do not bring it home with you. Tomorrow is another day."
On the professional front, he likes to multitask and collaborate on many things, a necessity when you own a business. He leads a team of diverse professionals and does his best to lead by example. Walk the walk and not just talk the talk.  
On the personal front, he tries to take out time for his family, vacations, play golf, and relax on weekends. Re-energize his mind and body so he can start the week refreshed after a few days of rest.
Crossroads Companies Future Plans for Expansion
Steve has been implementing a succession plan so that his partners and associates can continue to share in the success and rewards of the business, as well as mentor those who follow. His goal is to expand his company's geographic footprint, continue to diversify its real estate holdings, and grow its list of satisfied clients. He knows to achieve these aspirations will require hard work as well as the dedication and efforts of many. 
He adds, "We have expanded our service businesses over time so that they now include construction, property management, leasing, brokerage & advisory services, as well as diversified our property & investment portfolio to include supermarket-anchored centers and mixed-use residential projects. We continue to grow our geographic footprint, which now includes NJ, NY, and PA, as well as invests in our people which is a necessary part of success".