Danilo Limoeiro: Breaking the shackles of the traditional tax system with Turivius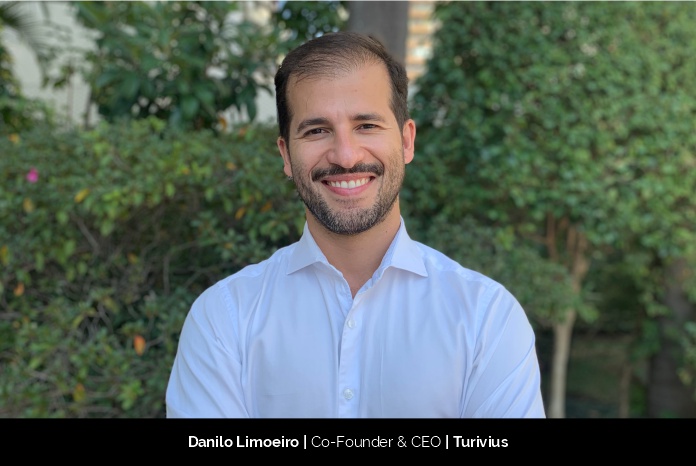 With the aim to do something good for the small companies in his home country Brazil, Danilo Limoeiro, Co-founder and CEO of Turivius, is transforming the traditional tax system with the help of AI and machine learning. The root cause of the problem is a labyrinthine set of tax norms and unpredictable tax enforcement. Norms are numerous, unclear, and conflicting among themselves. As a result, taxpayers and government officials file more than a million tax lawsuits against each other per year in Brazilian courts. Thus, he and his team are harnessing the power of AI and machine learning to bring this revolution.
Climbing the ladder of success
Before becoming an entrepreneur, Danilo was preparing for his Ph.D. at MIT, and he had also done his Master's degree in Oxford. He acquired his Ph.D. from the Massachusetts Institute of Technology (MIT) in Politics of Bureaucracy and simultaneously upskilled himself with advanced Machine Learning methods.
He criticized Brazil by saying that it had a terrible tax law system. He states, "When I was growing up in Brazil, my parents had a small business, which we lived of. The red tape for small businesses in Brazil is one of the worst in the world. So, most of the small business owners in developing countries face a double-challenge: running the business and navigating the bureaucracy."
During his time at MIT, he realized that AI could make a huge impact in decreasing the red tape in developing countries. So, he saw a big opportunity to apply all the knowledge he acquired at MIT to solve the big problem in his country. This marked the advent of Turivius.
Pressure matters till one learn something from it
Working on a brand new and foolproof idea in a business can be a daring situation, and addressing obstacles is just one part of accomplishing that objective. Danilo and his team faced the most ordinary startup issue that was raising funds for their business, but that part was additionally challenging as Brazil did not have as many investors as in the US to ask for capital. However, they strategized calmly and overcame the issue.
A good entrepreneur learns from his mistakes rather than forgetting them. He states, "The lesson I learned was: don't be too dependent on external money and learn how to keep your startup as close to the breakeven point as possible. The jockey-stick curve can be tricky, so developing a frugality culture can be life-saving for early-stage startups like mine."
Transforming the industry with Turivius
He shares the hot potato in Brazil was the complex nature of the tax system. It takes an average firm in the country ten times longer to process taxes than an average firm elsewhere. He states, "What Turivius does is to radically reduce the cost of tax compliance by using artificial intelligence to guide tax compliance and decrease risk by predicting patterns of enforcement and litigation outcomes. Such a solution is useful for lawyers, accountants, and in-house counselors across several industries."
Danilo and his team try to look at the competition mostly as a source of knowledge for how they can better serve their clients.
He adds, "Besides the usual channels, I'm talking to my customers all the time. I think this is actually the best way to take the temperature of the market. We try not to be too obsessed with the competition. Yes, we should always be on the lookout for what this or that company is doing, who are building cool products with great technology, many of which can actually inspire us. However, the most important thing is really the client, not the competition."
The team has the aim to become a leader in the market of AI-powered software in Latin America. To fulfill this, he states, "Our current focus is on producing solutions for the legal sector, but we do plan to expand our products towards accountants and HR professionals. On the one hand, AI-powered technologies have the unimaginable potential for impact. On the other hand, companies of all sizes face huge challenges in developing countries. We want to be the company that will create AI-powered software that will help these companies succeed."
Life as the Co-founder and CEO of the company
Danilo believes that in the early stages of a growing startup, the CEO has to oversee most parts of the company. Before he could grow his team, he had split his time between the roles of product manager, salesperson, marketer, and CFO.
He further states, "In 2020, Turivius grew ten-fold, and that was great. So, it was as if every month or two, I had a different job, running a different company. In one month, I was recording and editing videos for our inbound marketing strategy. Next month I was hiring the sales team that would deal with the new flow of prospects in our website. That's actually the most exciting part of my job!"
He aims at creating a fun environment at work to keep himself and his team motivated. He adds, "It is easy to lose sight of the Big Dream when you are focused on the everyday task. So, my job is also to make sure that people actually enjoy themselves while working and to constantly remind them of the big dream!"
When it comes to achieving balance on the professional and personal front, he makes time for his family and friends. With that, he indulges in sports to have fun and learn new things.
Future stepping stones for the company
Danilo and his team want to spend the next four years focused on the Brazilian market. Brazil is a very large country, so it is possible to build a big business here.
Currently, they are aiming at building technologies for the legal sector. He expresses that there are two paths to extend their services on the global level. He states, "The first is to start with other large Latin American countries that have the same legal system as in Brazil, i.e., civil law. The second is to expand to the US market that has a different legal system but is highly attractive. Turivius could be highly competitive in the US market because in terms of costs, the exchange rates could really favor us. And, in terms of quality, we actually showed our product to some Miami-based legal firms; who provided a very good feedback on how our product could be competive compared to what is available in the US market. So, that's another possibility for the future. "