Herbert Siu: Transforming people management industry with QuokkaHR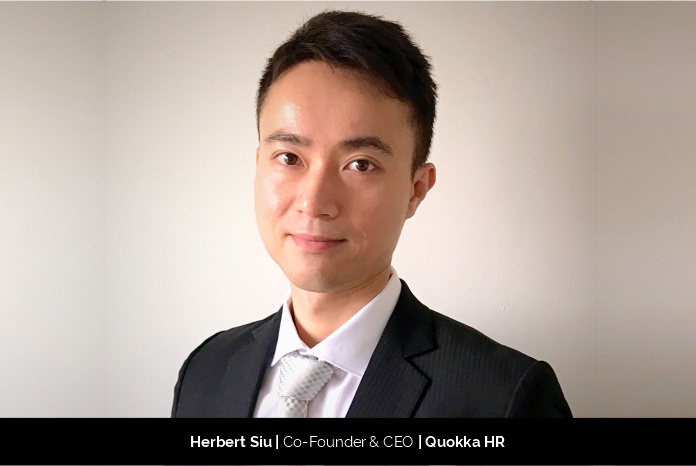 To remove the toxic culture in the business and provide a happy working space, Herbert Siu, Co-founder, and CEO of QuokkaHR, is using the latest technology to transform the space. Being inspired by the famous quote of Walt Disney, "All our dreams can come true if we have the courage to pursue them," he is adding true colors to his vision.
Ladder to success
Herbert started his career by working in the local blue-chipped company in Hong Kong as a management trainee and then completed his MBA at London Business School. He also worked at JP Morgan, Microsoft, and Octopus Investments before he co-founded QuokkaHR.
During his time in the corporate sector, he understood a lot in the people management space. He states that although HR technology usage in other parts of the world was developing at a rapid rate, many companies still did not utilize any similar technologies to engage and motivate their employees, especially in Asia.
Staff disengagement could lead to toxic culture and staff turnover, as well as creating a vicious cycle for companies to keep recruiting for a replacement. There was a gap in the market for any similar services that focused on a variety of different aspects of productivity such as goal setting and tracking, surveys, and people analytics to name a few.
He adds, "We decided to be the first in the Asia region to try and bring about a happier workplace experience for employees that worked in these companies to feel more engaged and connected. Life is short and I believe everyone should enjoy their work-life and unleash their full potential."
Setbacks along the way
In the start, everything was progressing smoothly, but soon he realized that their product is only attractive to a selection of small businesses as they have not enough vendors to attract more clients.
Having a textbook chicken and eggs issue in the hand, the team decided to pivot the business into a more comprehensive engagement solution with pulse surveys, Goal trackers, 360 Reviews, Feedback-to-action loops, etc.
These features received a lot of positive feedbacks from clients but the scope is too large for Quokka with limited resources. However, soon the COVID pandemic slowed everything.
Herbert gets inspiration from the famous adage of Winston Churchill, "Success is walking from failure to failure with no loss of enthusiasm," and motivates the team to take the challenges with a positive attitude.
He states, "With all these limitations, it prompted us to rethink our strategy and plan ahead of the prioritization and to bootstrap as much as possible. Most of the time we were able to further improve the user experience and design to make it more compact and desirable than we originally planned."
Transforming people management space with QuokkaHR
Herbert adds, "With QuokkaHR, companies can make use of a digital platform to scale up people management. The admin and employee dashboards help organize all tasks and statistics in an orderly manner that is conducive to their progress. Here, employees can make use of the goal-tracking functionality to set, monitor, and align to the company goals."
In the past, many people were set on having a constant job that they worked on from the start to the end. These days, due to globalization, it is much easier for employees to be mobile and companies are now beginning to realize the impact connective technology can have on work setups. With the pandemic, many were forced to switch to a work-from-home setup which seemed to work even better for them given their situation.
He adds, "We want companies to understand that retaining and enriching their existing employees is much more resource-efficient than having to go through a recruitment process. Creating a happier workplace is the key to attrition and ROI for employers. Hence, our business aims to provide tools that can assist this process through engagement surveys, reviews, praises, and a more gamified way of working for employees to feel engaged."
He expresses that research has shown that the employees who feel less engaged at work tend to show lower performance than their counterparts.
He states, "Companies can be losing out a lot of money due to underproductivity, however, if they focus on catering to their employees, this can be greatly decreased. Our idea is unique to the APAC region since there aren't many other companies that are focusing on the HR aspect of encouraging employees."
Life as Co-founder and CEO of the company
Wearing the hat of a CEO is like a cook in the kitchen. He adds, "You will need to make sure you have the best ingredient to put on the plate with the best mixture of color, aroma, and taste and deliver to the customer within a reasonable time for the optimal customer experience. I will put up the menu and have a regular standup with teams to make sure we are all on the same page on the objectives and targets and delegate to teams to produce the magic. Throughout the process, you will need all the help from your team to put out the best efforts in order to make the banquet a success."
Within the QuokkaHR team, he tries to create a casual and open environment to enable quick feedback as necessary. With the open environment, he and his co-founder leave space for employees to come to them for any necessary problems they may face. When they delegate responsibility to employees, they feel more empowered and motivated at work overall. Furthermore, there is usually variation in the tasks they need to finish so it feels like they are working on different projects that make it feel more interesting.
Maintaining a work-life balance with finesse
Herbert is a firm believer in attaining a balance between professional and personal life. On the professional front, he takes on the upcoming challenges and works hard to grow the business within the available resources.
On the personal front, he makes ample time to spend with his family that allows him to recharge his mind and look for some inspiration to solve the work problems.
Future roadmap for the company
Herbert expresses that QuokkaHR is now mainly in Asia regions but they are ambitious to extend their services globally using Subscription as a Software model. They truly hope they can contribute to help build a happy workplace together with global companies.
He states, "We hope to transform HR technology and trends to be more people-centric. We will further develop our existing product to be more user-friendly and engaging (gamified) and to digitalize employee profiles into our database. Such profiles could be used for employers to develop career plans for employees, to optimize team combinations on new projects, to build a company culture as desired."