Mainul Kabir Aion: Transforming Outsourcing/Offshoring space with Staff Asia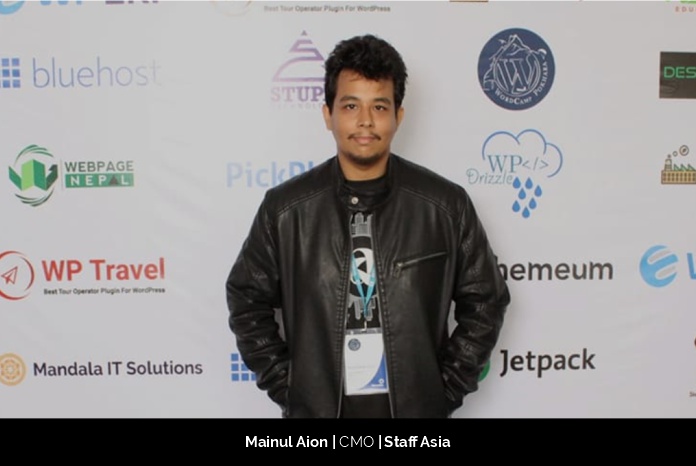 With the zeal to learn new things and explore new heights, Mainul Kabir Aion, CMO of Staff Asia, is bringing a change in the Outsourcing/Offshoring space. Being inspired by the famous quote of Simon Sinek, "People don't buy what you do; they buy why you do it. And what you do simply proves what you believe," he is steering the marketing front in the right direction.
Behind the scenes
From Mainul's early childhood, he had a dream of becoming a teacher. However, while growing up and understanding how the world works, he realized it's impossible for a person to acquire all the knowledge. So, he tried to focus on a single field and picked up computer science.
He wanted to be a data scientist after graduating. But a surprising opportunity came and changed everything. He got a part-time job as a marketing content writer when he was in his second year at the University.
He stepped into the professional world in 2012 as a creative content writer in an outsourcing firm. He states, "I started to perform very well and started to get promotion after promotion. I got hooked up in the content marketing world and never looked back. Interestingly, I discovered my dream of becoming a data scientist correlates with the marketing industry. Digital marketing cannot be fully utilized without the proper use of data. So, I combined my computer science, data analytics, writing skills, and marketing knowledge together. And here I am, doing okay in the marketing field and helping many companies to build their brand, increase revenue, and more."
Transforming space with Staff Asia
Staff Asia is an outsourcing firm that helps many international companies mostly from the UK and USA, with research, content development, marketing, and product development. It's a unique company with more than 400 team members who regularly work in different fields. The culture is what differentiates Staff Asia from any other outsourcing firm. Here everyone's voice is heard, and they all participate in the growth.
He states, "We mainly help educational institutes who provide online courses and work with the education sector. Our content development team produces quality content for online courses thoroughly instructed by professional instructors, trainers, and teachers from the UK. Our product development team makes sure the developed products are completely fit for the market and also provides value to the end-users rather than what our clients mostly want. Finally, comes the marketing team who creates amazing campaigns to strengthen the brand values of those products and also promotes them to the right audience."
To stay ahead of the curve and mark their unique presence in the market, Staff Asia's team develops a unique in-house culture. They hire people who are focused on growing individually and side by side add value to the brand name.
He states, "We give the floor to everyone so that anyone can present their ideas, and we help them implement it. We give enough time to our members for personal growth."
Wearing the hat of CMO at Staff Asia
Being the Chief Marketing Officer at Staff Asia, Mainul is responsible for all the marketing efforts and content development. He has a team of 50+ members who actively work on branding, inbound marketing, paid media marketing, social marketing, email marketing, business development, research, data analytics, and preparing content.
He adds, "I look after the whole team, train them and guide them so that we can achieve our goals. This is my usual role. Besides that, I work on innovation, help the product development team with new ideas, prepare new marketing leaders and perform growth hacking."
Passion for innovation, problem-solving mentality, and people management skills are the three pedestals that allowed Mainul to rise to the top in his domain. He states, "As a marketer, I need to innovate new techniques that would help my team promote our products. Also, problem-solving mentality helps me grow even more and solve any type of problem at the first attempt. Being a leader without a team is impossible, and with my people management skills, I can keep my team motivated, help them learn new things, assist in their growth and achieve our goals together."
His management skills, along with time management, personal integrity, and positive energy, helps him in his leadership journey every day. He adds, "I used to work super hard every day back in 2017-2018. My previous boss and mentor, weDevs's CEO, Nizam Uddin, one day told me that he doesn't want me to work hard every day. He wants me to teach people how I do things and help my team to do those things instead. He wanted to see me free so that I can spend more time on strategic planning."
By then, he realized doing things alone super-fast and effectively doesn't help at all. When there is collaboration and everything is done as a team, the true achievement lies there.
He further expresses, "So, he gave me a goal to become completely free from day-to-day work and spend more time on research and planning. I spent the next six months on that goal, and finally, I was able to achieve that in 2019. Then I realized that my hard work has finally paid off, and I have started to become a true leader. Thus, learning new things, helping team members, and working on innovation keeps me determined, motivated, and driven."
Thoughts on work-life balance
Mainul considers that work-life balance is a vague term and has a different meaning for different people. Even being a workaholic, he still makes time for his family and indulges in things to entertain himself.
He states, "The term work-life balance never bothered me, and I am doing very good without thinking about it at all."
Future plans for the company
Being inspired by the famous adage of Elon Musk, "I would like to die on Mars. Just not on impact," he wants to help the organization achieve the goal of making a team of 5000 members by 2023.
He states, "We want to keep the number of employees on our mind. Staff Asia started with 20 members back in 2017. And in 2020, we are a family of around 400 people. In June 2021, we have plans to double that number, and by the end of 2021, we want to reach 1000. After that, we want to gradually increase the numbers to 3000 in 2022 and finally 5000 in 2023."
On the personal front, he expresses that he desires to start something of his own like develop a product that would help people to make their lives easier. Maybe someday he would start his own venture and start working on his own dream path.