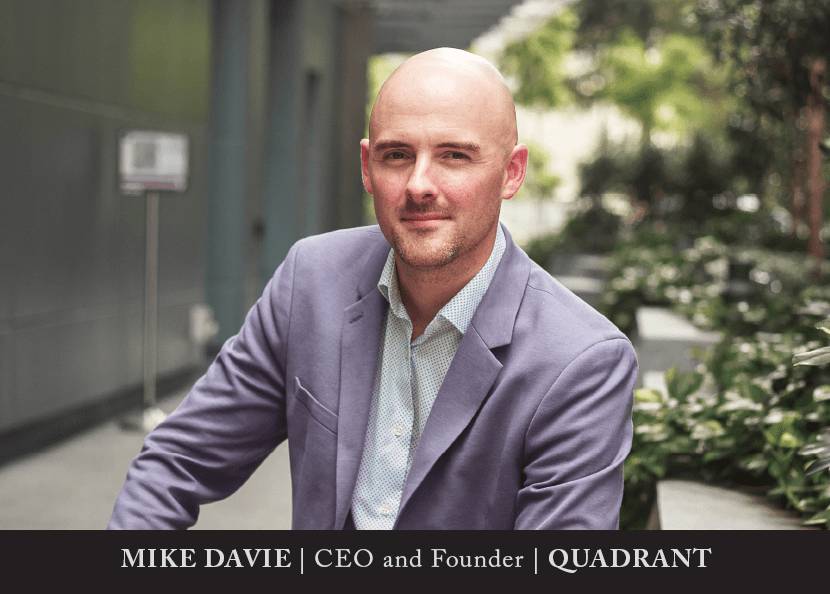 Securing Your Data Through Blockchain Technology
Blockchain is an evolving technology that is finding a purpose in many fields today. We already know that blockchain is linked to cryptocurrency but it is now being adapted in various businesses, education systems and technological advancements. Among the blockchain companies that develop technology for data security, Quadrant is a dominant name. Founded in 2014 by Mike Davie, Quadrant has come a long way and has secured a remarkable position in the industry in their five years of establishment. As we share a few interesting insights from Mike himself, we are certain that the Quadrant success story will inspire you to think out of the box and create something different.
This is What Led to the Foundation
When Mike was studying Master of Computer Information Systems at Boston University, he saw the need for a better real-time system of connecting data producers, vendors and buyers. Years later in 2014 when he founded Quadrant (then it was called DataStreamX) it was at the time the world's first online marketplace for real-time, high-value data sets across industries and borders processing billions of data records a month. Yet Mike also noticed a need for more transparency as many companies were buying data without knowing the source, opening themselves up to false or duplicated data.
In 2018 he created Quadrant Protocol which uses Blockchain to stamp data ensuring that any changes from the time of stamping are known. The idea to bring in Blockchain technology came when they saw fake data come into the data marketplace. During one memorable example a client asked them to source new location data feeds, so they approached four vendors to source this data. When they received the location data from these four vendors (completely different companies) they noticed that these feeds were the same! So, they went to each vendor and without telling them that they saw the same data in other places, they asked them who owned the data. Every single one of them said 'we own the data; we created the data'. It was then that the seed was planted to find technology that could bring more transparency to the data supply chain – which Blockchain is perfectly suited.
Quadrant's Blockchain-enabled technology allows companies to know if data has been changed (falsified, tampered with etc) and allows them to trace data to its source (as at the time of stamping). Quadrant Protocol also allows them to map disparate sources of data, organising it so that entrepreneurs and companies can develop new and innovative technologies and services. They now provide high quality location data to advertisers – both individual companies and agencies, offering tailored, filtered location data that is used by marketers to target and reach their customers.
Overcoming the Initial Challenges
"I think that not many people really understood where their data came from and there was a perception that 'data' was just accurate.", says, Mike. Few people knew about the lack of transparency in the data economy or realized that the data that they use to power their analytics or solutions – often at a cost of tens of millions of dollars – could be entirely false or duplicated. So, there was a lot of education that had to be done early on which was one of the initial roadblocks.
Additionally, Blockchain is still a relatively new technology and in the initial stages at least it was often mixed up with Bitcoin and other cryptocurrencies. It was also perceived as quite complex and inaccessible to many people including businesses and entrepreneurs. Recently this has improved, and most people understand that Blockchain technology is very different to crypto. Furthermore, we are seeing high-profile use-cases of Blockchain, such as Walmart using Blockchain to track its green vegetable sources which is making the technology more mainstream. Hence blockchain technology is better received in the present time than it was previously.
The Outstanding Services of Quadrant
Quadrant provides high-quality location data derived from mobile applications. This location data is provided to a global client base of which two of their core markets are Asia Pacific and the North America.
In North America they provide refined location data feeds to clients such as location analytics firms, programmatic audience firms, attribution and measurement companies, geospatial mapping companies and more. These companies want to use the data to either build new products or improve the services and products they offer. The location data Quadrant provides is tailored to the needs of the client and delivered in a way that allows them to make sense of it and use it effectively.
In Asia, they launched Quadrant Audiences that leverages Foursquare Places' Point of Interest (POI) that allows clients – advertisers and ad agencies – to build custom audiences that allow them to accurately pinpoint and communicate to their target audience(s). Available through major DMPs and DSPs, it allows clients to bridge the physical-digital worlds, providing audience segments that are based on proven visitation habits and patterns, allowing them to really understand their target market and communicate to them at the right time and place.
The Thoughts and Vision of a Leader
As a kid Mike was into computer coding and playing grunge and punk rock. However, when he was a teenager, he became more interested in extreme sports including snowboarding (he is a Canadian after all!) and by university he got into downhill mountain biking and rock climbing. To quit smoking 'cold turkey' he started running and quickly became addicted to marathon running, triathlon and XTERRA. Mike started with 10k runs and then progressed to half marathons across the Korean demilitarized zone, which then turned into his first triathlon before graduating to XTERRA (off-road triathlon). From then on Mike has upped his game after every race and just completed the Kunming XTERRA last month (September 2019). Next is the XTERRA APAC 2020 Championships in Taiwan.
Driven by the same passion for Quadrant, Mike encourages his team to follow in his vision of success. Quadrant's solutions are already being used by major enterprises. They have developed solutions specifically for advertisers, providing high-quality location data and have merged their anonymous data universe of 500 million mobile devices with Point of Interest (PoI) mapping data from Foursquare to create Quadrant Audiences in Asia.
They have also made it easier for producers to monetise, and users to access, their data through Quadrant's Data Smart Contracts Payment Module. The Data Smart Contracts Payment Module brings enterprise data subscriptions onto the Blockchain allowing enterprises to access location data on the Quadrant platform, letting them pay in fiat currency while data suppliers are paid in either Fiat or QUAD (as per their wish). During the initial two-month pilot period over 27 million eQUADs were purchased on behalf of major enterprises who were able to access their location data.
What the Data Smart Contracts ultimately do is reward producers of good quality data by making it easier for them to be remunerated (in either Fiat or QUAD). This in turn increases the supply of data which benefits the user (governments and enterprises) who are now able to pay and access this data via a subscription. By moving payments onto the Blockchain, Quadrant is facilitating the smooth flow of data between supplier and buyer. These innovative ideas make Quadrant different from the rest.
The Future of Quadrant
Quadrant intends to stay focused on the needs of enterprises and develop solutions that will solve their data problems. Next, they intend to launch their Data Smart Contract Compliance Module, which will focus on bringing transparency and user privacy protection to data. They want to launch several new technologies and solutions around data compliance that will allow companies to benefit from the ever-increasing amount of data that is being produced daily.
They have come a long way over the past few years. Last year they developed the Quadrant Protocol which uses Blockchain to map and authenticate disparate sources of data. Earlier this year they launched their Service Credits which allowed organizations to adhere to traditional regulatory and taxation standards by letting them purchase credits for their services using fiat currency. Recently they launched their Data Smart Contracts which allows data producers to monetize their data and facilitates the flow of data between buyer and seller.
For the advertising and marketing industry Mike thinks there is massive promise. He has already described how Blockchain can help ensure transparency in the data supply chain, it can also help advertisers demand and receive more transparency when it comes to the ads they run and the results they are shown. It is estimated that advertising fraud cost $6.5 billion in 2017 and as a result they are beginning to see more Blockchain-based advertising firms pop up to solve this issue. As they see more companies innovate in this area, we can expect to see more transparency and more effective marketing and communication campaigns.
"I think the future of Blockchain is bright. Blockchain's application to supply chains – be that the data supply chain, a manufacturing supply chain or a large retailer's supply chain – and its ability to track produce, products or data, ensuring transparency, will be a game-changer.", Mike adds.