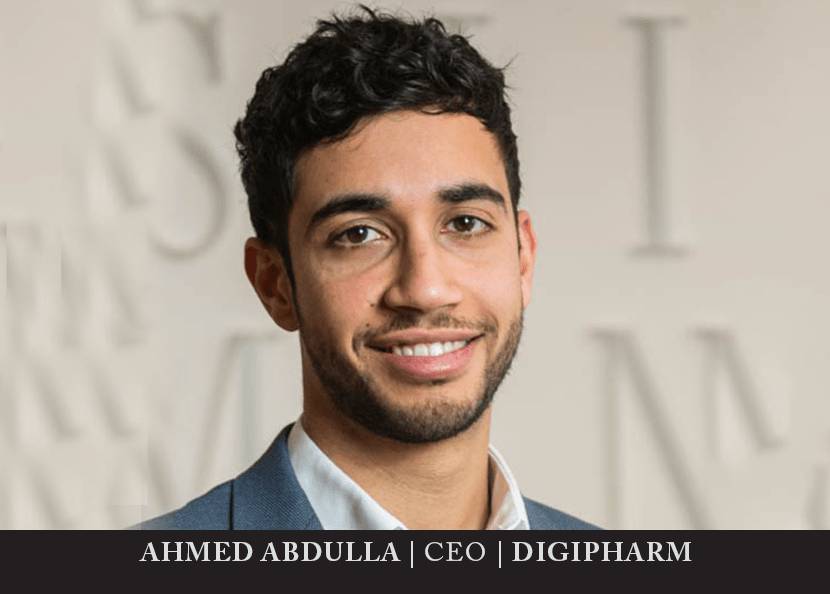 Healthcare Economy Improves with Digipharm
The field of healthcare is transforming for the better with the adaption of technology. Advanced techniques, new methods, easy treatments have benefited patient care to a great extent making it convenient and accessible. Right from treatments for maintenance of patient records quick access to treatment, technology is capturing every area of healthcare and making it better. Making a transformational entrance into the field of healthcare Digipharm has unlocked a door to the future of health economy. Their spectacular integration of blockchain technology into this field has made them one of the leading companies in their business. Under the expert hands of Ahmed Abdulla, Founder and CEO of Digipharm, the company has acquired a prominent place in the market despite the initial challenges and has created a remarkable impact on the field of healthcare.
The Founding of Digipharm
As a health economist Ahmed was acutely aware of the difficult funding decisions that were made day-in and day-out by healthcare stakeholders and patients worldwide; scarcity in healthcare resources and the unsustainability of healthcare systems worldwide have led to a change in how the industry perceives value for money.
Value-based healthcare encourages the payment for therapies based on performance and patient benefit. For example, this could mean that a reduced price is paid if an oncology therapy does not prevent disease progression. While key healthcare stakeholders have reached a consensus that this new reimbursement model is key to increasing and continued access to better healthcare, there was never really a technological solution to eliminate current inefficiencies of its implementation for all contracting parties. When shifting to a payment model that relies heavily on patient data and performance metrics, at Digipharm, they identified that blockchain technology and all of its fundamental characteristics provided the perfect framework for their solutions.
The main challenge they faced was the initial misinformation or misconceptions that surround blockchain technology, especially within a risk averse industry. This was overcome by trying to educate potential partners and network participants on the benefits they would receive.
The Growth and Services of Digipharm
Digipharm has developed a platform to accelerate the shift to outcome-based contracting in healthcare, at scale. They then help users understand the data that is collected and support their decision making. They are working hard with their clients and partners to create the foundations of a digital health economy that is built around cost effectiveness and doing what is right for patients – improving access and reducing expenditure that brings no value. Digipharm aims to be one of the leaders in the healthcare contracting space whilst engaging patients in order to help them truly become custodians of their health and everything that comes with it. Their team remains motivated quite easily as they see their work progressing well and impacting people's lives in a meaningful way.
The Founder and CEO of Digipharm
As a CEO of an emerging company Ahmed's key responsibility is making sure they are on track to deliver results and develop a best-in-market solution. Remaining motivated for such a role is easy when the work is honest, meaningful and can have an impact on patients and their families. He is a health economist by training and has experience working across pharma pipeline including early drug discovery. He has always tried to learn about different areas within healthcare with the aim of developing a solution that can solve important problems.
"Working on patient access schemes gave me first-hand experience of the absence of a suitable platform to process and manage their implementation from start to finish. The journey has been exciting but also enlightening –for every organization that is slow to adopt new solutions there are many others that are supporters of our vision.", says, Ahmed.
In a few words, Ahmed defines his plans for himself and Digipharm, "In terms of where we want Digipharm to be, it is still extremely early. That's not saying we haven't made good progress but while we are living in a technological boom the opportunities to realize our goals are plentiful. Personally, I hope to be part of this journey for as long as possible and I look forward to the day that we can quantify all the patients and healthcare organizations we have helped. I will also to continue to serve as an expert member on the blockchain working group at the UN/CEFACT to help inform trade standards for this exciting technology."
The Plans of Expansion for Digipharm
Ahmed believes blockchain will be entwined within the foundations of many business functions and international trade over the coming years. We won't see a sudden spike in adoption, rather a steady transition of business operations using application stacks that incorporate blockchain technology. The Digipharm mission is a global one. They have their foundations in the UK and Switzerland, but they are always looking to work and engage with projects in many jurisdictions. They aim to prove their concepts in key reference markets then establish themselves internationally. The problem they solve is one that is global and that is what makes it so exciting.
Digipharm has a noble vision of digitizing healthcare by the adaption of blockchain technology to make patient care easier and convenient. They are working hard to create new technologies and innovative techniques that will improve and better healthcare. They sure have a long journey planned ahead of them; however they have already come a long way and have paved the way for many more success stories to be added to the Digipharm diary.