Sarfaraz Khan – A tenacious leader accomplishing positive business results using strong business processes and alliances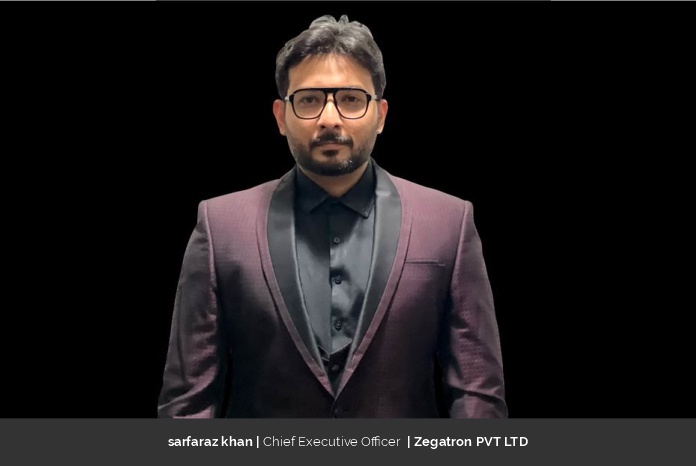 We have often heard or used the words 'Born Leader' to refer to traits that exceptional leaders have. We tend to compare our own qualities to see if we have strong leadership skills like these brilliant minds who seem to flow into leadership positions with ease. Born leaders are people with an innate capacity to effectively manage and lead groups of people to achieve collective goals. Sarfaraz Khan is one such leader who dreamed of starting an Enterprise since he was just 8 years old. He started his company in 2012 at the age of 23 using his savings of only $700. Today he proudly stands as the CEO, and Founder of Zegatron Pvt Ltd, the company which was recently valued at 20 million USD.
Many people say that education does not help you in your professional life, but even today after almost 10 years, Sarfaraz goes back to his university notes to understand and refresh his mind on a few concepts related to project financing and financial forecasting.
Success comes from believing you can and then simply doing your best
A successful life helps you achieve a successful professional life. We often try to mix these two, however, Sarfaraz claims that success in life and professional success are two different things. "We always think of achieving the latter first, on the contrary achieving success in life first and then achieving professional success keeps us healthy and happy," he says.
In general, success in life is the peaceful feeling you get when you are looking at yourself in the mirror, and know deep down inside, that you are making the world a better place with your words, actions, and smile. However, he says that professional success is never giving up and going on with life while facing challenges and difficulties, and not avoiding them. He strongly believes everyone is the captain of their own ship, and they should choose their destination wisely. A calm journey would make you reach your destination but would take a long time, and for Sarfaraz, the journey becomes boring when he avoids the rough sea. He always thinks of achieving destinations that scare him. At school, they showed an example of a rabbit and tortoise and deduced that "slow and steady wins the race". For him it was different, his lesson from the story was, "do not sleep during the race or even a tortoise will defeat you"
Leading a business successfully forces you to make hard choices
Sarfaraz worked many jobs and learned a lot, keeping in mind that one day he must start his own company, to fulfill his childhood dream, when he started small but made an ROI of 300% during a retail summer stall at his relative's garage. Tough challenges allow you to handle pressure, and if you somehow take on that pressure and utilize this to grow, then some abilities inside you expand, it is like breaking a mental barrier. Once you learn to handle pressure effectively, you would want to get more of it every time.
Three months after starting the company they were about to go bankrupt. They had enough money to either pay the employees their salaries or pay the vendors, and at this time he decided to pay the salaries, delaying the vendors. Usually, it is easy to delay the salaries of employees, because they don't question or even threaten the employers that much, especially in Pakistan, that is the norm, but Sarfaraz did the exact opposite, and eventually, they paid off the vendors. "Those days were very hard. I would always suggest everyone should take care of their employees. Even after 10 years, I have never delayed the salary of my staff," he states.
Zegatron Pvt Ltd. – their values and services
The Idea behind Zegatron is to Brand Pakistan's local products and services and make them available to International Customers by eliminating the hassle and troubles of communication, receiving/giving payments, goods shipment, and trustworthiness (quality assurance). The name Zegatron is invented by Sarfaraz, depicting his dream of achieving a Fraud Free Hi-Tech Future in all ways of life. Even though it is an 8-letter word, it contains a whole world inside it. "At Zegatron, we believe in going not just the extra mile, but the extra light year. Zegatron believes in innovating the ways of corporate life," he explains.
Going the extra light year involves breaking all the barriers and rising to a limitless space of opportunities. Dreaming of a medium where business is conducted using the highest and best of innovations in a fraud-free world, creating a place where trust and honesty are the strength of Business Conductors. With a strong focus on their mission and strong binding with their values, they provide various products and services to their clients all over the world.
"At Zegatron we believe in mutual exponential growth rate. This allows the whole corporate world to grow at an exponential pace, eventually increasing economic activity in the world for the welfare of society," says Sarfaraz. Zegaapparel.com is one of their business units, that is helping a lot of small and medium clothing brands to establish and grow their business. They have many customers who started small and are now successful entrepreneurs.
The importance of innovative ideas as a successful leader of a booming company
Innovative ideas are always the fuel for growth in every organization, and at Zegatron they always appreciate their team members for bringing creative ideas to improve how they do business. Sarfaraz believes business leaders are successful if they can create employment. He states that his proud moment was when his work count reached 100. He now aims to take that count to 10,000.
Zegatron's growth during the pandemic
During the lockdown, Sarfaraz had a meeting with all his employees, telling them about the ongoing crises. He told them despite experiencing losses, he is going to retain everyone, because he believes it was the company's duty to stand by their employees during that hard time, and so he did. "At the time, it felt as if we are going to go down, but due to the extra effort of our people and sticking to our motto of striving hard in difficult times, we grew the company 4 times during the pandemic," he proudly exclaims.
Their plan for the future of Zegatron is to transform the overall organization and make it a billion-dollar company in the next 5 years.
Sarfaraz's responsibilities as CEO and Founder
After 10 years, today Sarfaraz has many leaders within his organization. He receives reports of how every area in Zegatron is performing on a daily basis. He says that everyone in his company is a leader, and he conducts weekly meetings with every department head.
His main job in the organization now is to strategize and devise a way for the company to grow 10 times. They are currently working on a dream project that will be out very soon. "I ensure my team achieves the desired target, by constantly working on creating a new platform on which they can bring the best out of themselves," he says.
Keeping himself and his employees motivated
Sarfaraz claims that he is able to create a work-life balance only because he has a very supportive and loving wife, who always helps him and understands when he is unable to give her proper time. He keeps reminding his employees that family comes first no matter what, and that is what he believes keeps everyone motivated.
His message to all business leaders is to – dream big because whatever you want to achieve, your mind will create a way for achieving it.