Douglas Brown: A Courageous Leader Who Is Comfortable with Being Uncomfortable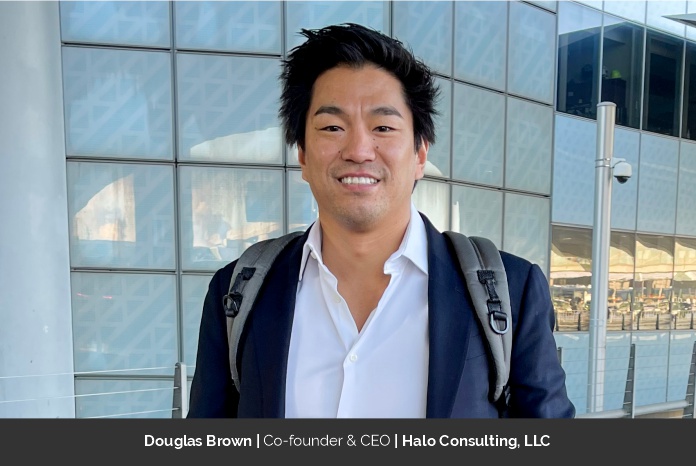 In April of 2020, Douglas Brown lost his job due to the Covid-19 crisis. For him, the year had begun on an exciting note, and he was looking forward to leveraging his strong foundation in executive search. So, his job loss came as a huge shock for him. Douglas took a few days to unplug. Instead of allowing the uncertainty to affect his morale, he discussed with his fiancé his next big move, which led to the founding of Halo Consulting. He started it in the same month he was laid off – April 2020.
Having started his company as a bootstrapped start-up when the pandemic was beginning to upend businesses around the world, Douglas knew that failure to live up to their potential was not an option. "You've got to be willing to put it on the line," he points out. At the time, risks were plenty and uncertainty afflicted almost every aspect of the economy.
"Brilliant thinking is rare, but courage is in even short supply than genius" is one of Douglas's favorite quotes of Peter Thiel, a German American billionaire entrepreneur and investor, and "courageous" is how he describes himself in a word. It was his courage to take risks that made him take a plunge into entrepreneurship during the dark, uncertain times.
Douglas's courageous approach to dealing with a difficult situation has paid off. He is now the Co-Founder and CEO of a growing company. By establishing Halo Consulting, Douglas has also accomplished his goal of owning and running his own business, which he had shared with his colleagues very early in his career.
Halo Consulting
Halo Consulting, LLC is a certified minority-owned boutique search firm based in Chicago, Illinois. They combine the process-oriented best practices of a global retained executive search firm with a no-risk fee model accessible to early-stage and high-growth startups ensuring their most important hires have a "Halo Effect" – making everyone around them better.
A few days after founding the company, Douglas received a call from a family friend who was looking for a Vice President, Finance for his Chicago-based Professional Services firm. "At that point, I was all in and off to the races," he says.
Starting from scratch, Halo has grown to eight full-time employees. They partner with high-growth start-ups and pre-IPO technology companies across the Go-To-Market, HR, and Product functions at the emerging leader level and above.
As Halo is a certified minority-owned search firm, Douglas and his team approach every search as a "diversity search." Douglas points out that in 2021, 44 percent of the firm's placements were women or people of color, up from one-third in 2020. Halo offers a consultative approach that emphasizes a diversity focus and utilizes its nationwide network of DE&I executives and experts, many of whom serve as speakers on panels for the virtual roundtable events and are known for providing additional insights and referrals.
Each month, Halo hosts virtual roundtables where a diverse set of executives discuss trending topics in their industries. "Halo and I also host a series of virtual roundtable events on an ongoing basis, where we invite a diverse and executive group of HR and DEI leaders to speak on a variety of meaningful topics important to executives and leaders today," says Douglas.
In early August 2022, Halo began producing "The Halo Series," which features Thought Leaders in a 1:1 setting. They discuss trending topics and insights related to their industry. Douglas points out that the Halo Series uncovers what keeps executives up at night as the ever-changing market continues to adapt.
Earlier this summer, Douglas and his team founded Halo International as their Serbian-based development firm, which provides offshore resources to technology clients in the U.S. Halo International is also an example of how the firm supports and mentors each employee and puts them in a spot where they can make a positive impact in the search industry.
Previously in their career, before founding Halo Consulting, Douglas and his business partner, Patrick Bulmer had worked with the Executive Director of Halo International, Milica Rogic. She started at Halo in July of 2021 and moved back to Serbia to be closer to friends and family. The other example is of Halo Partner Kyle Whitney.
Douglas and Patrick have also worked with Kyle in the past. Over the years, he has seen him evolve as a true search professional. "I met Kyle in summer of 2017 when he was an intern, joined Halo in April 2021, and was recently promoted to Partner," Douglas says. "Go Kyle!"
Professional Journey
In January of 2014, Douglas started his career at Delta Technical Solutions, a small boutique recruiting firm, where he was formally introduced to the search industry. While working for this company, he became highly engaged with helping others and adding value to their professional and personal lives.
Later, during his time at Jobplex, Douglas led the Microsoft Software & Systems Academy, an IT boot camp for transitioning military veterans. He says that they assisted military veterans with every aspect of their job search, including resume writing, interview prep, and salary negotiations. Throughout his time supporting the program, Douglas worked with many great individuals that served the country.
He believes that challenges are a part of everyday life, and everyone experiences them, and according to him, the most valuable lesson he learned throughout his professional career is to "keep showing up and everything else will take care of itself."
And, as the Founder of Halo Consulting, Douglas points out that their challenges look different today than they did 18 months ago. "For future and current entrepreneurs, the ability to stay present and engaged will allow you to block the outside noise while staying focused on your vision," he adds.
Douglas considers founding his company at the beginning of the pandemic, which is recognized as a Minority Business Enterprise (MBE), one of his most notable achievements.
"Ever since my career began in executive search, my goal has been to get 1 percent better every day," Douglas says. "Despite the rollercoaster of a ride so far, I continue to show up day after day, tackling one challenge at a time in our ever-changing landscape that requires agility and the ability to adjust with market conditions – I'm ready for the next 12 months!
Responsibilities of CEO
A hands-on servant leader, Douglas handles many responsibilities that come with running a business. Most importantly, he is responsible for putting his team in a spot to succeed and grow professionally and personally. In addition, he is responsible for increasing Diversity, Equity, and Inclusion, or DEI, initiatives through thought leadership.
His weekday mornings are pretty routine. He starts his day early – his alarm goes off at 4:30 a.m. He works out at the gym with his fiancé, followed by getting settled at his desk by 7 a.m. "This routine allows me to be at my peak on a daily basis," says Douglas.
For him, maintaining work-life balance is crucial for keeping his team and himself motivated. Although externally it may seem like he is a workaholic, he takes time to focus on himself and his hobbies which include golf, reading, cooking, traveling, and spending time with his family. And he believes that motivation comes from within. "I've always been self-motivated, and it has come naturally to work hard and put in the time," Douglas says.
When it comes to the firm's employees, Douglas ensures that they enjoy financial stability and career growth. And he follows a 4-pronged approach to motivate his employees. These include leading by example and demonstrating Halo core values on a daily basis; putting employees in a spot to succeed which has always been at the forefront of the executive team at Halo; Coaching and mentoring, which according to Douglas, is a critical aspect for accelerated individual developmental growth.
And the fourth approach is Sedulous Work Ethic. Douglas explains that it highlights they are tenacious, persistent, and gritty. "We set our own bar," he adds. "Failure to live up to our potential is not an option."
Though he is leading a firm that is on the verge of explosive growth, Douglas does not have one fixed definition of success. "There is not just one singular thing that defines 'Success'," he says. For him, success means showing up every day and executing the game plan. "Success is also about driving positive impact for our organization, helping others, and helping our local community," adds Douglas.
What Is Next?
"We have big dreams at Halo, and we put ourselves in a position to get 1 percent better every day," says Douglas. He wants Halo Consulting to be seen as the "go-to executive search firm," driven by its core values, DEI focus, and the right principles that he and his team are bringing into the organization.
And Douglas's personal goal is to become a trusted advisor and a thought leader in the executive search industry.
Message to Aspiring Entrepreneurs
Douglas has four points to share in his message to aspiring entrepreneurs. He offers his advice based on his own experience as an entrepreneur. "There will never be the perfect time to start your business" is Douglas's first point. He says that founding a business at the start of the pandemic was ambitious, and today, they are stronger than ever and growing.
As the second point, he shares one of his personal mantras: "Keep showing up and everything will take care of itself." For instance, they recently launched Halo International and began featuring The Halo Series on the YouTube channel (Halo Consulting).
"Get Comfortable with being Uncomfortable" is also a personal mantra of Douglas, and he uses it as his third point to stress, "if you're not uncomfortable, you are not growing" and "if you're not embarrassed from the work, you did 12 months ago, you are not growing."
Douglas talks about his favorite Halo value, which is Insist on the Highest Standards, as the fourth point in his message to aspiring entrepreneurs, adding that sometimes their standards may seem unreasonably high.
"Internally, we each strive to continually raise the bar for ourselves and drive our teammates to deliver the highest quality," he says. "Externally, we set standards that are higher than our clients' or candidates', so we are always playing offense."
"We don't wait to be told what the standards are; we set them ourselves and coach clients and candidates while simultaneously absorbing and adapting to feedback from both," Douglas adds.