Ionatan Galeano – An Experienced Business Leader with A Demonstrated Performance Booming in The Private Aviation Industry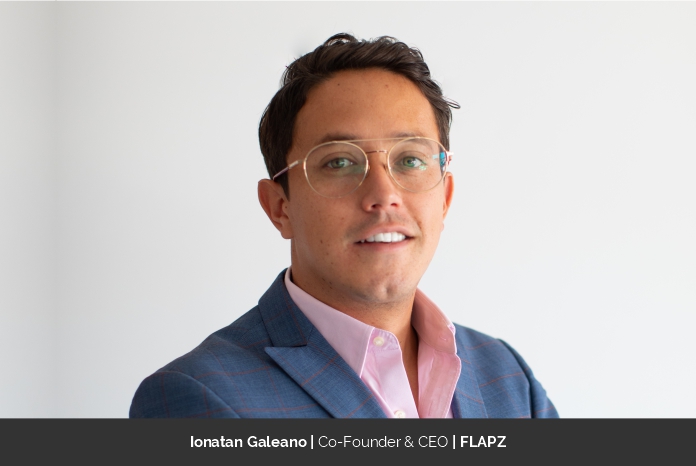 The achievement of desired results is usually considered a success. "The Jewish Talmud asks an interesting question: "Who is rich?" and provides a beautiful answer which is for me the basis of what and how I tend to measure success: 'He who rejoices in his portion'," says Ionatan Galeano, Co-Founder & CEO of FLAPZ. Ionatan defines success as that variable dependent on your dreams, plans, or expectations, which is only reached when you can enjoy to the fullest and work the hardest throughout every stage, milestone, and challenge of life. As a leader, the greatest success for him is enabling the people with whom he works to thrive, by creating an innovative space for engagement and growth.
Leading A Company to Success Is Not An Easy Road To Take
Opportunity and bad experiences are what inspired Ionatan to take the step of faith in aviation. Aviation is an industry in desperate need of an overhaul and there is a massive opportunity to provide a good overall, seamless and digital experience in Latin America. Travel experience, coped by underutilized aircraft across the region, was the perfect mix to start the dream of elevating the standards of private aviation in the region; the timing was perfect. Their business model and disruptive technology came next, as the building blocks of what defines Flapz today.
Challenges Make You Stronger
Going back again to the Jewish Talmud, the following question to "Who is rich?" asks "Who is the wise?" and provides an equally inspiring answer: He who learns from everyone. Building a startup company is not an easy task at all, especially when it's the first time you try to do so: budgets are low, manpower is scarce as a result and particularly in an industry like aviation, there are few to no references on how to achieve success. But along the challenges come, one way or another, different sources of help and growth (friends, accelerators, investors, clients, etc) which give you an excellent opportunity to overcome your challenge by learning and adapting fast.
Appropriately delegating functions and managing internal (personnel) and external expectations (shareholders) is paramount, as it allows you to navigate at your own speed and capabilities. "Make mistakes but also making sure that you don't fall for them twice, will definitely make you stronger and increase the chances of success," states Ionatan.
FLAPZ And Its Services While Redefining the Aviation Industry
FLAPZ is Latin America's fastest-growing private aviation marketplace. They connect passengers with dozens of regional certified aviation operators. Thanks to an in-house disruptive technology that enables near-live bookings, subscribers can search, compare, and book flights on more than 350 aircraft (from helicopters to business jets), as well as empty legs/seats and curated Getaways, thus enabling access to Latin America's quickly growing-base of passengers rushing to experience private flying.
FLAPZ has the fascinating challenge of digitalizing the business aviation industry in Latin America, an ambitious plan since most operators do not have their internal processes automated, to begin with. They already work closely with more than 20 operators directly aggregating in their Marketplace over 350 certified aircraft for charter, leaving in the hands of each client the possibility of booking a flight quickly and safely from multiple digital sources.
Innovation in every industry is instrumental. Especially in this market, where innovations are expected from stakeholders and early adopters, you must be a leader in the technology/innovation realm for swift bookings or eco-friendly measures. Investing in innovative ideas in their company means that you can walk the talk, or, in other words, that your actions will define your real purpose. "We think of innovation as a constant state, open for any process and improvement," says Ionatan.
The idea of integrating technology at the center of the strategy emerged as a response to the needs of the sector. The days when private aviation only served large corporations and billionaires, who only booked by phone or via email, are long gone. Today, with the rise of the millennial generation and the need for more reliable and safe transportation, business aviation is experiencing a real shift in demand. FLAPZ's commitment to boost the entire industry in the region to new heights is adapting quickly and boldly to this new behavior, new customers, and trends. That's their contribution to the aviation industry.
Vision And Future Plans for The Company
Ionatan says that his vision is being the most complete and transparent marketplace in Latin America, allowing operators in the region to reach new heights regarding several operations, keeping the key players informed about data and trends (integrations and open data is key towards this goal) and educating end-users, both natural and corporate on everything related to private aviation. "Change doesn't happen overnight, although the sum of purpose-led actions will increase your chances of achieving your vision," he explains.
Maintaining sustained and coherent growth while taking care of their fast-growing workforce, therefore, becoming Latin America's private travelers' first choice of travel booking are Ionatan's plans for the future. "My personal goals as a business leader are to continue learning and engaging with worldwide disruptors, learning from past and recent experiences in the industry in order to achieve our ambitious goals," he states.
The Beginning of Ionatan's Career
Learning from great leaders marked the first steps in his career. From his father to his business mentors, they all taught Ionatan how important it is to treat people with respect and maintain an engaging mind in every conversation. "I was lucky because we owe everything we are today to our workforce, committed professionals that will go the extra mile to achieve their goals," he exclaims. Motivation is the secret sauce that keeps startups like FLAPZ relevant. There is no single recognition that can be highlighted among others. Ionatan tries to see every one of them as essential in his constant growth as a leader, regardless of the source or size.
Responsibilities As the Co-Founder & CEO Of FLAPZ
Ionatan, who defines himself as a respectful person, says that his responsibilities are to engage with shareholders on a weekly basis, reporting their results and future plans while being very active in day-to-day activities. He has great trust in his managers, although he is a great believer in the fact that over-communicating, as pilots do during a flight, is a key ingredient for a safe and proficient journey. A regular day at work is connecting with his teams across Latin America (Colombia, Chile, Peru, Uruguay), understanding the main challenges, and cooperating to achieve their goals.
Maintain Balance in Personal And Professional Life
Motivation is paramount for your personal and professional life. Ionatan believes that keeping a
balance is key and acknowledging that personal life, by all means, is what will always come first. "My main motivation is my family, therefore for me work and family are sometimes tied together, like a shared purpose. That's my motivation and, I think, at least from recent feedback from my personnel, that is their main motivation as well. Caring, listening, and understanding my team's first and foremost humane needs are great drivers for motivation within a company," he explains.
His message to aspiring business leaders is to enjoy the ride, listen to your gut feeling, and always leave some time for open discussions with your entire workforce. You will be surprised to know just how many brilliant people you have working in your company if you provide the perfect working environment for them to voice their ideas and concerns.