Sam Perry: Promoting a Collaborative and Value-Based Mindset towards Patient Care and Business Operations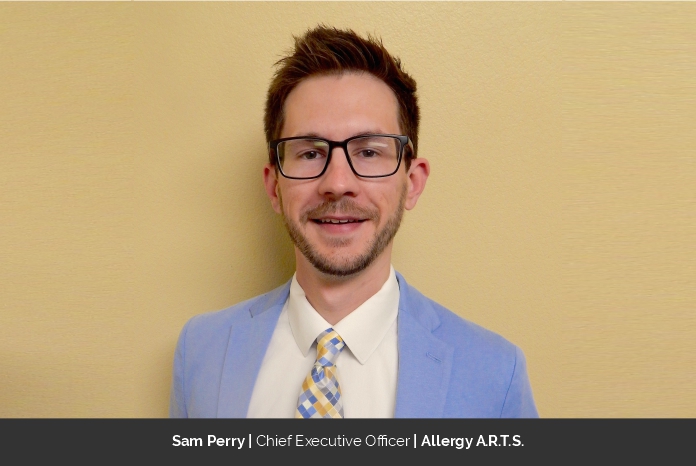 Rheumatology is one of the most in-demand medical specialties. The pace of retirement is surpassing that of those entering the field due to a top-heavy provider base. While it is a sound financial decision, it lacks the Hollywood glamour of a surgical career as well as the national drive for primary care practitioners. All are necessary, but our ageing population needs excellent specialist care doctors that work in tandem with patients' primary care providers to deliver high-quality care and preventative measures.
Sam Perry, CEO of Allergy A.R.T.S., is developing and leading transformative growth by promoting a collaborative and value-based mindset towards patient care and business operations. He is a young visionary with a challenged but proven record of accomplishment in healthcare leadership and service line addition. He is encouraging organizational cohesion to develop, achieve, and maintain a system vision. Sam's abilities were honed via industry breakthroughs, multimillion-dollar capital projects, contract negotiations, trial and error, and unrivalled organizational growth.
Sam was drawn to healthcare because it tends to attract people who are upbeat and kind, and who thrive in a collaborative setting. What keeps him going is the variety of jobs and the potential to serve the community. Sam began his career path in medicine and then went to law, before settling on business and, especially, healthcare administration. He, like many other eager-eyed college freshmen, was indecisive about his future professional path: pharmacist, physician, or lawyer.
Growing up, his parents always advocated for a strong business background, and although there wasn't a single direction he was headed, there was the singular theme of healthcare. After taking an elective in Healthcare Administration, Sam was introduced to a world of business management that ticked all his boxes. He says, "It was then that I was fortunate enough to meet two strong industry leaders who I am fortunate enough to say would become some of my mentors, Dr. Tracy Farnsworth and the late Dr. Patrick Hermanson." Both of these individuals showed Sam what healthcare administration could be, sharing with him the experiences of their careers and where they thought the industry would be heading. This excited Sam and has continued to push him towards self-improvement and innovation within healthcare.
A Multi-Specialty Medical Clinic
The only way for a company to stay viable in the modern market is to innovate, adapt, and innovate once more. Healthcare is still and will remain a service industry at heart. "As healthcare becomes increasingly present in your home and everyday life through wearables, virtual care, and personalized medicine, our industry needs to recognize the importance of having good personal relationships with our customer patients, our current and future staff, and our communities," says Sam.
Allergy, Asthma, Immunology, and Rheumatology are all treated at A.R.T.S., a multi-specialty medical facility. It can do a significant amount of diagnostic and therapeutic work for patients since it has a comprehensive variety of diagnostic services on-site, including x-ray, bone density, ultrasound, lab work, pulmonary function tests, and state-of-the-art plethysmography. Since 2000, the clinic has housed over 200 FDA research trials, making it a clinical research center.
Sam states, "While growth is certainly on the list of plans, higher on the list is our turning the focus inward to capitalize on and highlight what we are doing well and improve upon areas in which we may be stagnant or behind the curve."
Changing Equations of Success
Prior to the pandemic, Sam, like many others in his industry, assessed performance by using objective facts, statistics, and figures to achieve financial success. While critical, healthcare has recently had to adjust to an arduous roller coaster of legislative changes, personnel restrictions, supply chain delays, and a sagging public image that is prioritizing relational success above financial success. Every manager who has ever conducted a workplace survey would agree that one of the top five complaints raised by employees is "poor communication." Instead, Sam sees this as a problem with the company's culture and a misunderstanding of how those employees want to interact with management. Furthermore, there is the relational success that comes from timely and quality patient care practices that are associated with highly personal work. He says, "Increased competition in the market and falling reimbursements put relationship management front and center when recruiting for and retaining both patients and staff."
According to Sam, the necessity for grey in life and decision-making has become apparent; absolutes hinder his capacity to see the big picture. More flexibility in the workforce, job completion, and corporate operations has resulted from the rise of remote work. Albert Einstein is quoted as saying, "Strive not to be a success, but rather be of value." Sam states that if you or your employees can prove to be of value, success will follow. He further adds that without the pursuit of adding value, he usually sees short cuts being taken by those only fixed on success, on the prize. "A good leader should not only inspire those around them towards a common goal, but should also shed light on how they intend to get them there by encouraging the best out of their employees as a unit," says Sam.
Initiatives for Improvement
Sam's prior work includes an FAA-supported and state-funded pilot project in North Dakota for an unmanned aerial vehicle network (worked with Vantis and the Northern Plaints UAS Test Site). Educational partnerships and design genesis to promote healthcare careers at an earlier stage in education. Through the design and advocacy of a hospital-based aquaponics and hydroponic greenhouse, he promoted alternative agriculture and food nutrition among adolescents. He also used telemedicine, co-ops, and cost-sharing models to expand the reach and accessibility of specialty health care services to rural and underprivileged populations.
Sam incorporates technology into repetitive healthcare chores so that health care professionals may spend more time directly with patients, restoring humanity to these encounters. Currently interested in the benefits that VR therapy can have on pain management therapies and the reduction of healthcare associated anxiety (e.x. White Coat Syndrome) Sam is still looking to push the industry forward.
Determined towards the Work and Life
Sam enjoys variety in his days, which is one of the reasons he stays in healthcare. He can go from a financial conversation to picking up a mop to clean up a juice box explosion in the clinic's lobby in a matter of seconds. Sam has the opportunity to walk the floors and engage with patients and staff, demonstrating the value of a smile and a helpful hand. As he admits, he, too, is burdened by tough decisions and the consequences of some of those actions. "It is one thing to mandate a cultural change from on high, but it's quite another to live the culture you want to provide at your organization; teamwork and a willingness to go above and beyond," he says.
As Sam sees it, a healthy work-life balance begins at home. He finds his wife to be highly supportive of his profession and enjoys their outdoor outings together. He feels that having a solid support system of friends and family allows him to unplug and relax when he needs to.
Sam motivates his staff at work by performing small acts of kindness and providing continuous praise. He sees part of his role as being there for the staff so they can be there for the patients.
Looking towards Extending Knowledge
"Being 28 years old, my biggest challenge thus far has been proving myself and overcoming the arbitrary number that is my age," says Sam. He considers himself fortunate and grateful to have been given leadership duties at such an age, which is generally reserved for his parents' generation. He observes that workplace diversity is a hot topic at many recruiting tables, and that the capacity to demonstrate one's worth, regardless of age, race, or gender, is important to any professional advancement.
As a company leader, Sam intends to expand his knowledge base and network of specialists with whom he can ask questions, bounce ideas off of, and share in any industry issues. He says, "Being comfortable enough to know you don't know everything and instead surround yourself with knowledgeable, nonjudgmental, and honest people will afford your personal and professional growth like no other." Sam looks forward to being a voice and example of innovation in healthcare at all levels.