Ingrid Reyes: A Force of Creativity and Innovation, Connecting Brands to Consumers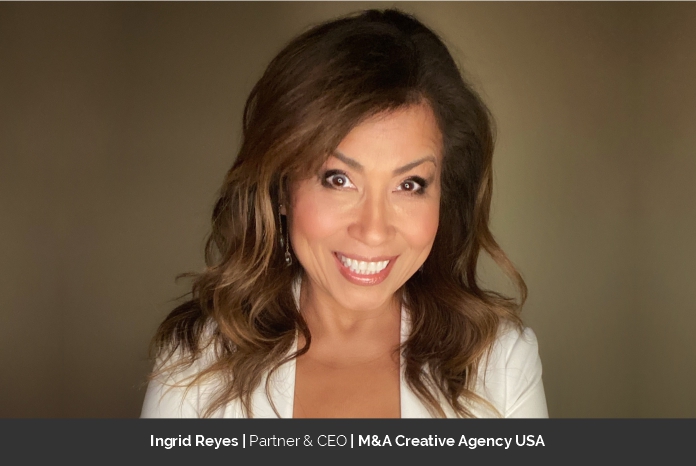 A multi award-winning ad marketer responsible for some of the most iconic and effective ad campaigns in the past 20 years. Ingrid Reyes, Chief Executive Officer, Americas of M&A Creative Agency USA has a proven track record of developing successful marketing strategies and driving high growth for Fortune 500 global businesses. Her campaigns have won, a gold Effie for the most effective advertising in America, a gold and silver Cannes Lion for creative media. Ingrid was the previous Managing Partner and Director of Mindshare, where she led teams across North America, the Caribbean, and the US Virgin Islands.
Ingrid's job as CEO, includes overseeing all clients, agency growth, directing the staff, and overseeing the agency's day-to-day operations.
The typical workday begins with conference calls, followed by meetings, presentations, brainstorming and planning with her business partner, Luis Marques, something they aim to accomplish every day. Since they launched in 2021, a big focus has been on growth strategy, increasing brand awareness amidst the competitors who have been in the space for a while. As social media is an important element of what the firm does; she has her own lifestyle Instagram handle, @delicious_Journey_ where she provides her point of view on wine, spirits, and the industry.
M&A Creative Agency
M&A Creative Agency is an award-winning, full-service advertising agency founded in 1998 in Portugal, with a U.S. subsidiary launching in 2021. The firm specializes in the beverage and food sectors and has offices in the United States, in Napa Valley, Los Angeles and New York, in Europe, in Aveiro, (headquarters), Lisbon and in Bordeaux, France.
Storytelling, branding, creative, strategy, content, luxury packaging design, digital, high-tech, e-commerce, media, and social are among M&A Creative's specialties. In addition to food and beverage, the agency has extensive experience in a variety of other industries, hospitality, auto, financial, and telecommunications, entertainment, among many others.
According to Ingrid, creativity, innovation, high tech, size, experience, and longevity are the reasons why we stand out! Formed by a multi-disciplined dream-team of creative designers, brand strategist, photography and video production experts, technologists, and strategic digital and social thinkers with a worldwide reputation.
M & A Creative's work is disruptive and iconic; they've established new trends in an industry that is highly conventional by utilizing creativity, innovation, and technology. She says, "We've accomplished many firsts, our work reflects the DNA of the brands we work with, through our creativity and artistry which connects our client's brands with the consumers, led by our creative process, design, culture, technology, and heart."
M&A Creative helps its clients to discover their brand's mission, consumers today look for brands with purpose. Companies need to be approachable, (human), to have a clear and honest message, to have creativity, (great creative), to invest in the right partners to help brands traverse new ecosystems, (hire the right ad agency), so that they can drive competitiveness, and to stand up and out.
The agency states, "Every day, we push the boundaries to new heights, no matter how small a project may be. We take each project as a personal challenge; we like to surpass all pre-established industry metrics. In the 24 years we've been in business, we've worked with hundreds of brands around the globe, always pushing our clients to break the mold."
Accepting Hardships as Learnings
Everyone has faced challenges at some point in life. Ingrid practices optimism, which has helped her overcome life's challenges. Staying optimistic and motivated has taught her that adversities mold individuals to become who they are intended to be, and to always explore all possible routes and answers. She says, "Keeping an open mind, staying humble, and recognizing when to ask for help has served me well overcoming roadblocks in my career. Keeping my eyes on the price has gotten me to the finish line successfully every time."
Ingrid says that we must follow what excites our spirit, live a life of purpose and significance. Let's remember that every choice we make can have a profound ripple effect.
Climbing the Success Ladder
What Ingrid is most proud of as a Latina minority woman, who arrived in the United States at the age of 15 without speaking English, is that she has been able to climb the corporate ladder and achieve her goals through hard work, dedication, and drive. This country offers opportunities to everyone, all you need is the desire to succeed. She shares, "Getting there was not always easy, but through my hard work, passion, focus, determination, and, at times, sheer willpower, I made it this far. I believe that anything is possible and that the best is yet to come."
Ingrid believes in paying it forward, she is happy about the numerous people she has mentored along the way, especially those whose eyes she saw herself in when she first began her career. Ingrid hopes that they will do the same for others who are just starting out now, as their careers are blooming today and are leaders themselves.
Love for the Wine and Beverage Industry
Since a young age, Ingrid Reyes has been fascinated by the world of wine and spirits. Her interest in champagne and wine began in her late teens when she began tasting different brands. First, it was French Champagne, then Napa Valley wines, later Italian wines, and so on until her palate became international.
As a college student, she worked part-time at a prominent tennis club in the Hollywood Hills, they had a restaurant with a great wine and spirits selection. She worked 36 hours a week doing accounting and payroll; she was also responsible for performing the liquor inventory each month. Ingrid learned the names of all the brands, the labels, even the shape of the bottles, which she still remembers to this day.
After graduating from college, Ingrid began traveling to various wine regions throughout the world, exploring, tasting wines, different styles, and grape varietals, learning about terroir, and meeting amazing people along the way. She shares, "I learned so much from them during my visits to wineries, when I had private tours, they were often done by the winemakers themselves."
Ingrid has traveled extensively to several continents and visited their wine regions, in Europe, she's been to France, Italy, Germany, Austria, and Hungary, Australia, South Africa, and South America. Currently, she lives in California, the largest wine market in the US and where Napa Valley is and where she resides between Los Angeles and Napa. She adds, "All those beautiful experiences and people have and continue to enrich my life. You can say that all the roads in my delicious journey have led to where I am today."
A Vision for Creating a New Kind of Agency
Prior to M&A Creative, Ingrid had worked for ad agencies, with her most recent large role being with the Goliath of the ad agency industry, the British multinational agency, WPP, at Mindshare in New York, where she was Managing Partner for North America and led the Multicultural Division. Ingrid was responsible for brand strategy and planning for companies such as American Express, Kimberly Clark, and Sprint, among others. She returned to Los Angeles in 2015 and chose to become independent, launching her own marketing consulting firm.
Ingrid made the decision to switch gears and pursue her passion in 2019, since her vision was clear. She wanted to specialize in the wine and spirits industry, she wanted a linear rather than hierarchical agency culture with a collective of the best experts, and a multinational agency.
Her vision became reality when Ingrid met her business partner, Luis Marques, Founder and Global CEO. She recalls, "We met by pure chance. As he told me about M&A Creative and showed me his work, I knew immediately, this was the agency I've been searching for! After a few chats, we decided to join forces and opened a US Division from where I would lead business for North and South America, launching M&A Creative Agency in the US in April of 2021."
Keeping Body and Mind Aligned
Ingrid maintains work-life balance by taking care of her body, mind, and soul; without these three things, she believes she will be unable to find her core. She tries to spend quality time with those I love. Ingrid believes in playing hard in both, her personal and professional lives. She describes M&A Creative's culture as one where people can thrive, they encourage respect, new ideas, fun, it is a place where everyone has a voice. Because it is a linear structure, rather than hierarchical, everyone feels ownership of their work; as a result, they are contributors, which is a valuable asset to the agency and its clients. She further adds that employees are praised for their good work, they are recognized, and the management makes sure that they are always learning new skills, growth is an important part of keeping the agency culture and team inspired and happy.
Passion For Her Work
Ingrid sees success as "doing what you are passionate about, doing what you love, when you want it, with who you want. That's how I define success today." Over the years, that definition has changed, Ingrid states, "when I was entering the ad world, I considered success as climbing the corporate ladder, the title I had, and how much money I made. Knowing what I know today, I see what true success is. There is no greater satisfaction in life than doing what you love, being excited about it every day when you wake up and having the desire to get better every day. It takes focus, determination, guts, but living your best life deserves all of that."
The Future of M&A Creative Agency
M&A Creative Agency's work is a balance between creativity and artistry, their work is innovative, disruptive, and pushes the boundaries of advertising. Ingrid's aim is to continue pushing those boundaries and create compelling brand campaigns in the United States and globally by leveraging the company's creativity and innovation. She hopes to expand the US business and become known as the best full-service and luxury packaging agency in the beverage industry.
Another goal is to diversify the company's clients outside the beverage sector by bringing in other categories, like packaging goods, luxury, and celebrity brands. Ingrid states, "We'd like to continue pushing the boundaries of the industry and of our clients to create more sustainable packaging, including taking brands to a world without paper labels one day, not too far from now." She further adds that the agency's vision is to support sustainability in everything we do, to build a better future for clients, people, and communities around the globe.
Ingrid's personal goals are to never stop learning, to continue growing, laughing, to keep on going and never stop, because "when you love what you do, it's not work, it's pleasure." She is currently working on getting her certification in wine and spirits from WSET in London, which it's the most prestigious and accredited wine and spirits school in the industry.