Samantha Rincione: A Resilient & Passionate Leader Serving Craving of Others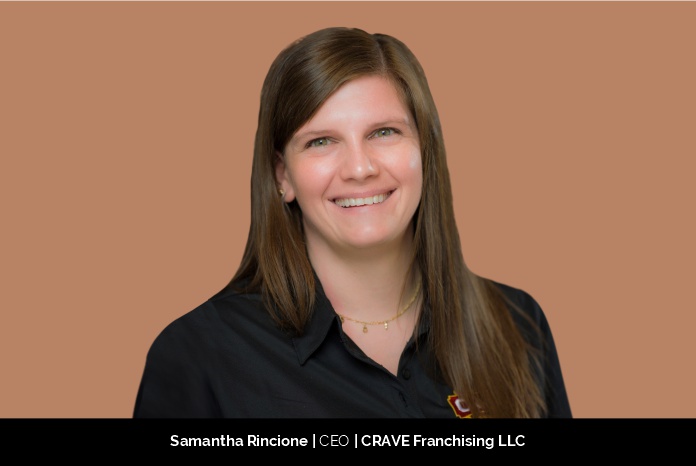 Samantha Rincione, Founder, CEO & COO of Crave Franchising was always passionate about the food and beverage industry. Her whole career has been in the food and restaurant business. When she was 19, she became a franchise owner, eventually owning and operating 10 Red Mango yogurt and smoothie Café franchises on Long Island NY. She then founded a company, which helped emerging brands grow, develop and expand. Samantha's company would do everything from design, layout, and menu to assistance in hiring and real estate. The firm specialized in franchise sales and development. "I realized what I truly wanted to do was have a brand, which I could call my own and have the systems, standards etc. that I believed would make others successful. My husband, who has also been in the industry for years, shares my passion and owning a franchise company is something we often spoke about. Crave Hot Dogs and BBQ was born in February 2018 after we decided, it was time!" shares Samantha. It's been great to own and run a company with my husband, sharing the same passions and values it comes easy for us to work together every day.
Serving everything from BBQ sandwiches to BBQ tacos
Crave is a fast-casual Hot Dog & BBQ franchise. It specializes in all beef grilled hot dogs, brats, sausages and BBQ. The franchise has everything from BBQ sandwiches to plates to fun dishes like BBQ tacos, Mac N' Brisket sandwiches and more. Additionally, it features a self-serve beer wall with 18-32 local craft beers. Customers can choose the beer they want to drink and pour as much or little as they'd like. The technology is the same technology the TSA uses, ensuring a safe environment. The technology is top of the line and was instrumental during 2020, as customers were able to socially distance while enjoying Crave's beverages. "We are a family friendly establishment that features family nights, games, patios, drive thru's and more.
"We run Crave as a family, we always call it the "Crave Family". I value my corporate team and my franchisees as if they are family. I speak with all the franchisees weekly; we are there for them through any situation that arises whether it be positive or negative," Samantha adds. One of the things Samantha constantly pushes her team to understand is that in order to become successful one must innovate. Nothing is ever done; it can be better. "We are always working on our menu, systems, procedures etc to make sure that we have the best and strongest that we possibly can. We've integrated self-order kiosks, food trucks, food carts and more in the past year. We also have an APP where customers can order ahead, have curbside pickup, receive loyalty points and get rewards. I'm constantly researching trends and following the market to see where we have to be, in order to be ahead of the others," Samantha says.
Constant market research and an active presence on social media
Samantha says that like every growing business, you tend to choose partners and vendors you feel will be best for your business. At the start, "We wound up choosing some vendors which were not the best fit for our brand and couldn't keep up with our growth. We quickly realized that and brought on companies that truly had our best interest in mind and wanted Crave to grow just as we did, they saw and shared our passion, and could deliver the results we needed." she asserts. Additionally, to stay ahead from the competition, Samantha focuses on constant market research and an active presence on social media have been key. "I have great relationships with many other franchise brands, and we are constantly discussing the market, where we think improvements can be made and sharing ideas. With our restaurant and franchise experience, Crave was created from the start to be a franchised business. We have done the impossible and created a brand with 25 units sold within the first 2 years of business with only franchised units. This allows us to have our full focus on the franchisees and perfecting the business," she further adds.
"Food on the go as a need"
Over the years, Samantha says, the food industry has become more and more affected by social media. These days most customers review, take pictures and comment on your restaurant via social media. There are multiple different outlets where they can go to express their feelings on the food and experience. According to Samantha, it's imperative that restaurants nowadays have a handle on this and understand all the platforms and how they work. Monitoring on them, advertising on them and utilizing them correctly is integral.
Staying in the technology space, Crave also offers self-order kiosks. Many customers prefer to come in and place their order and shop the menu with minimal interaction. Additionally, Crave has staff available if they should need or want the interaction, however if they are more comfortable without it, the self-order kiosk is an option. Crave APP further helps customers order ahead, have curbside pickup, delivery or shop the menu. They can receive alerts about Crave's newest products or promotions, earn loyalty points and get rewards, like free food.
Food on the go and quickly is becoming more and more apparent as a need in the industry, says Samantha. Early 2020, Samantha launched her food truck line and has sold four of them within a matter of months. "The ability to bring our food to the customers in addition to them coming to us to get it, is amazing. We want Crave to be in every state and city, so we will continue to grow with the market trends and give the customers what they want and what the market warrants," she says.
Founding of Crave and achieving what we have so it stands where it is today, the greatest achievement
Samantha has always been in the franchise business one way or the other, since the beginning of her career. She owned and operated 10 units of Red Mango Yogurt and Smoothies local to her home. She says, "I loved every second of it, learned a lot and it was a great chance to grow and mold me into what I am today. Being on the franchisee end, the franchisor end, also everything in between, I'm able to see all sides of the business and do what I feel is best for our company and franchisees." Furthermore, Samantha believes that in order to grow and have a reputable business going in the right direction, it's imperative to see and understand all sides and aspects. "One of my greatest achievements is definitely the founding of Crave and achieving what we have today. I know myself, my husband and our team had the experience, drive and passion to create something fantastic, and having people that see this and are just as passionate as we are, makes me smile every day," shares proud Samantha.
As co-founder and CEO, Samantha's most important role is to have a vision for where she wants the company to be and how to get the team there. "We need to be able to overcome anything that may get in our way, and it's my responsibility to see that we do just that. I oversee other roles in the company and with my team, ensure that we are selling units in the correct areas, finding the correct real estate, and designing and opening these stores on time and on budget. My husband is integral in the development part as that's his expertise. Also, the operational side has to run smooth and be innovative enough to keep our customer base coming back. The concept must be kept fresh, inviting and a desired place for people to either purchase to be their future, or patronize for the Hot Dogs, BBQ and Beer," she says.
Slow and steady always wins the race.
For Samantha, having 3 young kids while running this business makes it imperative to be extremely organized. A work life balance is extremely important, she says. She has arranged her schedule, so she has many hours in the day to be able to work, but also time to be with her kids, have dinner as a family, spend time with them and tuck them in at night. Of course, that means many days, if not most, "I'm up before the sun or still up long after everyone has gone to bed. For me that's not work, I genuinely love what I do, I love my company, I love our franchisees and wouldn't change any of it. There's no 9-5 in what I do, it's a 24/7 being a mom and running the company. I'm busy, but I'm organized and happy. One of my talents I feel makes me successful is my ability to thrive on stressful situations. In one-word I'd describe myself as resilient," she says.
Samantha's vision for Crave has always been to grow slow and steady. She doesn't want Crave to be a company that grows so quick that they lose control. Slow and steady always wins the race for her. Crave will grow regionally throughout the United states and choose the right franchise partners for the brand. "Since we do consider Crave Hot Dogs and BBQ a family, we want all the members to blend well and share the same passion for the brand and their business as we do. We will continue to grow at a reasonable pace, expand in the right regions, pick the right partners and all work as a cohesive family to grow this company. In the next 3 years I envision about 100 units open and operating with about 20 trucks on the road. We have the personnel to expand as we see fit and are excited to see what the future holds. 2020 was our best year yet and we are excited for the future," concludes Samantha.