Lori O'Brien: Serving Delicious Ice-cream with Irish Touch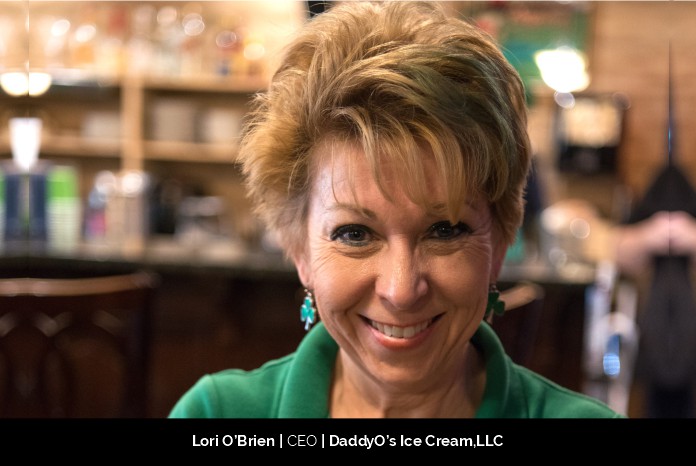 Who doesn't love Ice-cream? There is nothing better than homemade ice cream. Oh Wait, how about homemade ice cream with rum or whiskey or vodka or Baileys! This is exactly what DaddyO's Ice cream, LLC is doing, and Lori O'Brien, Executive Leprechaun of this amazing company shares why she is so passionate about her concept. "From the time I was a teen, I enjoyed serving people. In 2001, I started a full-service corporate event planning company, Atlanta Special Events. Of course, catering was one of the many services we offered. We began DaddyO's Ice cream as an extension of the catering services we offered. Who knew my husband was a genius at creating ice cream flavors that made people roll their eyes back and say "OMG! That is the best ice cream I have ever tasted." It is easy to be passionate about a superior product that makes people so happy."
DaddyO, her husband, created homemade ice cream with an Irish twist: adding alcohol to the unique ice cream recipes that he created! Every recipe is his own creation. This originality made them quite renowned in no time. They were so popular at festivals and corporate events, the market demanded they open a shop so they put their heads together and come up with the concept: an Irish Ice Cream Pub and Restaurant which kickstarted their journey into the amazing food industry.
Facing Hurdles at the beginning
Every business faces different roadblocks on its success path. Attaining success in the restaurant industry is quite hard. She adds, "Finding good workers was our biggest hurdle. There is so much turnover. I have such a big heart that I want to give people second and third chances. I have learned that I need to figure out quickly if they are going to work out or not. Otherwise it can be detrimental to the business. If someone is not working out, I need to let them go quickly. On the other hand, I must also be able to see if there is potential in a person and be willing to put in the work to train them properly. Sometimes you think a person will never work out, and once you give them the chance to blossom, they become your greatest asset."
Comprehensive Services of DaddyO's Ice Cream, LLC
DaddyO is a Grand Master ice cream maker who comes up with the most interesting and flavorsome ice cream creations in both alcoholic and family-friendly flavors. Lori states, "Being 100% Irish, he wanted an Irish pub atmosphere. So, when a person walks into Daddy O'Brien's, they are walking into Ireland with a beautiful wooded hand-built bar, Jack Daniel hi-tops, hand-built wooden snugs (booths), stained glass windows, fireplace with mantel and stone walls. It always smells wonderful when you walk in, as we are always making waffle cones."
Their menu is a perfect blend of Irish recipes such as Guinness Irish Stew, Bangers and Mash, Shepherd's Pie, Irish soda bread, Reubens and unique family recipes like made-from-scratch Belgian waffles, Dutch Poffertjes, Chocolate cake, Irish coffee, panini sandwiches and many other scrumptious items.
People are served lunch, dinner along with yummy ice cream and homemade cake and Irish bread pudding. Folks can come in groups for celebrations, meetings, fundraisers and more. They even have the availability of online ordering and catering along with an ice cream cart business for festivals, corporate events, weddings, conventions. She shares, "Daddy O'Brien's can be found serving Pretzels, food and Ice cream at our local breweries as well."
Key to Huge Success with many Awards
Frank O'Brien, aka DaddyO, is always sprinkling the touch of creativity and crafting new recipes for their restaurant. MommyO and DaddyO love having participation from customers and staff in designing and naming their exciting flavors. Our goal is to make our customers feel at home and part of the family. She says, "Integrity is the key to success as our customers know that we stand behind our product and service. If we fall short on occasion, we will always own up to it and strive to make things better."
DaddyOs is an active member of the Georgia Restaurant Association and the National Ice Cream Retailers Association. Lori shares proudly that DaddyO participates in yearly conventions and competitions. She further adds, "We have won first place (2016) and third place (2015 and 2020) in The NICRA flavor of the year competition and won the Iron Scoop competition (2014). We have won Best of Gwinnett for best Ice Cream parlour in our county every year since opening in 2017, along with several other statewide awards. Daddy O'Brien's was also named one of the 10 Best Franchises to own in 2020 by Insights Success magazine."
DaddyO is considered a genius and a pioneer in the hot new Alcoholic Ice Cream industry. She shares, "Since we started making alcoholic ice cream, many local and national companies have attempted to enter the market. Many failed. However, we have PERFECTED the ART of alcoholic ice cream. NO ONE makes this product as well as DaddyO's Ice Cream. Our ice cream is insanely delicious."
Future Plans for DaddyO's Ice Cream, LLC
Driven by passion, Lori and her husband would like to steadily grow their business by way of franchising. She adds, "Growing too fast can be detrimental, so I am in no hurry. But this will be a great opportunity for a Ray Crock type person." They have established the brand and now they are ready to sell franchises to reliable entrepreneurs who will share their enthusiasm to grow the company.
Lori's Career Track and balancing personal and professional business
Lori has a good list of entreprenurial career paths. Till date, she accounts her full service corporate event company, Atlanta Special Events as her biggest venture. She further states, "I think my greatest recognition came when a delegation from Saudi Arabia came to the USA to interview me as a successful female entrepreneur." But Daddy O'Brien's Irish Ice Cream has huge potential.
Being a tenacious person, she barely has any personal life and keeps her focus on the success of the business. She shares, "In the beginning of DaddyOs Ice cream, I was responsible for forming the corporation, branding, marketing, find the location, overseeing the buildout, hiring and training. The first year was the longest year of my life! My husband and I were at the restaurant every day, every hour. Staffing, training and retaining a good crew was extremely difficult. After 4 years, I finally have a great staff that takes good care of the restaurant, and I do not have to be in the store all the time." Taking full advantage of small business resources, she works on keeping the brand name shining.
Lori O'Brien's advice to aspiring business minds is "Do your research, use the resources available, never give up and JUST DO IT!"