Renee Bemis: The Secret Sauce to Strike a Sympathetic Chord!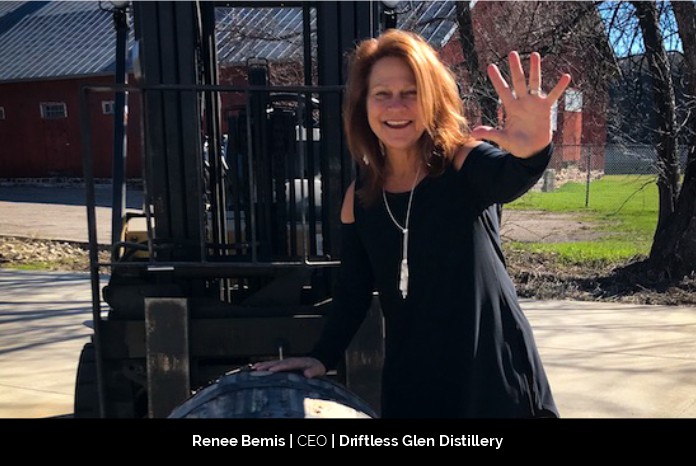 If you really want to make a companion in deserted viability, you should go to someone's house who knows to cook and eat with them, for the people who give you their food give you their heart as well in consideration. In a conversation with Renee Bemis who is the CEO and Co-founder of Driftless Glen Distillery to unveil the commencement of her entrepreneurship journey, we learned by surprise that it was an unplanned move. She says that her husband and she originally began as silent partners in this business, but as they thrived to learn more deeply about the industry, they eventually became sole owners of Driftless Glen followed by which her passion for her indulgence grew much further. Having the boulder of lack of previous experience with the food and beverage industry, she has had come to consider herself very devoted to it now. She also adds that those who don't love food and beverage – especially when it's their award-winning spirits and cuisine, have not yet visited them.
Nothing seems to be as simple as it seems, for even the planet earth is in Geoide shape. In her pearl of wisdom, Renee states that Driftless Glen Distillery is what it is now because of water. Sounds weird, right? It is because they are located at the edge of the Driftless Area in Wisconsin – a unique topographical part of the state that was missed by the last glaciation 15,000 years ago. This gave them rugged hills, deep river valleys, rich prairies, abundant limestone, and sandy soil. Most importantly, it means that they now have a natural sandstone aquifer. The terroir of the local region makes for prime conditions to grow grains and is an excellent water source, allowing them to produce their whiskey 100% grain-to-glass. The Baraboo community has been a great place to build and expand their brand, offering an amazing bedrock for Driftless Glen – literally and figuratively.
The art of encountering boulders:
It is inevitable that only by contending the challenges that seem to be beyond your capability to handle at the moment you can grow more surely toward the stars. Upon reminiscing her boulders in her entrepreneurship journey, Renee points out that she has had encountered environmental challenges, one of the elements of PESTEL analysis. She states that with each whisky production run, there are roughly 2,500 gallons of effluent wastewater. Now, what could be the solution to all of that waste energy? They came up with a solution to invent an in-house separation of the spent grain from the wastewater after distilling. Herein, the spent grain is taken to a local farm in town and enjoyed by livestock, and the residual water is transported to an anaerobic digester in Port Washington, where it gets converted into energy! She also adds that figuring out how to recycle our byproducts and achieve 100% grain-to-glass whiskey to be completely sustainable in that aspect was not an easy process, but they are content that they were able to do it.
To become a successful entrepreneur is to become a big believer of inexperience who is constantly working and evolving to discover a segment unheard. If any of the entrepreneurs have had visioned at the outset of the horizon the pain they have to experience at stake, they might have left the door closed. The universe is always in need of an indistinctive soul like you so, before you stop asking nave questions and while you have the time to understand the variable nature of the complex problems everyone faces, it is time to take them on. On that note, when we attempt to discover the pathway of success of her venture, Renee believes that the entire credit goes to her incredible team at Driftless Glen that assists her in creating innovation. She reckons that her management is transparent, communicative, and creative. Pointing out her factors, she states that whether her chef is developing new dishes for the menu that reflect seasonal change locally, or our distillers are experimenting with new products for our spirits, their creative ideas keep us moving forward. Of course, the teamwork motto is always quality over quantity, and that can be seen across all aspects of the company.
The placement of the first brick:
It is evident and foremost to keep in mind the pearl of wisdom and the shreds of experiences encountered by others as you instill them in your vision through inspiration. The accolades that they have had bagged illustrate the forces of an impossible substance transforming into a possible and expected realm. So, whenever you encounter boulders which is dissimilar to the constant change in your viability, you will be encouraged and able to attain your goals and desires. Renee exclaims that she takes pride in herself and her team for building a unique establishment, which assists them to stand apart from their competitors in the industry. She claims that they are not a chain, and they offer an experience unlike any other. In her own pearl of wisdom, Renee points out that not only can guests dine riverside, but they can taste our spirits, tour the rack house, and make memories in the Baraboo area that is rich with outdoor activities and historical significance. With dishes like our Brandy-Glazed Salmon, Rye Demi Tenderloin Pasta, and Chocolate Bourbon French Silk Pie, it's hard to find them elsewhere. We invite everybody to come and "Taste the American Spirit" themselves – our spirits and cuisine speak for themselves! – she added.
Having these colossal accolades and titles that have dignified the wall of fame, Renee's journey of bagging them commenced when they broke the ground on the distillery in 2012. Back in 2017, her venture was featured as one of the Chicago Tribune's "Top Ten Day Trip Destinations." Followed, within a few months later, they were listed as one of the best Old Fashioneds in Wisconsin. 2018 turned out to be an exciting year for her, as London Spirits Competition named them a "Top 10 Spirit Brand in the USA" and that hurled them into an Inc. top 500 company. Adding to it, in both 2018 and 2019, they were recognized as one of the "Best Entrepreneurial Companies in America" by Entrepreneur Magazine's Entrepreneur360™ List. Following that, they have had received a Silver Medal from Madison Magazine for the "Best Destination Restaurant" in 2019. A few months later, Whiskey Advocate gave their Bourbon Whiskey a 90 rating! In that same year, the New York International Spirits Competition named them the "Wisconsin Distillery of the Year". In 2020, they were named a "Top 6 Bourbon Outside of Kentucky" by Whisky Advocate and they were also a winner in the 2020 USA TODAY 10 Best Readers' Choice travel award contest for "Best Craft Brandy Distillery". Now, in 2021, they are at their 5,800th+ barrel! In her concluding pearl of wisdom, she quotes that, "If you want to own your own business and be successful, you need to be dedicated and be there 24/7. It's your company!"