Laura Rea Dickey: Digital Transformation is the Cultural Transformation of Growth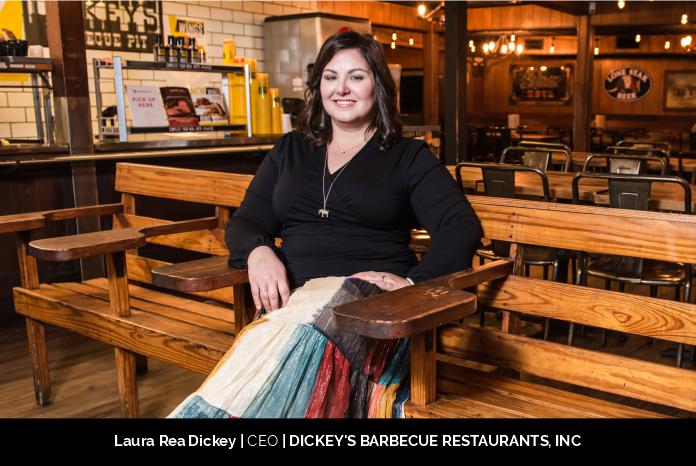 It is evident in a startup or a business venture that the monetary consideration that is being attained by the employee is never paid by the employer in the form of wages. Employers are only responsible to deliver the wages into your bank account every last day of your month. Trust us or not, the verity that surmounts the base is that the customer is the one whose money is being looped into your bank accounts. And there are entrepreneurs whose ideas, ambitions, passion, and dedication has what made the customer do business with them. Laura Rea Dickey who is the CEO of Dickey's Barbeque Restaurants, INC. narrates the commencement of this food chain and what led to the commencement of her entrepreneurial journey as well in the same venture.
In her pearl of wisdom, she states that Dickey's Barbecue Pit commenced as an outcome of a dream and a passion for a slow-smoked barbecue for Travis Dickey in Dallas, Texas in 1941. Since then, the world has witnessed the largest barbecue chain emerge, that has grown and outreached to over 500 locations across the United States and internationally. She also mentions behind the loop that it is when Travis Dickey returned home after serving his country in World War I, he gave restaurant ownership a shot and transformed his love of authentic, slow-smoked barbecue into a business venture. Travis invested and worked at the butcher block while his wife, Miss Ollie Dickey served sandwiches and worked the cash register. The menu was limited to beef brisket, pit hams, barbecue beans, potato chips, beer, bottled milk, and sodas. The original Dickey's Barbecue Pit location in Dallas, Texas is still open and is happily serving guests to date. Travis' son Roland Dickey stepped in to run the family restaurant in 1967 after his father's passing. In 2006, his son, Roland Dickey, Jr., took on the role of head pit-master and CEO, and later, he went on to become the CEO of Dickey's holding company, Dickey's Capital Group. The 500 locations and counting are now spearheaded by Roland Dickey's daughter-in-law and CEO Laura Rea Dickey.
Post the outbreak of mutant noble coronavirus, the hit of the pandemic in the entire globe has taught everyone a lesson that one can reinforce what they already are aware of without inviting any more additional dogma. Laura states that the pandemic has been a challenging time for all the restaurants, but Dickey's leaned on its mantra for self-resilience – evolve or fail – along with the foundation of a purpose statement, which is "to do both well and good in the communities in which we do business, to thrive." Followed by this, the food brand doubled down on its inputs in the technology platforms and became one of the first brands to launch contactless delivery in the month of March. Laura also mentions that additional investments in online ordering were made to keep up with the shift from dine-in orders to online, carry-out, and delivery to ensure the smooth flow of functioning. She also states that under her leadership, franchise royalties were reduced – not abated or deferred – by 50% for 14 weeks to assist the owners with cash flow and retain as many team members as possible in the challenging time. Serving to the local community in the challenging moments, Dickey's Barbecue Pit locations around the country launched their first responder sandwich donation packs online and began delivering weekly free sandwich deliveries to first responders.
Upon reminiscing on her commencement of professional pursuit and what lead to the journey she is walking fearlessly on today, Laura mentions that she has had worked in the marketing and information technology fields for over two decades, and this experience has led the marketing, IT, and training teams to integrate at Dickey's Barbecue Restaurants, Inc. during her time there. Post her graduation from Texas Christian University, she went on to work at agencies such as Murray Brown Creative Group, The Richards Group, and The Point Group. During her years of agency experience, Dickey worked with brands such as W Hotels, American Heart Association, Blue Mesa, La Madeline, and Chick-Fil-A. She is also responsible for leading the marketing channels for the Student Housing portfolio for Fairfield Development. Her specialty is the intersection of technology and marketing, turning data insights into brand and business solutions.
It is rightly said that formal education would prepare you for a living, but self-education would transform a fortune. While receiving a rewarding self-education in experience, Laura has also received the following accolades, she was named to the 2019 Nations Restaurant News Power list. She has also been named among Fast Casual Magazine's Top 25 Mover and Shakers executive list for the past four years. Following that she was also recognized by The Dallas Business Journal as a top Woman in Technology award recipient in 2015. She was also named to D Magazine's Top 500 CEO's list for 2019. She has also bagged the Lifetime Achievement Award from Hospitality Technology in 2019 for her work in utilizing Amazon's voice technology in restaurant operations in partnership with IOLAP. Additionally, she has had shared her expertise and business acumen with a national audience on Fox Nation, Fox News, CNBC, and Cheddar. She is also serving on the board of the non-profit, The Dickey Foundation that supports first responders and their families.
Values are the lingering child of drudgery and perseverance. It has the notion of dissimilarity that can't be coaxed or bribed; pay the price and it is yours and that's what is the integration of culture. Dickey's has a G.R.E.A.T. culture accustomed to them:
● Guest first: every decision is for the guest.
● Results-Oriented: focused on achieving GREAT results.
● Enthusiastic: excited to serve each guest.
● Accountable: responsible for your actions.
● Team Spirited: works well with others.
Upon seeking the pearl of wisdom for their future roadmap, Laura mentions that Dickey's digital investments have been coupled with a strategic approach to building sales and that positioned the brand to achieve same-store positive growth throughout the pandemic, so Dickey's has a ripe future for expansion and authenticity. She also mentions that, in addition to stellar domestic growth, Dickey's has just announced a letter of intent to open 50 locations in Australia. International expansion has been a recent focus for the brand and priority, with the aim of expanding in the planned spectrum for Pakistan and the Republic of Georgia. Dickey's already has overseas agreements in Abu Dhabi, Dubai, and Singapore, with Brazil, and Egypt opening this year. Dickey's will continue to create a global barbecue experience through the brand.