Sam The Concrete Man: The Brand that Provides Consistent and Safe Value to Homeowners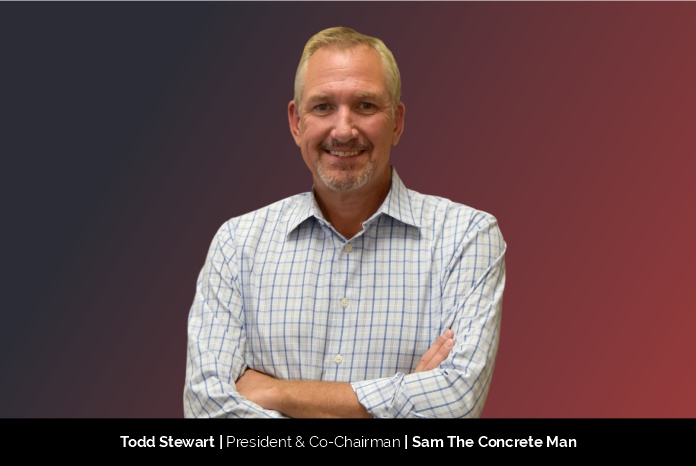 Being in business for 32 years, completing over 10,000 jobs, receiving hundreds of 5-star reviews, and maintaining an A+ rating with the Better Business Bureau is an impressive feat most businesses only aspire to achieve. However, Sam The Concrete Man has been able to achieve all of this through applying modern solutions to an in-demand market. Consequently, they now dominate the residential concrete services market, leaving competition 5-10 years behind. The man maintaining the company's reputation as #1 in the industry while rapidly expanding its operations to include an additional 45 franchises across the U.S. in the last year alone – is Todd Stewart, President of Sam The Concrete Man.
History of the Company – Striving for Quality Since 1989
Sam The Concrete Man was founded in 1989 in Colorado by Sam Wilkins. Todd saw a unique opportunity to disrupt the entire industry and purchased the company from the original owner in 2007. Todd envisioned a great opportunity to apply modern solutions to an outdated business model with great potential. Todd explains his reasons for investing in Sam The Concrete Man:
"A typical business in this industry has one or two people who are usually actively doing the work and cannot answer their phone all the time, leaving potential customers waiting for a callback. We wanted to apply technology and superior customer service to this otherwise outdated business model…"
From its inception, the company has always strived for quality. Quality for STCM means not only providing exceptional concrete solutions, but also superior customer service coupled with modern technology to deliver a unique customer service model never before accomplished in business-to-consumer concrete services.
Three things the company focuses on to ensure the quality of service include:
1. No matter the day, they will always have a live person answer the phone. Many companies in the industry will forward calls to an answering machine. Sam The Concrete Man believes it is important to help customers from the very first minute they are interested in having concrete work done.
2. Once an appointment is scheduled, the company will confirm every appointment the day before to remind customers of the day and time of the appointment with an automated text message and personal phone call. Once someone from the company arrives, they will walk the project and provide customers with a customized proposal within ten minutes on site immediately unlike other competitors. Once the proposal is reviewed by the customer, STCM will reach back out to the customer with a follow-up personalized phone call. No other company in the world provides this level of support and customer service.
3. To make things even easier, the company has eliminated paper contracts and handles all their contracts electronically using DocuSign. This stores the contract in the cloud database – allowing both Sam The Concrete Man and the customer to have access to it at any time creating a more effective and cohesive customer/contractor relationship.
Todd Stewart: Solidifying the Residential Concrete Services Industry
When Todd finished his degree at the University of Colorado Business School, he began working for start-up software organizations, focusing on understanding how to automate processes to provide superior customer value. In 2007 he bought the company and ended up buying four companies within 18 months. He has owned over a half dozen companies ranging from an ATM business with one employee to a company generating $55 million with 50+ employees. When Todd decided to purchase Sam The Concrete Man, he sold all his other companies to put his entire focus on the concrete solutions industry. His goal is to help franchisees by providing superior services and helping each of them achieve their personal and financial goals.
Scaling the Franchise System from Seven to Fifty in Just Twelve Months.
With Todd's background in the Software as a Service (SaaS) space, he was able to utilize his expertise in automating processes and apply his knowledge to an industry that he felt lacked those modern solutions.
Franchising Sam The Concrete Man began in 2014 where they implemented processes and technologies that were met with great success in that region. They quickly realized that their business model could easily be duplicated and scaled across the country. Their success in Denver propelled them forward, expanding into other areas in Colorado, starting with Fort Collins and Colorado Springs where they again experienced tremendous success. From there they were able to add an additional 40+ franchises all over the nation in a very short amount of time.
The reason they were able to scale so effectively is their dedication to perfecting uniform processes that can be duplicated ad infinitum. Sam The Concrete Man will train franchisees from the ground up to include introducing customers, how to bid a process, how to schedule jobs, etc. – while still giving the franchise owners complete autonomy over how they run their business. Meanwhile, corporate headquarters in Denver, CO handles all of the marketing, customer service, and scheduling for estimates on the back-end. This gives the power of running the business back to the franchisees while allowing them to own their business without the headache of all the overhead.
As the largest business to consumer concrete company in the United States, they have created the only franchise of their kind in the world. Starting 2020, they only had 7 franchises and now they help support 50 franchises, with an estimate of reaching 100 within the next 18 months. This exponential growth however does present its own set of challenges, but Todd is confident in their processes that will allow them to scale globally. Because they support new franchisees by remaining in constant communication, usually meeting once a week or once a month to discuss logistics and further improvements, they can understand -almost up to the minute -how their particular territory is functioning.
Making Concrete Exciting to Customers
While concrete may not sound exciting, Sam The Concrete Man strives to make it an exciting and enjoyable experience for their customers. Many times, customers are looking for a patio or outdoor living space and franchisees have pamphlets with pictures to show the customer what their outdoor living space can look like. Customers think they are just looking for ordinary concrete, but franchisees show them different, exciting opportunities to transform their house with some artistic flair, thus making concrete a little bit more exciting and significantly increasing home value. Decorative concrete services are discussed when someone from Sam The Concrete Man comes out for a no-obligation, free consultation on-site.
Sam The Concrete Man provides a product and service that has been in high demand during the global pandemic. Due to the pandemic, more homeowners began working remotely and traveling less, so they started looking at what they can do to improve their homes. Additionally, many people were not going on vacations or spending money on events, so they were able to save money to invest their homes. This combination led to a big push in the home improvement industry where Sam The Concrete Man's products and services appealed to a large market of ready-to-buy consumers. In this way, the pandemic accelerated their growth despite the setbacks other sectors of the market experienced.
Improving and Helping Lives of Their Franchisees and Customers
When talking about what motivates him, Todd says it is all about helping customers achieve their goals and dreams. The industry has a reputation for having shady people that historically take advantage of customers. He wants to help customers get what they pay for and know that they can rely on Sam The Concrete Man. Todd also loves helping improve the lives of franchisees by helping them achieve their financial and personal goals. Continuing to help people and provide quality service is what keeps him going every day. Todd states that all of their associates wake up and work every day towards the goal of helping franchisees be successful and he views it as a privilege and honor to help them.
Looking Ahead: The Future of Sam The Concrete Man
The main office in Denver, CO had four support associates last year. Today they have over 20 and growing. They started with two operational departments and now have seven which include everything from internal operations, marketing, financial management, and the 24/7 contact center. Todd describes his role as overseeing strategic direction and day-to-day operational expansion. His job is to make sure they have the right support and processes in place to continue to support franchisees as their needs change based on customer demand and preference. He is focused on moving the company in a direction that will allow for their continual expansion while maintaining only the highest quality of goods and services. This also includes hiring the best talent at the Denver headquarters, as they continue to grow and expand across the nation.
Looking ahead, Todd is focused on reaching the goal of 100 total franchises in the next 18 months. The long-term goal is to become a global company, starting to expand into Canada first, and then Europe. They have been told they are the fastest-growing home improvement franchise in the country. Todd believes their success is due to the technology and processes they have developed as well as having only the best people work at corporate and represent the franchise system as a whole. That combination makes them a global force to be reckoned with.
Although Todd is proud of what he and the company have accomplished, he reveals that he does not think he will feel truly successful until STCM becomes a global company and they have hundreds, if not thousands of franchisees. He sees this goal as attainable if they work hard, smart and continue to innovate.
When reflecting on the company's proudest moments, one thing comes to mind for Todd is the opportunity to be broadcast on ION Television through World's Greatest TV where the company will be highlighted for their unique accomplishments in the concrete services industry. They were selected to be highlighted as a company doing things no one else has done – they will have a 30-minute program air on the ION television network in the upcoming months…
While Todd has his hands full running a successful company, one value Todd lives by is to always put family first. He incorporates this in his personal life. The family first focus is embedded into the culture and environment of the company where employees are encouraged to work as a team and are never expected to work overtime. With this value in mind, Todd will continue to always put family first as the company continues to grow and make a concrete impact on many customers, employees, and franchisees for years to come.