Duane Morrison: Imparting Professional home inspections with Morrison Plus Property Inspections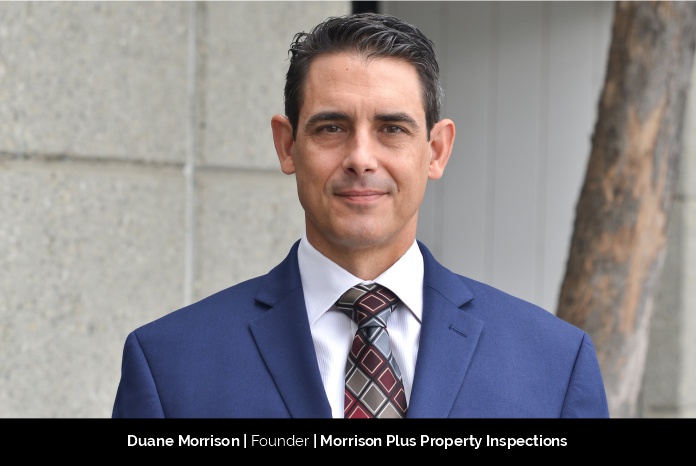 A home inspection is crucial to creating a safer home. Duane Morrison, president and founder of Morrison Plus Property Inspections didn't have everything sorted since the beginning. He says, "As a U.S. Army veteran with some experience as a firefighter, I was able to get hired at a local home inspection franchise. I quickly became passionate about home inspections. And after 4 years, I acquired a small business loan and created a new brand."
He even holds licenses of ACI issued by the American Society of Home Inspectors and CCI issued by the California Real Estate Inspection Association. Further, he adds, "Taking an active role in leadership, he has served as the Greater San Gabriel Valley Chapter President, the San Gabriel Valley Chapter President for the American Society of Home Inspectors, and is currently on the Membership Committee at the state level for the California Real Estate Inspection Association." Ever since that, he has toiled hard to build Morrison Plus Property Inspections as a renowned brand name that has numerous franchisees.
Comprehensive services and values of Morrison Plus Property Inspections
Morrison Plus Property Inspections proffers a plethora of services to all the customers. Different Franchisees get certified or licensed so that they can easily perform smart enhancements to the home inspection and also cater to additional services, which adds value to their business. Duane adds, "The following add-ons are enhancements: An infrared scan or thermal scan of the electrical and high-water use areas, use of a drone camera for inaccessible roof areas, and mold testing."
The team also imparts numerous additional services such as chimney inspections and sewer scoping using high-resolution cameras. All these services add significant value to the brand and put them in a competitive position to get recognition and earn huge profits swiftly.
Being America's Premiere Property Inspection company, the company ensures that it can stand up to its trust statements. He adds, "Two of our company's core values mention integrity and innovation. We screen all applicants, perform background checks and incentivize our staff to strive for excellence. We are always seeking to implement the best technologies to stay upfront within our industry."
Clearing the roadblocks along the way
He believed that he has always had an invigorating spirit that helps him to finish all the essential tasks. Thus, it had been difficult for him to let go of his responsibilities. He shares, "Training new inspectors and schedulers to do the jobs I was accustomed to doing, required tenacity and steadfastness. The most valuable lesson learned was to anticipate hiring needs and investing in others' training, taking advantage of the time available."
As Morrison Plus Property Inspections has been a prominent name in franchising, the company employees make it a point to serve the best quality service ever! He says, "It is the emerging franchise status that has attracted such quality leads who are now our franchisees. We are able to offer more territory due to availability, a personal touch with support, and our focus on marketing and promotions help our franchisees to be stronger from the start."
Defining and implementing growth strategies
The company that marks its success consistently every year is the company that will flourish in the long run. Duane believes in this and is striving hard to keep the company running and growing year after year.
He adds, "I can define the growth of Morrison Plus Property Inspections in two words, Exponential and Consistent. Since our founding in 2007, we have grown in yearly revenue every year, even during the financial crisis in 2008 and the year of Covid-19 in 2020. Regardless of the economic factors that hurt so many other businesses, Morrison Plus Property Inspections has been fortunate enough to continually flourish. This is due to our level of assistance and training we give to our franchisees."
Duane has curated a list of core values that has helped their business to stay abreast with the rising competitors. His list includes 6 focus attributes namely:
1. Be on Time & Professional
2. Perform Thorough Inspections
3. Help Others Be Successful
4. Do What you Say with Integrity
5. Know What It Is You Don't Know
6. Pursue Knowledge Through Continuing Education
In the pursuit of staying ahead of the competitors of Morrison Plus Property Inspections, he says, "our mission is to provide the highest value to all the customers by performing thorough inspections while writing detailed reports utilizing the highest level of professionalism. Always being friendly with a smile, on-time, wearing a clean uniform, using top-of-the-line tools, training constantly, maintaining active licenses and certifications have proven to build lasting relationships with trusted clients." These have been powerful to date and he is happy to be using them to stay strong in the market.
Handling the responsibilities as the Founder of Morrison Plus Property Inspections
Duane says, "As the founder of Morrison Plus Property Inspections, I oversee our team. Each day I have a hands-on approach working closely with our franchise development team, operations team and I work closely with each individual franchisee to assist with their growth and success."
Being a visionary and a successful business leader, he is paving the way to aggressively expand across the entire United States and then slowly spread its wings internationally as well.
He also keeps all the employees motivated with his special tactics. He shares, "We have a team of leaders who mentor less experienced staff. And we incentivize employees with bonuses and promote team bonding with events." Along with this, he also offers regular leadership meetings in which he provides proper guidance to all franchisees so that they can climb the ladder of their success.
Shining future of Morrison Plus Property Inspections
Duane states that right now the team is working hard to fill up the western region of the United States and they will keep pushing east within the upcoming future. He further adds, "As Morrison Plus Property Inspections continues to grow, our plan is to go nationwide (U.S.) and then expand to a global company when it is viable to do so."